Cyberduck vs. FileZilla: Which is the Better FTP Client?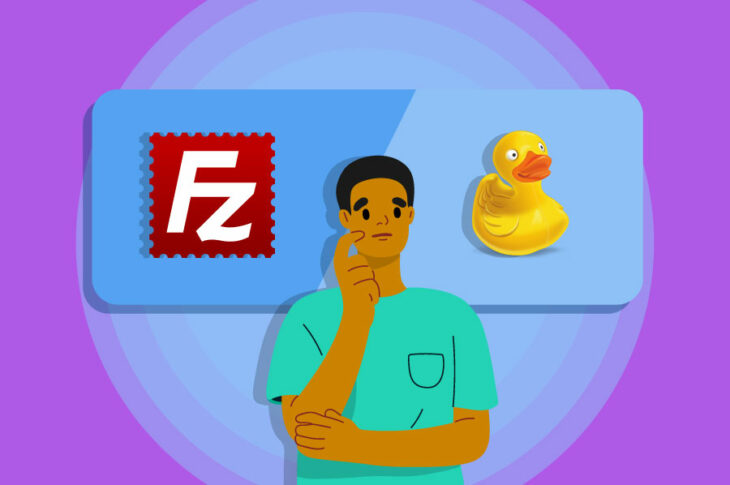 As you become more experienced with web design and development, you may need to access your site's files directly to make advanced customizations. File Transfer Protocol (FTP) clients make it easy for you to manage these files. However, you may not know which FTP software is the right option for you.
Cyberduck and FileZilla are two powerful tools that you could use. However, once you compare their features, you should be able to determine which option is better suited for your needs.
This post will provide a detailed comparison of Cyberduck and FileZilla. We'll also discuss their pros and cons. Let's get started!
What Is an FTP Client?
When you create a website, your core files are stored on your web host's server. File Transfer Protocol (FTP) is a method of transferring data between this server and your computer.
Essentially, an FTP client is software that enables you to access your site files directly. By downloading this program, you can connect to the server from your computer.
With an FTP client, you can easily upload, edit, and download your website's files. For example, you may want to modify your wp-config.php file to disable automatic updates.
Here are some additional tasks you can complete with an FTP client:
Additionally, it enables you to access your site even when it's down. For example, if you encounter errors or issues like the White Screen of Death (WSoD), you may become locked out of your WordPress dashboard. Using an FTP client, you can access your site's root directory and troubleshoot the problem.
Some programs also support Secure File Transfer Protocol (SFTP) connections. This means they use a Secure Shell (SSH) connection to make the process safer.
Your web host may use a file manager, which functions the same way as an FTP client; However, instead of downloading a third-party program to your computer, you can use the file manager in your hosting account to access your site's files.
If you've decided to use an FTP client, you may not know which program to use. To make this decision easier, let's discuss the two popular options: Cyberduck and FileZilla.
An Introduction to Cyberduck
Cyberduck is an easy-to-use program that supports both FTP and SFTP connections. It has a beginner-friendly user interface and is compatible with Mac and Windows operating systems: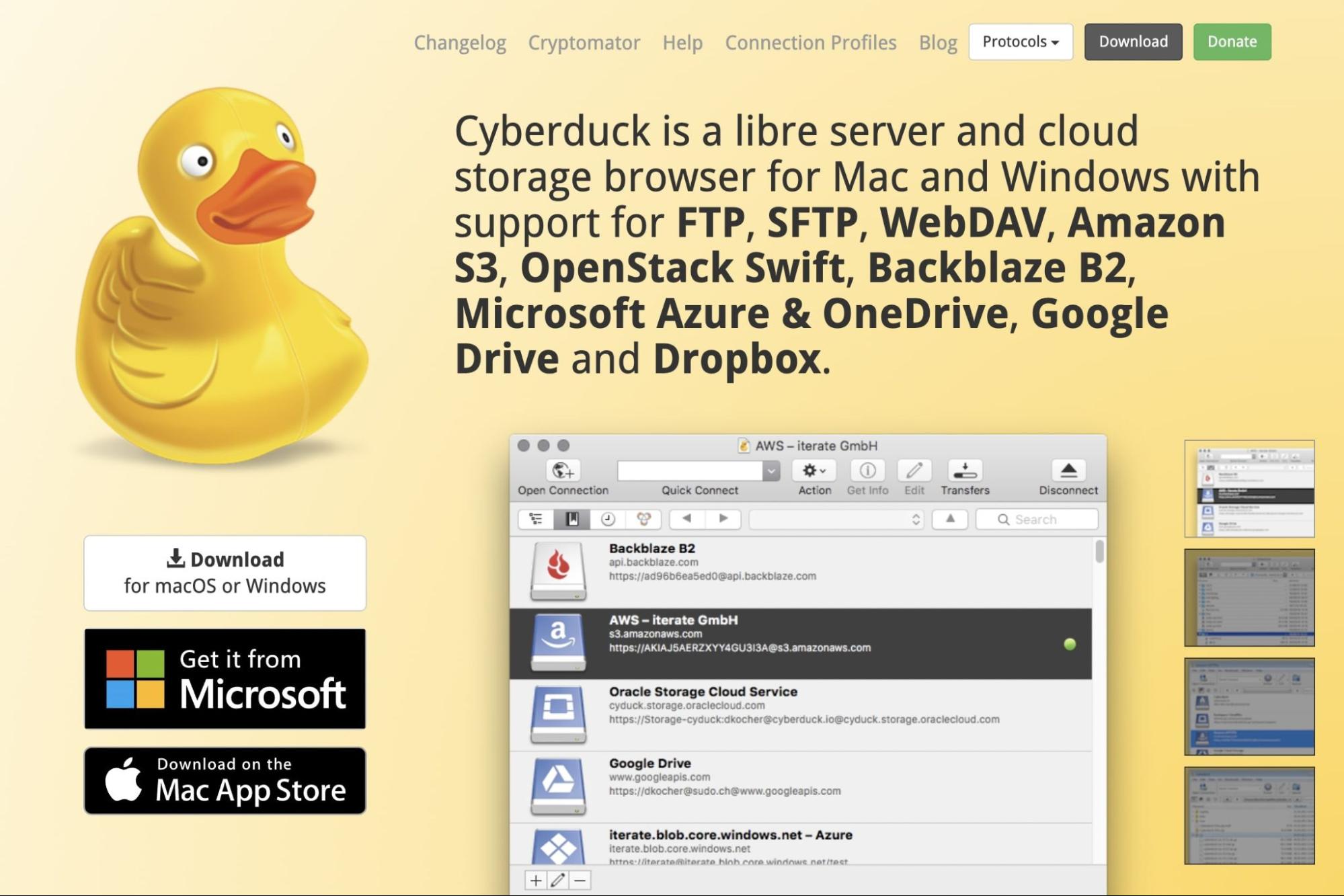 At first glance, Cyberduck may not seem that different from other FTP clients. However, it does have some features that you might find particularly useful. Let's review some of them.
Key Features
Originally, Cyberduck was developed as an FTP client for Mac users. Now, it has become compatible with Windows operating systems as well. Cyberduck is available for download directly from its website or the Mac and Microsoft app stores.
Its modern and minimalist interface makes Cyberduck stand apart from other options. The UI is fully compatible with macOS computers, seamlessly blending into the well-known Mac aesthetics.
Here are some important features included with Cyberduck:
Compatibility with macOS and Windows operating systems
FTP and SFTP connections
Third-party cloud storage in Google Drive, Microsoft Azure, Dropbox, and more
Cryptomator for encrypted, secure file transfers
Integration with external file editors
Ability to share files with a URL generator
Bookmarking tool to log history, imports, and files
Quick Look feature for file browsing
30+ languages
Cyberduck is a feature-packed FTP client with a minimal and easy-to-use UI. It's free software that simplifies file management. Let's take a closer look at its advantages.
Pros
One of Cyberduck's advantages is its easy setup process. You'll simply need to download the correct version for your operating system. Since it supports both Mac and Windows, Cyberduck is a flexible FTP client: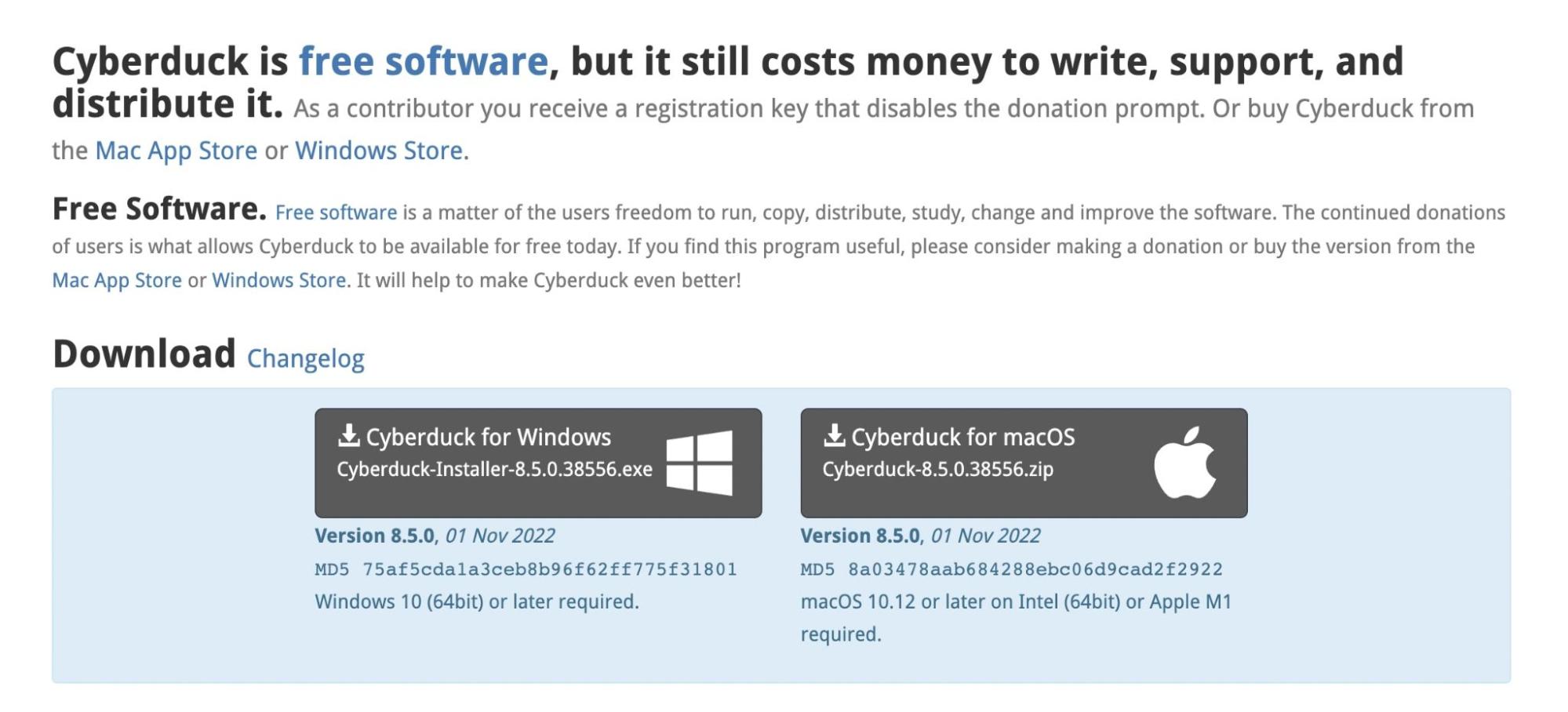 Once you've installed the app, you can create a new connection by entering information about your server, port, username, and password. You'll also be able to change the protocol method: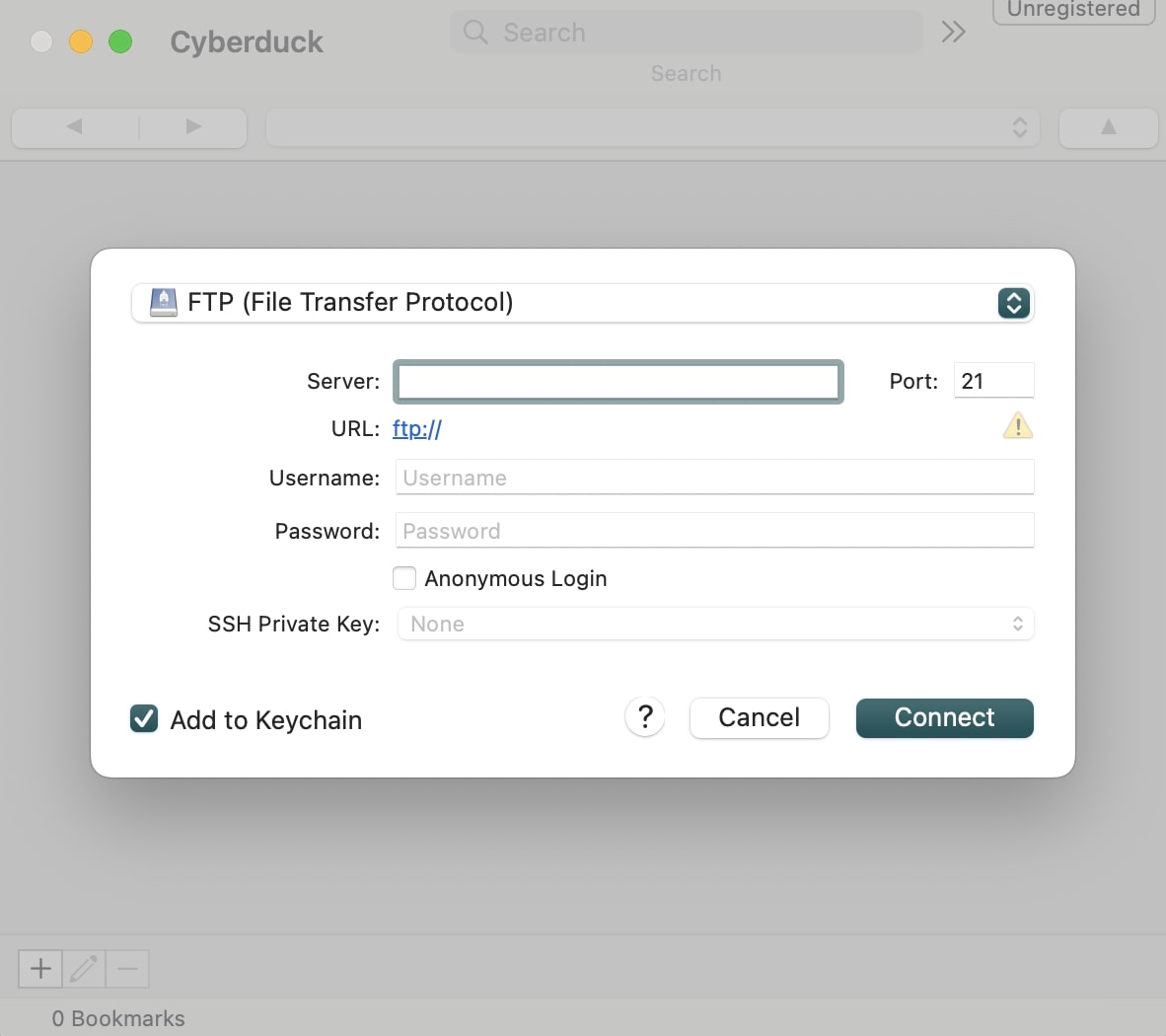 To edit a file, right-click on it and select your preferred text editor: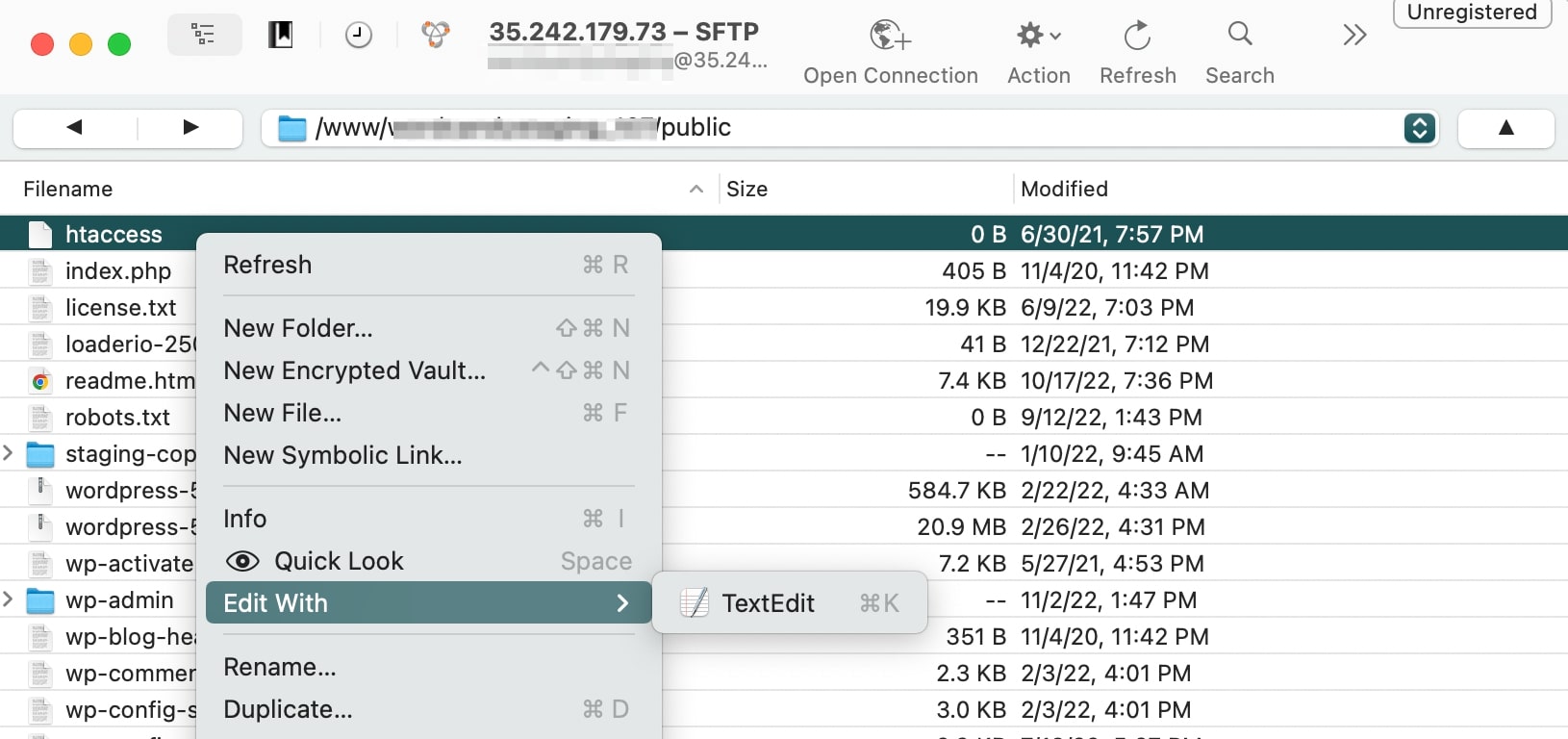 Cyberduck also comes with third-party storage locations, making it easy to share files with other users. It supports cloud services like Amazon S3, OpenStack Swift, Azure, Backblaze B2, Microsoft OneDrive, Dropbox, Google Drive, and more.
It also lets you create bookmarks that store details about your different FTP connections. You can drag and drop these bookmarks into the Finder app and import them from third-party software: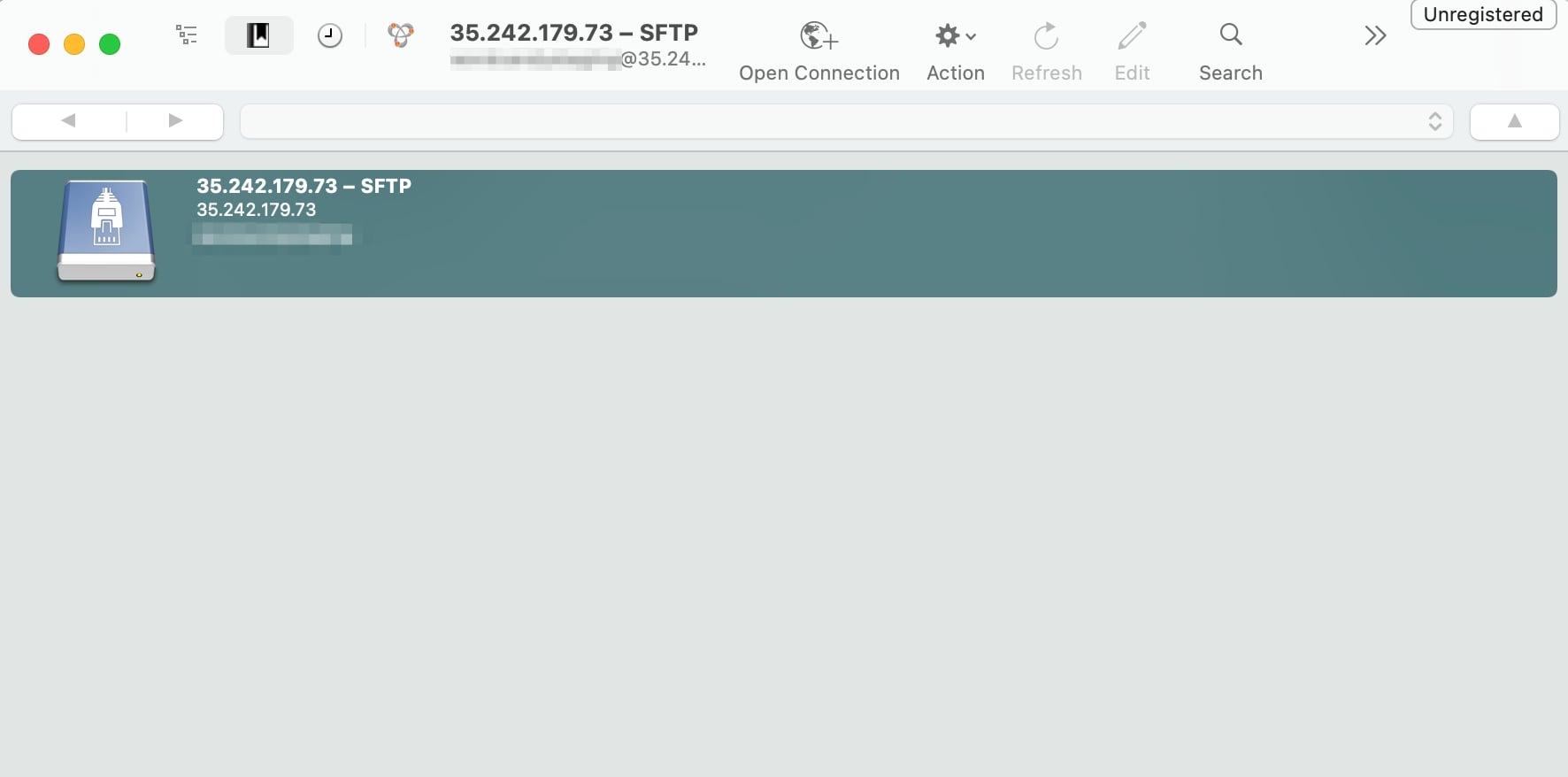 Another unique feature of Cyberduck is the Quick Look. This gives you a preview of your selected file without downloading it. Instead, you'll just need to press the space key: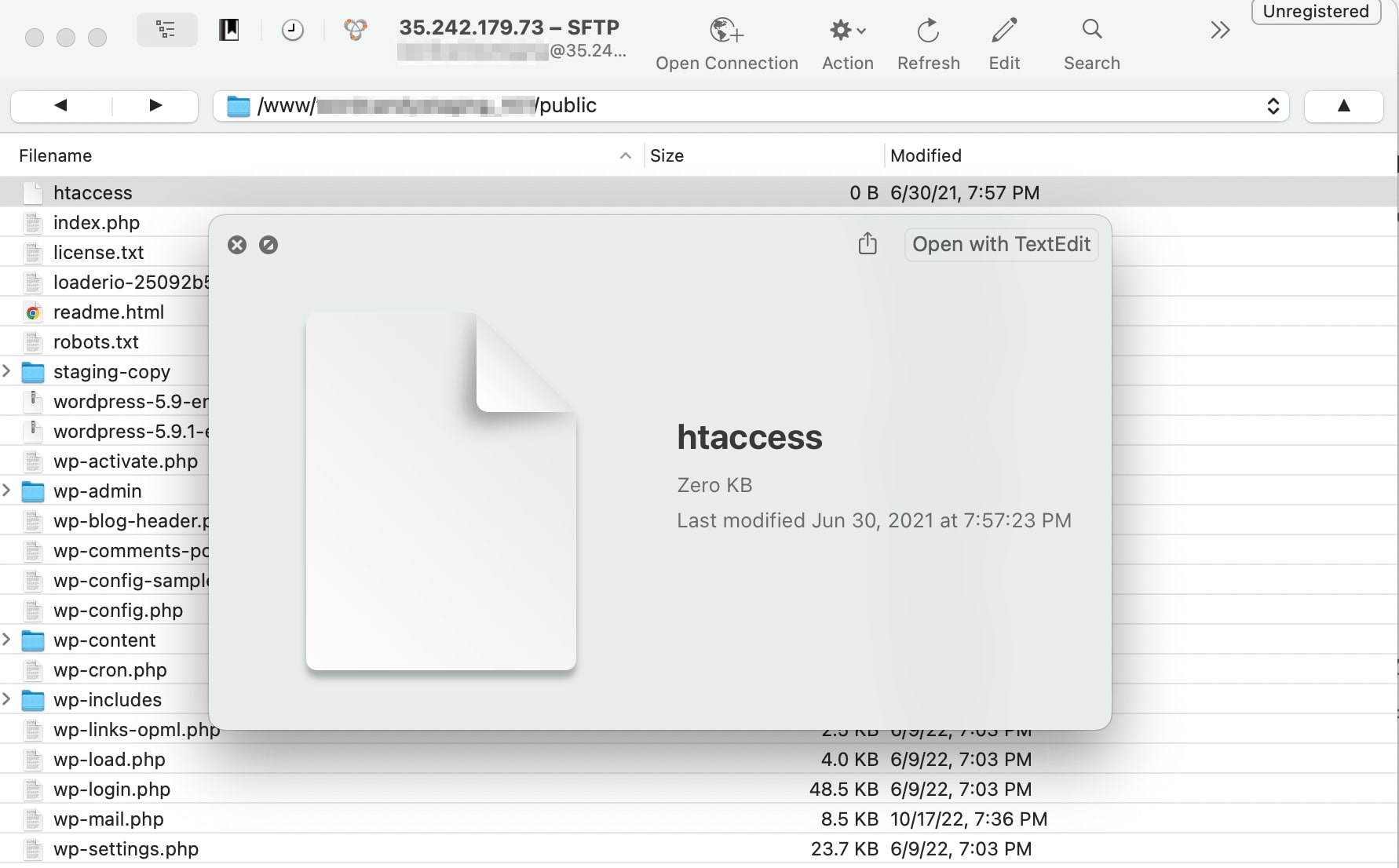 Additionally, Cyberduck has its own command line interface. You can also integrate this program with other tools like Keychain and Bonjour.
Cons
If you have a Mac or Windows computer, you'll be able to connect to your server using Cyberduck. However, the program may be slightly more compatible with Mac users. Plus, it doesn't support Linux operating systems.
It's also important to note that Cyberduck's interface is very minimal. As a result, some users might find it too simple.
Additionally, Cyberduck isn't divided into side-by-side panels. This makes it less efficient when transferring files to and from your server.
Cyberduck is completely free to use, but it will display pop-ups that request donations. To remove them, you'll have to become a contributor.
You might also encounter some speed issues. Since Cyberduck has high-end security measures, this can slow down file transfers. So if you want a fast FTP client, you may need to look for an alternative.
An Introduction to FileZilla
FileZilla is one of the most popular FTP clients. Similar to Cyberduck, this open-source software falls under the GNU (General Public License), making it completely free to use: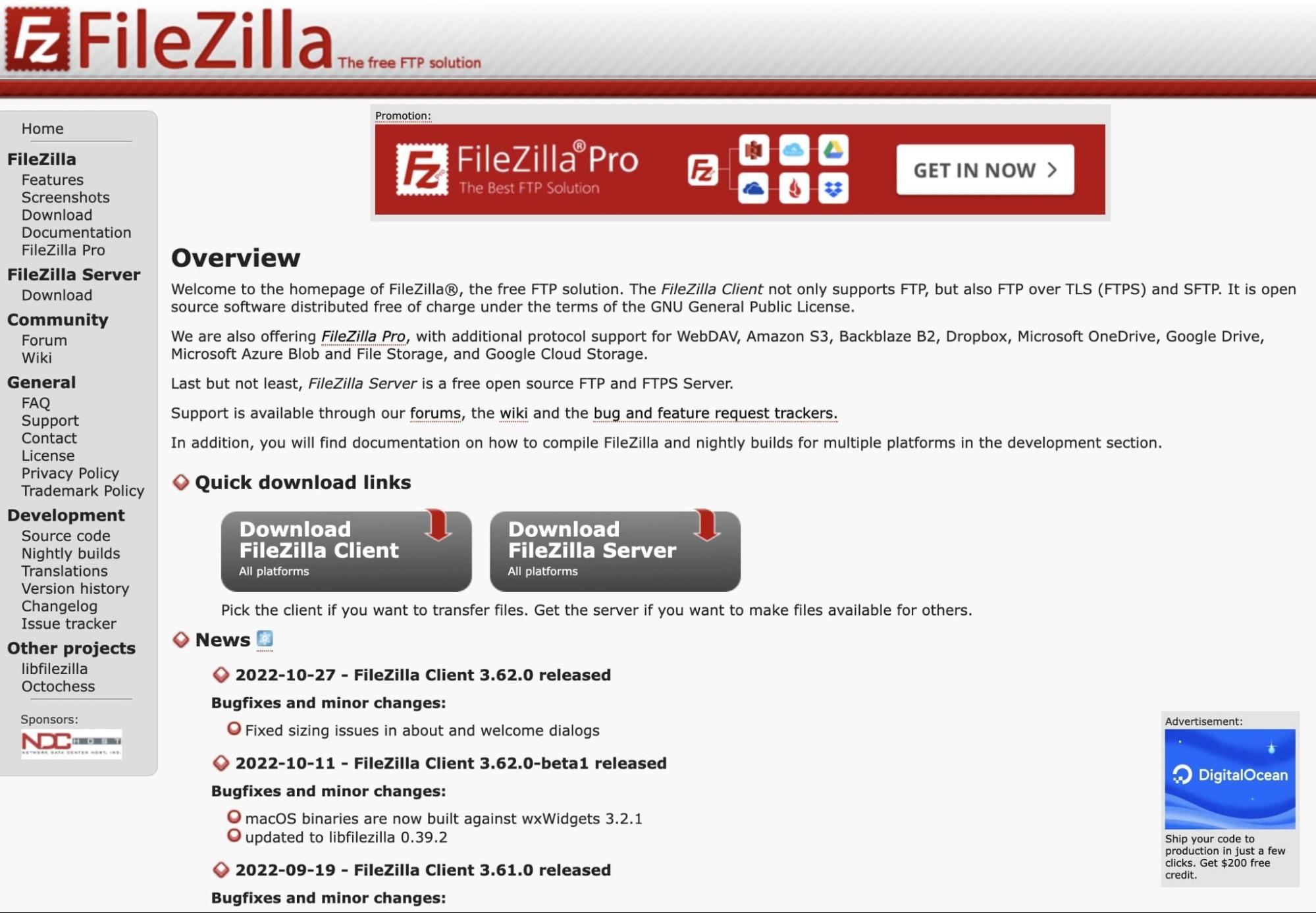 FileZilla is often the go-to choice for developers due to its quick setup, variety of protocols, and ease of use. Plus, there is a comprehensive knowledge base where you can browse tutorials and troubleshooting methods.
Key Features
FileZilla is a very flexible program. Since it is compatible with many different operating systems, virtually anyone can use this tool to access their site files.
Plus, the interface is incredibly beginner-friendly. For example, in the main window, you'll see side-by-side displays of your local and remote server files. This enables you to easily drag-and-drop files from one location to another.
Here are some features you can expect in FileZilla:
Compatibility with Linux, macOS, and Windows operating systems
FTP, SFTP, and FTPS protocols
Third-party cloud storage in Google Drive, Google Cloud, Microsoft Azure, Dropbox, and more
Encrypted master password
Search, filter, and compare files
Site Manager for organizing multiple sites and bookmarks
Synchronization with Site Manager data
50+ languages
As you can see, FileZilla has a wealth of features. Let's discuss some of its pros in more detail.
Pros
As a beginner, you may be looking for an FTP client that enables you to learn file management without having to deal with a complicated interface. With FileZilla, you can do just that.
Similar to Cyberduck, you'll have to choose the correct download option based on your computer type. In the installed app, you can use the Quickconnect option to easily connect to a remote server:

The Site Manager lets you change the protocol if needed. Although it will default to FTP connections, you can update this to SFTP: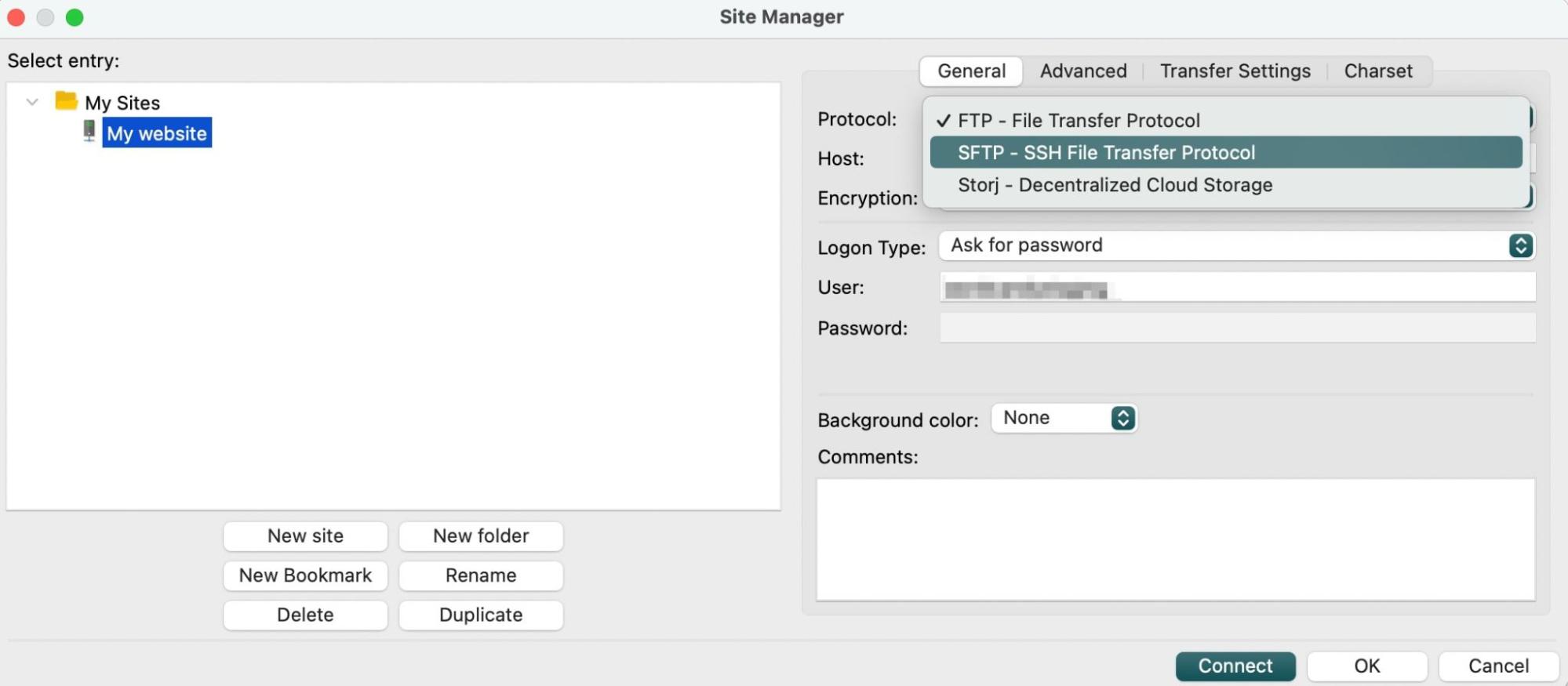 Once you've set it up, you'll see your local files and remote site in two side-by-side boxes. You can then drag and drop files between them.
One of the main advantages of FileZilla is that it supports large file transfers without running slowly: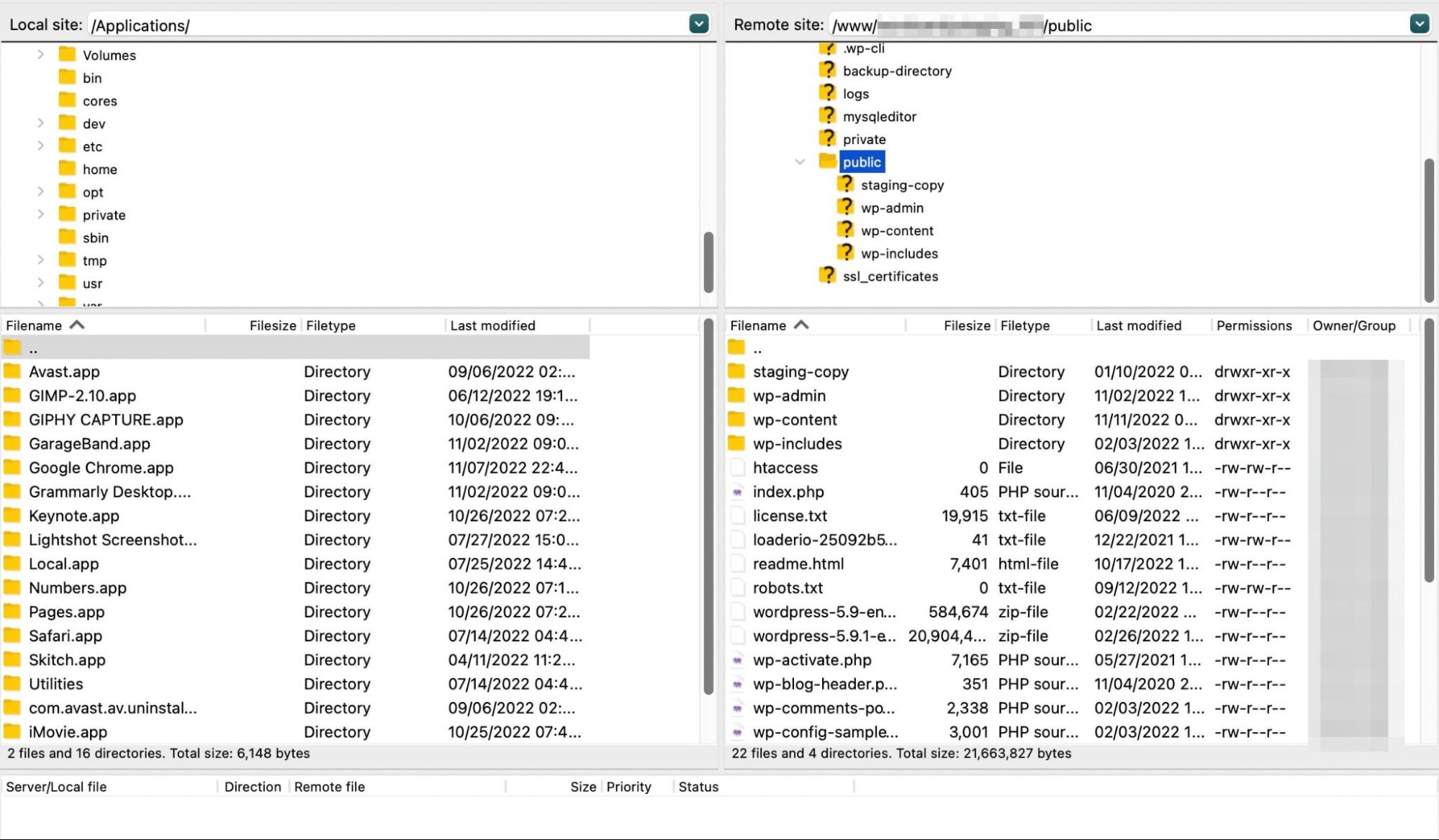 When you right-click on a file, you'll see options for downloading, editing, and creating new directories. You can also add new files, delete unnecessary ones, and update file permissions: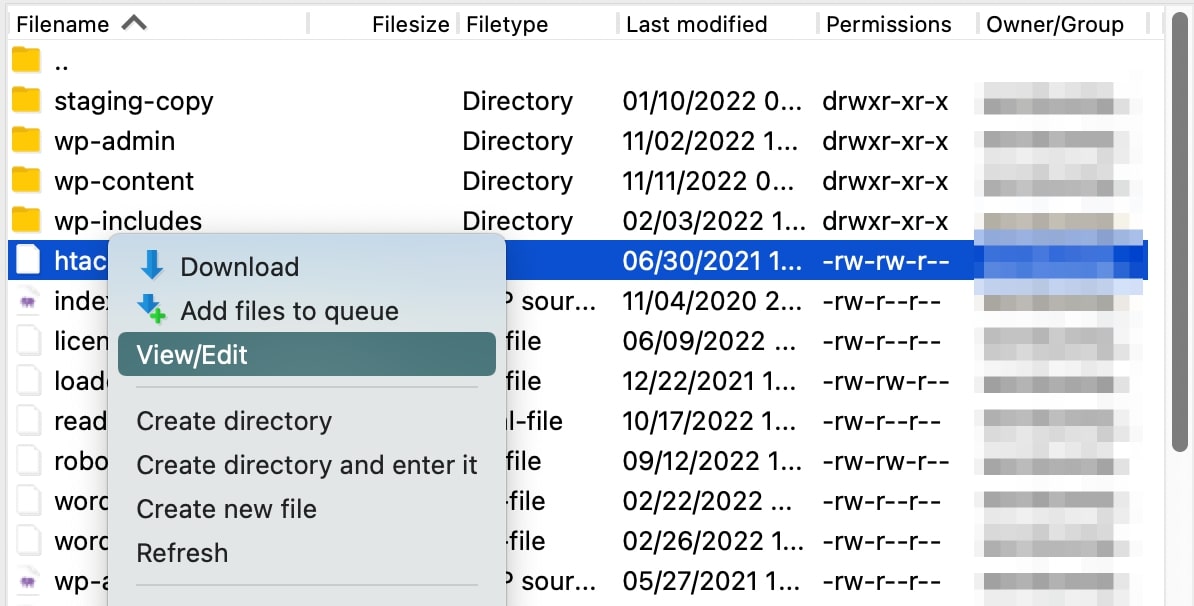 Along with being user-friendly, FileZilla performs frequent software updates. Although the interface may appear slightly dated, there are continuous bug fixes and performance improvements.
Cons
FileZilla is the trusted FTP client for many users, but it has had a few controversies regarding its security. In a few cases, FileZilla was flagged for having malware in its product bundles.
In 2013, SourceForge was FileZilla's hosting site. At the time, the SourceForge installer bundled adware into the program, and as a result, some users found unwanted changes to their toolbars, homepages, and search providers.
As recently as 2018, users continued to see adware in FileZilla installers. A few cases resulted in unwanted programs, miners, rootkits, and trojans. This caused some security researchers to advise against using FileZilla.
To remove these ads, you'll have to upgrade to FileZilla Pro, which costs $19.99. You can also avoid this adware by downloading FileZilla directly from the main website. This will give you a more secure connection.
Cyberduck vs FileZilla: Which Is the Better FTP Client?
Before making changes to your server, you'll want to find the best FTP client for the job. This can speed up your workflow, enabling you to perform many management tasks in a fraction of the time.
Cyberduck and FileZilla are well-designed FTP clients that you can use to open, edit, and download files. However, there are a few key differences to keep in mind.
Since FileZilla supports Linux, macOS, and Windows operating systems, it's a more flexible option. Cyberduck is not Linux-compatible, and its interface is best suited for Mac users.
Many developers prefer FileZilla because its main window is separated into different boxes. As a result, you can view your local files and remote server in the same place and easily transfer files between them.
On the other hand, Cyberduck has a more minimalistic design. It will only display your site files, but you may find this simple layout easier to use. Plus, it won't install adware on your computer.
To choose between the two, you'll need to evaluate your priorities. FileZilla can be a better option if you'd like a fast FTP client with a visually intuitive interface. However, Cyberduck is known to be more secure, with a simple and straightforward dashboard.
Alternatively, there are other free FTP clients that can easily handle file editing and data transfers. If you need additional options, check out Free FTP by CoffeeCup and WinSCP.
Choose the Right FTP Client
If you want to access your WordPress files, you'll need a reliable FTP client. Cyberduck and FileZilla are two popular programs that can be used on different operating systems.
FileZilla is a flexible FTP client with drag-and-drop capability and a side-by-side display. On the other hand, Cyberduck has a macOS-friendly modern interface and many external storage locations.
To receive more software reviews and how-to guides, you can subscribe to the DreamHost blog. We'll send new content straight to your inbox!
Get Content Delivered Straight to Your Inbox
Subscribe to our blog and receive great content just like this delivered straight to your inbox.