How to Make the Most of Black Friday and Cyber Monday Deals
Thanksgiving weekend means quality time with family and friends, stuffing, pie, and, of course, some of the best shopping deals of the year.
After the leftovers are put away, it's time for Black Friday and Cyber Monday. Whether you're looking to simply cross a few gifts off your list or drop cash on a Nintendo Switch, kitchen appliances, or a new domain for your website, it's a good idea to do a little pre-gaming.
12 Ways to Make the Most of Black Friday and Cyber Monday Deals
Not to worry, though. We've done the research for you. So get ready to whip out that wallet, power up your laptop, and follow these 12 strategies to score the best deals.
Your Domain Is Waiting
Don't let someone else register your ideal URL on Black Friday. Search DreamHost's 400+ TLDS to find the perfect fit for your website.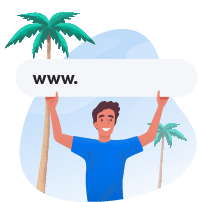 Before You Carve the Turkey
1. Do Your Homework
While Cyber Monday used to just take place on — you guessed it — Monday, it has become so popular that many retailers stretch it out into "Cyber Week." Some sites have different deals every day (even by the hour!). That's why it's crucial to come up with a game plan before you load up your browser tabs with your favorite online retailers.
While many shops keep sale details under wraps until the big day, often a little digging online will bring up leaked ads or specific roundups on shopping sites so do your homework.
If you haven't started browsing yet, you might be behind — according to the National Retail Federation, more than half of holiday shoppers begin planning their gift list in October or earlier.
2. Know if the Price Is Right
Some "price drops" on Black Friday and Cyber Monday aren't actually doorbuster deals at all. It's common for stores to raise their prices just before the big days just so that they can "slash" them. That's why it's important to know the going price of the items on your list before the holiday shopping frenzy rolls around.
To start tracking prices, you can't go wrong with a classic spreadsheet. There are free sites that help you do the work too, such as Finery and Shoptagr, which will alert you when an item you're watching goes on sale. There's even a price tracker devoted just to Amazon: camelcamelcamel.
Similarly, try to do some comparison shopping on Black Friday and Cyber Monday to ensure that you really are getting the lowest price. The Google Shopping app is an easy way to measure prices and inventory.
3. Connect With Brands
Many brands have their own email newsletters (by the way, do you want to sign up for DreamHost's?) and now's the best time to add your email address to the list. They'll often share deep discounts ahead of time, exclusive offers, and codes for bargains like free shipping. And if you're really into snooping out savings, follow your favorite brands on Twitter or Facebook.
4. Make a List
It's too easy to get carried away when you're snagging great deals that are only available for a limited time. To avoid falling into the "sale trap" — and the buyer's remorse that comes along with it — create a list of the gifts and items you actually need. While you're at it, it's a good idea to also write down how much you expect to spend for each item or person, since going into debt for gifts doesn't put anyone in the holiday spirit.
Get Content Delivered Straight to Your Inbox
Subscribe to our blog and receive great content just like this delivered straight to your inbox.
5. Use Bookmarks
Often there is only a limited amount of products available for rock-bottom deals on Cyber Monday, so to make sure you're first in that virtual line, bookmark the pages with the deals you're interested in so that you click on them the second the sale starts and reach the page instantly. Even a few seconds can give you an advantage when millions of shoppers are online.
Shopping on Black Friday and Cyber Monday
6. Hit the Sales Early
We've all seen those viral videos of shoppers lining up at big box stores before dawn. While you don't necessarily have to wake up before the roosters, it's a good idea to get there early for in-store sales. To make sure you don't miss a deal online, set calendar reminders for time-sensitive deals, especially for products that will be low in inventory.
7. Go in Person
It might seem like Cyber Monday has the upper hand over Black Friday, particularly when it comes to electronics and tech, but that isn't always the case. Many stores offer in-store exclusives so you'll have to show up in person to get the prices that aren't always matched online. Another bonus of dropping by a brick and mortar store? Many have surprise deals that aren't advertised anywhere else.
8. Read the Fine Print
If a deal is a limited-time offer or you're afraid your cart will be emptied out before you have time to check out, it's easy to get a little trigger happy. And impulse buys are a lot more tempting when less dough is at stake. But when discounts are deeper than usual, that sometimes means that the usual customer service rules don't apply. Be sure to find out return policies before you commit to a deal. After all, if you get stuck with something you can't return, it won't be a deal in the end.
9. Stay on the Safe Side
If a deal on a site you've never heard of is too good to be true, there's a chance it really is. Around the holidays, phishing emails and scams become even more common. If a deal in an email looks suspicious, instead of clicking on the links in the email, go directly to the website offering the sale. Big name stores and brands are your best bet when it comes to online safety.
While You're
 Checking Out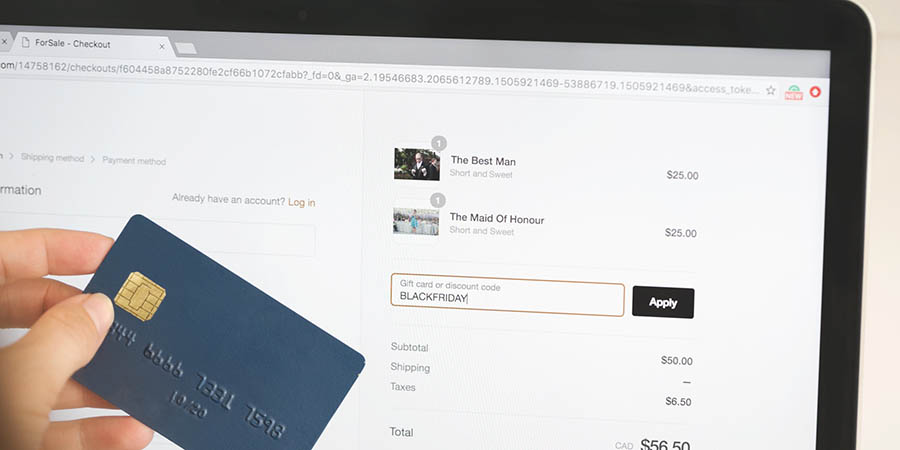 10. Have Everything Ready to Go
When deals are hot, e-tailers will commonly give you a countdown for how long you can keep something in your cart. Or it may sell out before you even have time to whip out that credit card. To prevent that, have your card ready by your side, and even better, create a profile on the site before Black Friday and Cyber Monday to speed up the checkout process. If you have discount codes, make sure those are ready too so that you can quickly type them in without having to scan your email or scour the internet for coupon codes.
11. Don't Forget About Shipping Fees
That flat-screen TV online is an amazing deal — until you're checking out and see the insane shipping fee. Few things are more disappointing on Black Friday and Cyber Monday than to find out that the shipping costs more than the item itself, which can be the case when it comes to larger items.
And remember: just because you can buy something online doesn't mean that it will be shipped to you instantly. Items often sell out quickly, meaning that it could take weeks to get restocked. Before you buy, look at the shipping dates to ensure it'll arrive before the holiday.
12. Save Receipts
Even if you're shopping in person, not every store will give you a print receipt. Decide in advance how you want to track your spending and keep a record. Whether you opt for old-school receipts or an email version, store them all in one place, particularly for high-ticket purchases, in case you need to make a return or exchange. If you decide on email confirmations, have them all sent to the same email address and create a folder to stash them together. Not having to scroll through all your emails will save you major time later.
Ready to score big on Black Friday? At DreamHost, we've always got a domain deal on deck. With 400+ TLDs to choose from, it's easy to find the perfect URL for your site. Check out the discounts today!