The idea originated from a heady combination of desperation and inspiration. Now, it reaches more than 30,000 people worldwide, even garnering a recent nod from Oprah's magazine.
Meet Silent Book Club, the low-maintenance option for introverted readers.
The premise for Silent Book Club is simple. Instead of bowing to the pressures of traditional book clubs (does speed reading the day of an event sound familiar?), a group of like-minded people can meet up in a public place solely to read, relax, and enjoy the downtime (imbibing encouraged but optional).
The club, which uses DreamHost for its web hosting needs, began with a couple of friends in 2012, namely Laura Gluhanich and Guinevere de la Mare.
De la Mare was in the throes of toddlerhood with her two-year-old son who didn't like to sleep, and she needed an occasional escape.
"As a working mom, there is no 'off' switch. You have to demand downtime and carve out time in your schedule for self-care because no one is going to hand it to you unbidden," de la Mare says. "Lounging in bed and reading for hours on a rainy morning is a lovely fantasy but simply not an option with a toddler in tow."
One evening she met Gluhanich at a bistro in between their San Francisco apartments, and the two began chatting about how nice it would be to be able to show up to a book club meeting and just read and drink wine — no homework necessary.
During the next few years, the pair met up sporadically with local friends at wine bars to read. In 2015, Gluhanich, de la Mare, and Kristin Appenbrink launched silentbook.club, and bibliophiles began latching on.
Clubbing with Friends
Silent Book Club, which boasts more than 50 chapters worldwide, is really all about sharing a low-maintenance way for individuals to enjoy reading their own book — together.
"Until Silent Book Club, I never found a book club that stuck," de la Mare says. "I have been part of a YA book club, a 'Read Women' club, and a couple others. The constant thread through them all is that I was usually stressed out that I hadn't finished the assigned book and anxiety-ridden that I wouldn't have anything smart to add to the discussion. And don't get me started on hosting/snack duties. Just, no."
Providing people with an alternative book club has been rewarding for its founders, especially when they hear about how it has improved lives.
"It's really delightful to hear from community members on how SBC has impacted them," Gluhanich says. "They've rediscovered their love of reading, they finally found a book they loved that was shared in the group, they've connected with a new part of their identity."
And despite the lack of conversing, there is a lot of bonding going on.
"I love seeing the same faces month after month. I've met so many people and made lasting friendships with people who have been coming to SBC for years," de la Mare says. "Which is funny to think that you can become such good friends with people who get together once a month to not talk."
A Penchant for Print
Gluhanich, who grew up in western Michigan and spent a dozen years in the Bay Area before moving to Colorado last year, says her older brother and parents taught her to read when she was quite young.
"We were frequent library patrons," she recalls. "I can't think of a time when being a reader wasn't a central part of my identity. I used to get in trouble for staying up reading with a nightlight or flashlight when I was growing up. Though the quantity of books read has gone up and down depending on life, I've always loved reading."
Gluhanich now works on making the tech industry more inclusive and equitable in addition to co-running Silent Book Club. Besides reading, she spends her time climbing, hiking, skiing, and listening to live music.
Similarly, de la Mare grew up in a family of readers.
"I was fortunate to be surrounded by books from the very start," says de la Mare, who was born and raised in Hawaii. "As a child, I was a voracious reader, and as an adult, I generally prefer fictional characters to real-life ones."
She moved to the Bay Area in 1994 to attend the University of California, Berkeley. Her first job out of college was in advertising at the height of the dot-com boom in San Francisco.
After the crash, de la Mare began working in publishing as a copywriter at Chronicle Books.
"When social media exploded in 2009, I launched the brand onto the internet as their first online community manager," she says. "I currently juggle my day job as the editorial director at Storybird, an online creative writing platform for kids, my side job as co-founder of Silent Book Club, and my round-the-clock job as a mom."
When it comes to finding her next book, Gluhanich says the consistent thing she loves is an author who enjoys the characters they are portraying.
"My longstanding two favorites are 'Franny and Zooey' and 'Pride and Prejudice,'" she says. "I've always loved Agatha Christie as well. More recently I've really enjoyed memoirs."
For de la Mare it's literary fiction — particularly sweeping, multigenerational family sagas — that hook her.
"Some recent favorites include 'The Immortalists,' 'Pachinko,' 'The Heart's Invisible Furies,' and 'The Great Believers,'" she says. "I have a hard time labeling favorites, but I often credit 'Rebecca' by Daphne du Maurier as the book that had the greatest influence on making me a reader."
De la Mare isn't just an avid reader, she's also an author — and it might not be that surprising to find her tome, "I'd Rather be Reading," is touted as a love letter to books and readers alike.
Related: Everything You Need to Know About Using a Website Builder
Fan Fiction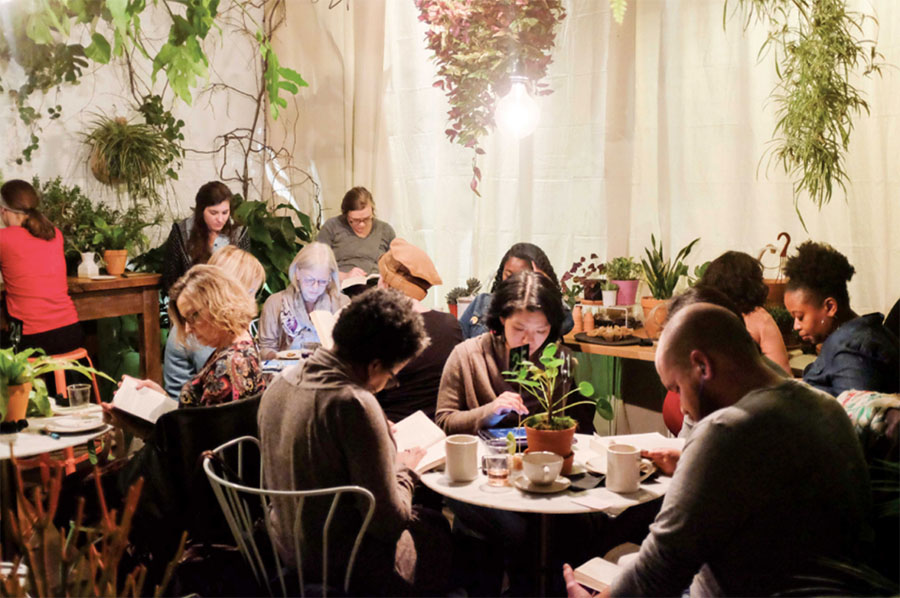 Although Gluhanich and de la Mare knew there was something special about their Silent Book Club idea, they never thought it would become as big as it has.
"Everything we've done that has led to growth has been organic," Gluhanich says. "For example, we started the Facebook group because we couldn't remember everyone to invite to our otherwise randomly-scheduled meetups. It's now more than 30,000 people around the world."
Seeing the growth and enthusiasm around the world has been rewarding for the club's founders.
"From South Africa to Malaysia to Alabama to The Hague, there is this shared sense of relief and delight to have 'found your people,'" de la Mare explains. "It's a powerful reaffirmation that we are all part of the same tribe — at least, we introverts are."
Gluhanich believes the stress-free environment and companionable silence is one of the factors that draw people to the club.
"I think it's the lack of pressure to be reading a certain kind of book or to have a meaningful opinion about something they love — or hate," she says. "I'm not gonna lie — for me personally, I like having a glass of wine with my reading, too!"
Silent Book Club's uniqueness and rapid growth recently caught the attention of O, The Oprah Magazine.
"An editor at Oprah reached out to us because they were working on a story about book clubs and had heard of us," de la Mare says. "It was in the February 2019 issue, a gorgeous two-page spread featuring a photo of one of our chapters. We've gotten great feedback and lots of interest from new members and people who want to start new clubs."
According to de la Mare, the in-person meetups are the heart and soul of Silent Book Club; however, she also acknowledges the way social media connects its members.
"Silent Book Club is all about community, and we founded the organization with the intention of gathering people together in a shared space to read," she says. "But we also recognize that not everyone can get out of the house, not everyone has a community of readers around them or a chapter in their town, and most people enjoy talking about books more than once a month. So our online presence is a way of extending the connections between readers across time zones, geography, and social divides."
The research, she continues, is clear that spending too much time on social media leads to depression and loneliness.
"The best way to counter isolation and loneliness is to find a supportive community of kindred spirits. It can be really hard for people who are introverts or who are struggling with depression to put themselves out there in social settings," de la Mare says. "So Silent Book Club offers a welcome opportunity to be in a shared space with others, having a communal experience, and hopefully feeling a little less lonely."
When people stumble upon a group of readers in public, there are a few stares and occasionally some hecklers.
"One time in San Francisco, we were reading in the lobby of the Palace Hotel while a guy was playing guitar and singing — definitely background music style," de la Mare says. "At one point in between songs, he tried to crack some jokes about how 'nerdy' it was to be reading books and didn't we know how to have fun? Most of his audience that night was Silent Book Club members, and, boy, did he not know how to read a crowd."
Low-Key with DreamHost
Low-maintenance is the essence of Silent Book Club, which is precisely why the club uses DreamHost's shared hosting.
"I think the sign of a great host (online or off) is that you don't realize they are there," Gluhanich says. "We've experienced consistent uptime and support, which is exactly what you want for anything online."
DreamHost was recommended to de la Mare a few years ago by a developer friend when she was looking to build a personal website.
"I had always had a great experience, and since I already had a domain there, it made it really easy to add another. I have no experience in backend development (we use Shopify to run our site), and so I appreciate that DreamHost made it easy to find and register a .club domain and provide hosting services with a straightforward fee structure, all on one dashboard," de la Mare says.
The "Happy Hosting Plan" is a perfectly accurate name for the service, de la Mare continues. "For us, it was definitely 'set it and forget it,'" she says. "DreamHost reminds me when it's time to renew so we never lose our domain. It's been great!"

Shared Hosting
Shared Hosting That Powers Your Purpose
We make sure your website is fast, secure and always up so your visitors trust you. Plans start at $2.59/mo.
Choose Your Plan
Cultivating Readers
Remember that sleepless two-year-old, the impetus for Silent Book Club? He's now almost nine and has turned into a huge reader himself.
"He loves graphic novels, 'Diary of a Wimpy Kid,' and anything about dogs. We still read aloud together at bedtime; it's a ritual that has stuck even when he became a solo reader," de la Mare says. "But sometimes we choose to have 'Silent Book Club' before bed when we both read our own books."
De la Mare credits the club for helping her in a time that she desperately needed it.
"Silent Book Club gave me a way to claim back my time for reading, to calendar in the self-care I needed to regain my sense of self, and, frankly, my sanity," she says.
As for the club's plans for the future, the women in charge hope to see it grow and help other people who need an outlet — or an excuse to read.
"Our goal is world domination, and we're only kind of kidding," de la Mare says. "We currently have more than 50 active Silent Book Club chapters around the world, on every continent except Antarctica. But we're pretty sure the scientists down there spend a lot of time silently reading, so I think that counts."