During the 2009 recession — "I guess we can call that the small recession now," Chase Clark quips — Clark decided he was ready for a new adventure. A longtime journalist and graphic designer, he was living in South Florida, working for a company that produced NFL game magazines. When the economy started to tank, he decided to look for a change of scenery.
Clark's first stop? Cape Canaveral.
Press credentials in hand, he moved to the cape for a few months and landed a front-row seat to the last of NASA's missions.
"It was an amazing time where I was able to photograph the orbiter inside the Vehicle Assembly Building," Clark says." I got to walk all around the launch pad while Atlantis, the last NASA shuttle sent into space, was being prepared for launch. I even sat in the cockpit of two of the space shuttles as they were being decommissioned. Those were amazing opportunities that very, very few people have ever been allowed to have."
Clark's close encounter with NASA's final launches ignited a passion for all things space and space exploration. In 2012 he teamed up with a group of like-minded volunteers to launch RocketSTEM, an educational resource for students, parents, and teachers that aims to foster interest in scientific fields through the lens of space exploration.
"RocketSTEM is a nonprofit educational media organization devoted to inspiring the next generation of explorers," Clark says. "Easy enough to say, but that can be accomplished a million different ways. In our case, we focus on using the history of space exploration and the wonders of the universe as a gateway to getting students into considering following a STEM-centric career path, whether that be as an engineer, a scientist, a doctor, or an astronaut. Our website tries to offer a variety of content for varying education levels that can be utilized by teachers and homeschooling parents."
Just as the COVID-19 pandemic closed schools around the world, RocketSTEM launched a series of online educational resources — lessons, space-themed math problems, games, and more — to help keep them entertained and learning. Clark has seen a surge in web traffic and has relied on DreamHost to keep the site up and running for the past eight years.
Launching RocketSTEM
Born at the end of the Cold War's space race, Clark's earliest memory is of watching a Saturn V rocket launch on his grandfather's black-and-white television.
"I was probably hooked from that point forward without even realizing it," Clark says. "The space shuttle was an amazing beast of engineering, and I always marveled at NASA being able to launch a spacecraft into space and fly it back as a winged glider. At one point, I wanted to design an orbiting space hotel, but that dream remains unrealized to this day."
Clark's childhood fascination with space lay dormant until he had a chance to see NASA's shuttles and rockets up close. He was one of a handful of civilians who got to sit inside Endeavour, NASA's next-to-last shuttle sent into space, while it was being decommissioned.
"It was powered up — there were a lot of humming noises going on, and it was a surreal experience," Clark says. "I never could have imagined that I would ever get to do that. And no one else ever will, because it is in a museum now."
Endeavour and Atlantis completed their final missions in 2011, and shortly afterward, the NASA space shuttle program was officially retired. But Clark wasn't ready to let the excitement go.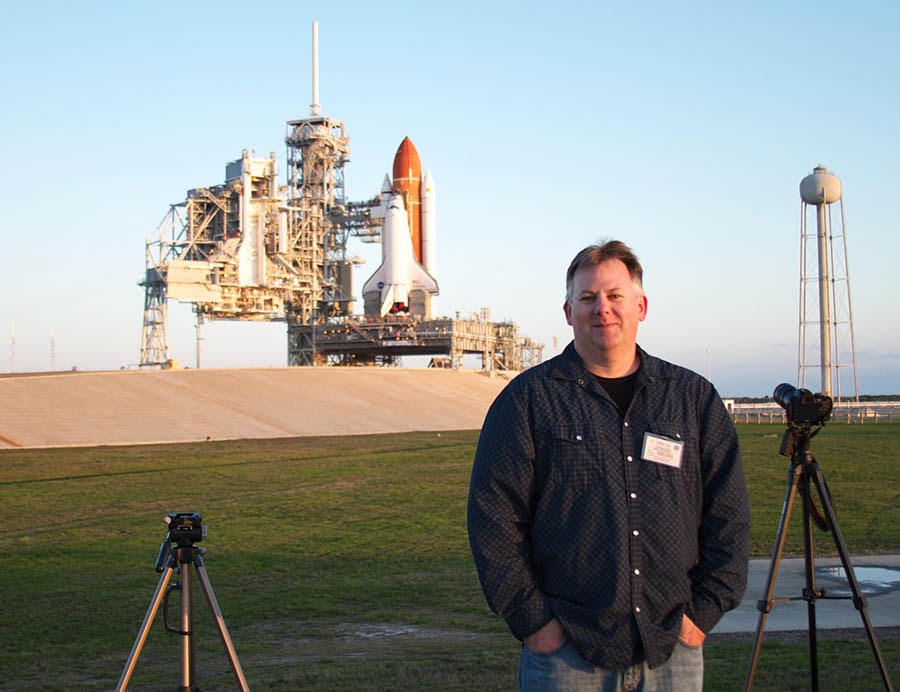 "After the final landing of Atlantis, I found myself wanting to continue sharing what I had seen and learned," Clark says. "Considering my background in journalism and graphic design, starting a space publication was a natural choice. From there, the decision to create RocketSTEM as a nonprofit educational media organization came about, and a couple dozen fellow space enthusiasts, writers, and photographers joined the cause and helped tremendously in making it a success."
Their first project was creating an online magazine, also called RocketSTEM. The first issue coincided with the 40th anniversary of Apollo 17, the last human-crewed mission to the moon (so far).
Clark reached out to Apollo 17 astronauts Gene Cernan and Jack Schmitt — the most recent humans to have left their footprints on the lunar surface — for an interview. He was amazed that, amidst national tours and coverage from national media outlets, both space icons happily spent an hour apiece on the phone with him, giving exclusive interviews for the first issue of RocketSTEM.
"Our first issue also included an interview with a current flight director at NASA's Mission Control in Houston," Clark says. "From there, we've been able to interview a wide variety of individuals – a radio astronomer, theoretical physicist Brian Greene, British astronaut Tim Peake, a Boeing aviation structural engineer, astrophysicist Neil deGrasse Tyson, Buzz Aldrin, and Apollo-era astronauts Al Worden and Ed Gibson."
To celebrate the 25th anniversary of the launch of the Hubble Space Telescope in 2015, RocketSTEM published a special 184-page issue that featured the top 100 images taken by Hubble. Years later, it is still their most popular issue and gets downloaded every single day.
A few years ago, each issue of the magazine became so time-intensive for Clark and the RocketSTEM volunteers that they decided to take a hiatus from creating new issues to focus on other web content.
"The magazine isn't over for good," Clark says, just taking a break for now. "The last issue was published in 2017, but the magazine is still downloaded over 10,000 times per year."
Related: This DreamHost User Is Saving the World — One Seed at a Time
Full STEM Ahead
STEM — an acronym for science, technology, engineering, and math — has been a buzz word for the past decade. Clark's nonprofit jumped right into national efforts to renew interest in science education.
The RocketSTEM website and magazine are full of news, photos, history, and educational material of various levels designed to be used by teachers in the classroom or by homeschooling parents.
But there's one thing you'll never find at RocketSTEM: advertising.
"We've never accepted offers to advertise inside the magazine," Clark says. He also keeps the website free from advertising. "And most importantly, we have always made it available for free to read online or download as a PDF."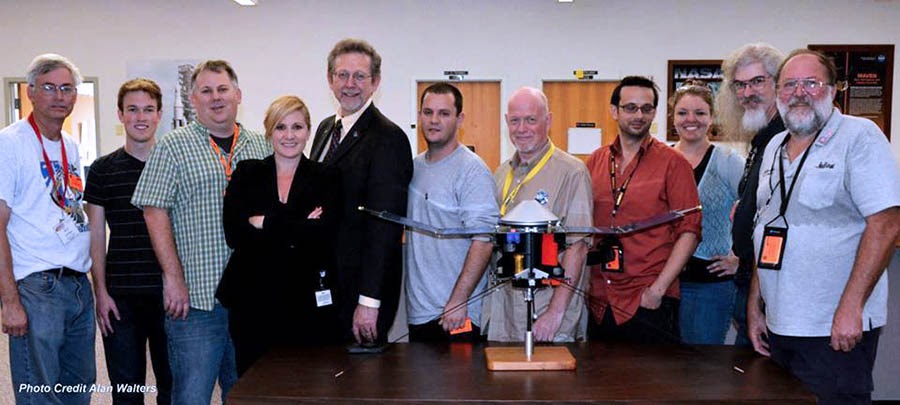 RocketSTEM was always intended to be a nonprofit endeavor, a labor of love for Clark and the volunteers who have spent hundreds of hours interviewing, researching, writing, taking pictures, and more. Clark has been told by teachers and schools that they prefer content without advertising — and he is happy to oblige.
To Clark, learning about space capitalizes on humanity's natural curiosity, and he hopes RocketSTEM can use that curiosity to foster students' interest in other sciences.
"Our biggest questions as a child are always, 'Why?' 'Why is the sky blue?' Even into adulthood, that remains. 'Why are we here?'" Clark says. "The understanding of anything, no matter how tiny, is really just the process of learning about the universe. All of what we know is part of the universe, and our planet is only a tiny speck in a near-infinite reality of time and space. Humanity has always wanted to know what is beyond the next hill.
"And reaching out into the cosmos is the ultimate journey, whether it be with a telescope, robotic probes, or boots on the Moon and Mars. Learning about the universe is, at its most basic, the path to learning more about ourselves. I think that it is hard to fathom the universe and not have it foster a desire to learn more about its workings, which requires critical thinking and a better understanding of the sciences."
Exploring the Universe — from Home
Without even realizing it, Clark and his team were already preparing for a global pandemic a year before concerns about the spread of COVID-19 sent millions of children home from school.
"We had decided to revamp our homepage to focus on our educational content and to make the news articles a secondary focus," Clark says. "We also began developing more space-related word puzzles, book spotlights, and a new section of the website that we call QuizMe. It contains short 10 to 15 question quizzes, generally on a single topic. In a way, it is similar to the early viral quizzes that BuzzFeed flooded the internet with; however, ours are more educational and do not have any advertisements cluttering the screen."
The RocketSTEM team worked on these resources quietly and planned to launch their new site at once in July 2020, just before the new school year.
"When the pandemic took hold in America and students were sent home for the rest of the year, we knew that we had to go ahead and launch the revamp right then," Clark says. "Since then, we've been in a constant rush to keep expanding the educational offerings."
Soon after schools closed, the RocketSTEM team released all the educational content they had already created and is gradually adding more.
"While what we offer cannot replace an actual teacher in a classroom full of students, we hope that our content can be a supplement to home learning," Clark says. "Hopefully, both kids and parents will enjoy the content and be inspired to keep learning about space exploration and the universe."
Related: This DreamHost Customer Is Helping a Generation of Young Women Own Their Power
Support for Tinkerers
Clark doesn't remember quite why he chose DreamHost as the online home for his nonprofit, but he's glad he did. In the early days of RocketSTEM, he started with a simple shared hosting plan.
"Our WordPress theme is pretty resource-intensive and the website contains a lot of images so we fairly quickly outgrew that. We upgraded to a VPS, and once DreamPress came out, we moved the website over to that. DreamHost handled the entire process of moving our site between the servers and everything went smoothly."
The best part about DreamPress?
The staging site feature gives Clark the freedom to tinker with the back end of the website with total abandon. If something goes wrong in his tinkering, he can replace the staging site and start over without affecting the live site.
"Our IT specialist especially loves that as he no longer gets calls from me telling him that I broke the website again and need him to fix it ASAP."

DreamPress
Meteor-Proof Website Backups
DreamPress, our managed WordPress hosting solution, makes it easy to protect and restore your site with automated and on-demand backups.
Find Out More
Into the Future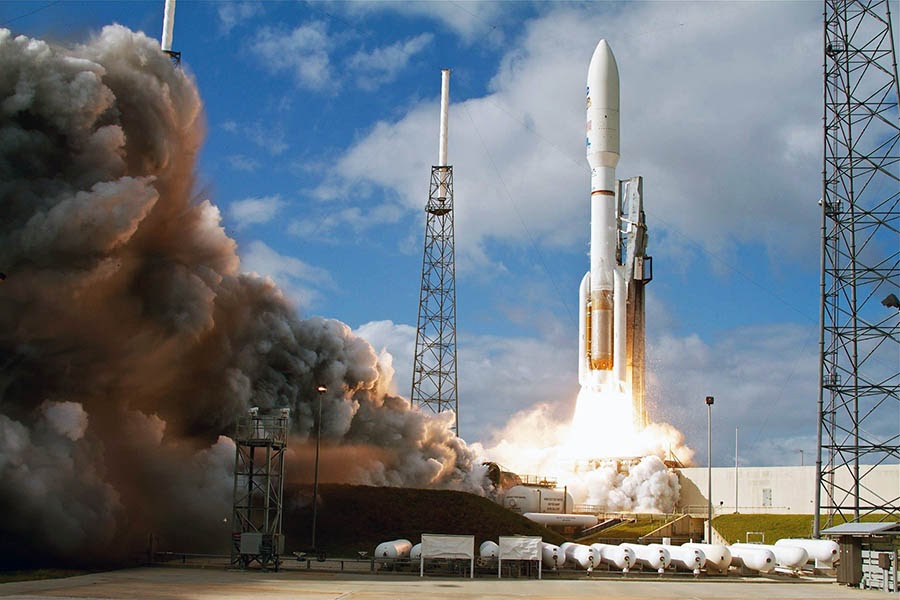 Even after its eight years, RocketSTEM is still learning to adapt to changes in media and student needs. They're working on building a social media following, planning video content, and reaching out to leaders in the space industry. Clark says an advisory committee of experts is in the works, and last year he teamed up with astronomer Alan Hale, co-discoverer of the Hale–Bopp comet, who authors a weekly series of articles about asteroids and comets.
"Even as a seasoned journalist, covering NASA has been an awe-inspiring journey," Clark says. "Through RocketSTEM, I am able to pay that privilege forward. Some of our volunteers have been able to attend their first launch or interacted with people such as Bill Nye and Al Worden. Giving others an opportunity to partake in that level of excitement is a joy all its own. That wonderment stays with them forever."
RocketSTEM is funded mostly out of Clark's own pocket. He volunteers his time with the organization, on top of his day job as a web manager and freelance writer and designer.
"I did not have any previous nonprofit experience, and that has definitely shown in the area of fundraising," he says. "That has limited the expanse of things we can do, and there are many ideas that have remained on the chalkboard awaiting the day we have the funding and staffing. At the same time, I'm quite proud of the content we've produced."
As executive director and founder of RocketSTEM, Clark's daily work has shifted from content creation to coordinating and training volunteers (they're always looking for more help, by the way), managing the website, coordinating with NASA and other organizations, and planning RocketSTEM's long game.
Another role he found himself stepping into on this journey was that of an educator.
"I've also come to realize that at its core, journalism is essentially a form of education. Good journalists are curious by nature and love to research a subject or talk to a person to learn more about it or them. They then strive to impart that knowledge to others via their reporting. In essence, a good journalist serves as both a student and teacher."