Years before becoming a bestselling fantasy author, Nat Russo figured that the ability to write was "some mystical gift from the universe."
After three decades of starting and stopping his efforts at becoming a writer, and with help from his mentor, writer James Scott Bell, Russo realized there was no point waiting on the universe to bestow him with words. He knew he had the power to nurture the skill himself.
"Talent certainly helps, but almost 100% of a writer's success is related to how hard they're willing to work to learn the craft and market their stories," Russo says. "As in most cases, hard work will trump talent nearly all of the time."
A software programmer by day, Russo decided to take his writing hobby seriously in his 40s. Perfecting his craft and leveraging his own talent and hard work, he built the world of Erindor, self-publishing three fantasy novels set there and landing in Amazon's bestseller lists for Metaphysical and Visionary Fantasy, Fantasy, Dark Fantasy, and Horror.
He's still got more of Erindor to explore, words to pen, books to sell, and novels to publish. And, along the way, he's creating a resource that both shares tricks of the trade with aspiring independent authors while promoting his own novels — a blog hosted by DreamHost.
"The single biggest lesson I hope aspiring authors take from my blog is this: the ability to write engaging stories and characters is not a gift from the universe," Russo says. "It's a craft that can be learned like any other craft. You just have to put in the work. Practice what you're bad at, not what you're good at. Get outside of your comfort zone, because that's where growth happens."
The Constants
When Russo was 10 years old, he learned two things that would shape his future: He taught himself how to program and grew a love for reading fantasy novels. And he never stopped doing either.
Reading became a lifelong hobby that later inspired his own writing. "My love for computers and everything related to them" also became a constant in Russo's life — the programming skills he practiced since childhood eventually led to a career in software engineering.
The other constant he could always count on while growing up? Change.
"My dad was 53 years old when I was born, so he was able to retire when I was very young," says Russo. "My parents had a bit of wanderlust, which made us move around a lot."
That kind of childhood built a resilience for change in him that carried over into adulthood, as Russo embraced change across careers and locations. For proof of his adaptability, just take a quick look at Russo's Amazon author bio:
"Nat Russo was born in New York, raised in Arizona, and has lived just about everywhere in-between. He's gone from pizza maker, to radio DJ, to Catholic seminarian (in a Benedictine monastery, of all places), to police officer, to software engineer. His career has taken him from central Texas to central Germany, where he worked as a defense contractor for Northrop Grumman."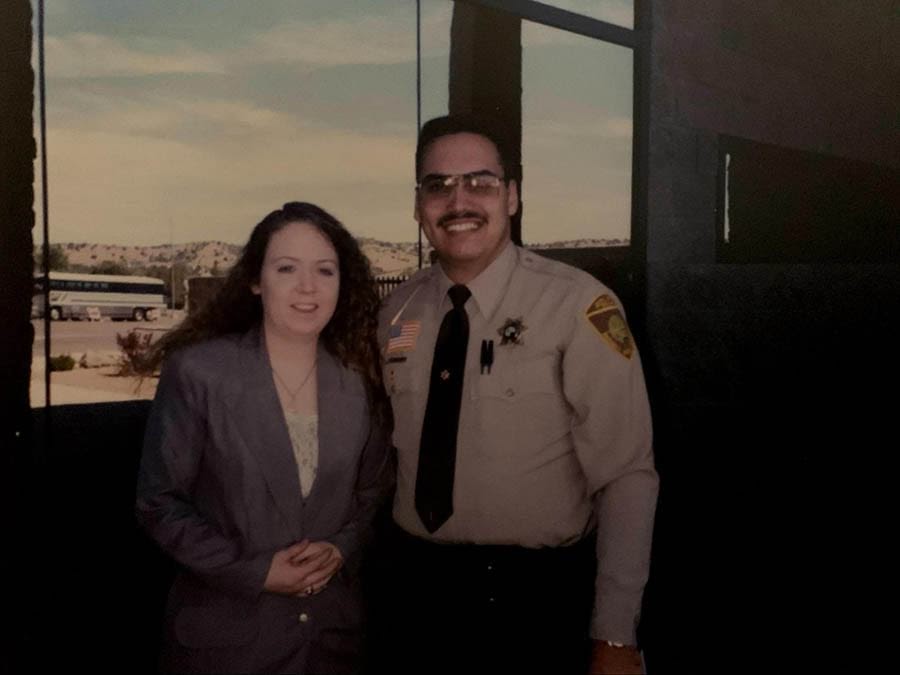 The four years he spent in the 1990s studying to be a priest led to a degree in philosophy. But unfortunately, his experience was far from what he hoped it would be.
"I was witness to and victim of much psychological abuse," Russo says. "It took decades, and a lot of therapy, for me to untangle all of those knots. That period of time, and some subsequent experiences in the heart of the church, feeds most of what I write."
Abuse of power, specifically religious authority — "which can lead to a particularly insidious form of abuse when wielded by unethical people," he adds — permeates Russo's written works.
"Through my writing, I hope to guide others to see the early warning signs of this abuse, and also to see the consequences of turning over our faculty of critical thought to someone else for no other reason than they have religious authority over us."
Building a World
To make the world a little better, Russo crafted a world of his own, bringing readers to a place called Erindor in each of his three published novels: the Mukhtaar Chronicles, which include Necromancer Awakening and Necromancer Falling (with a third novel in the works), and The Road to Dar Rodon.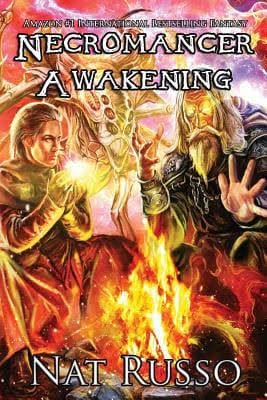 "I created the world of Erindor, which can be thought of as an Earth-sized planet full of a diverse set of cultures, religions, and creatures," Russo explains. "I tend to shy away from traditional fantasy races (elves, dwarves, etc.) and instead make my stories all deal with human relationships."
Setting these human relationships against the backdrop of a fantasy world lets Russo explore our own societal issues, "without smacking the reader in the face with them," he says. "Instead of addressing issues of race, religion, politics, etc., directly, I can paint an analogous picture in a fantasy world and allow the reader to draw their own conclusions from what they see."
Erindor is his personal sandbox — "a living, breathing world in my imagination that I can build and tweak however I like." Many fantasy authors finalize the landscape of their worlds by publishing a map to accompany their stories. But Russo's found that keeping his map a work in progress works to his advantage: "If a new story warrants a new culture or continent, I can simply create one and continue with the story!"
Russo's Mukhtaar Chronicles — published both in e-book and paperback — centers on Nicholas Murray, a Texas college student. He ends up in Erindor, where he discovers and masters powers of necromancy. The Road To Dar Rodon, an e-book-only novelette also taking place in Erindor, is a story about Mujahid Mukhtaar — a character from the Mukhtaar Chronicles that has been a part of Russo's life for years.
"Mujahid is near-and-dear to my heart because I created him for a fantasy game back in the late '90s," says Russo. Mujahid became Russo's main character in the game EverQuest, which he still plays to this day, and his alter ego in online forums.
"In my books, Mujahid is a necromancer lord, which is an exalted position that most are incapable of achieving due to magical/mystical limitations," Russo explains. "He's usually my voice of reason. Mujahid struggles with the battle between his dark side and light side, as do we all, I think. And though he usually ends up on the side of light, he stumbles and falls like the rest of us. It's how he stands up and carries on that impresses me."
Declaring Independence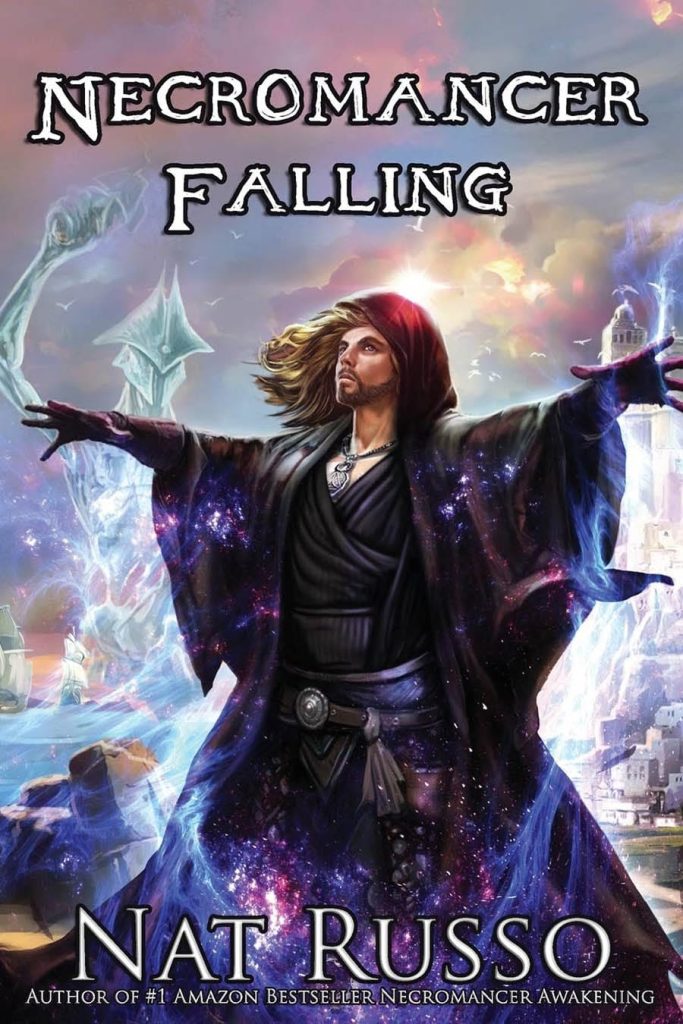 Russo's novels have topped bestseller lists on Amazon — but you won't find them at Barnes and Noble. So after debating whether to seek an agent and query publishers, like many writers in recent years, Russo decided to self-publish.
"Whether or not a writer is represented by an agent has very little to do with the writer's ability," Russo says. "It's more about marketing and what an agent believes they can currently sell. I've seen more than my fair share of traditionally published books that needed serious editing, and more than my fair share of independent books that aren't given the reception and recognition they deserve."
Self-publishing feels like a 2000s, age-of-Amazon phenomenon, but Russo points out that historically, publishing houses are the more modern innovation. "Independent authors used to be the standard of the day until the Industrial Revolution came along and savvy capitalists saw there was money to be made in publishing," Russo says.
Because we're all so accustomed to what Russo terms the "traditional middleman model of publishing," independent authors face a huge obstacle: imposter syndrome.
"The challenge all new authors need to overcome is their sense of authority," he says. "Embracing one's personal authority as a writer is a difficult process. We just have to keep repeating the positive message to ourselves that we have authority over our words, and our words deserve a hearing."
The independent life works well for Russo. Instead of chasing someone else's deadline, he can write at his own pace, balance a day job, and keep most of his royalties.
"There are some amazingly talented independent authors out there nowadays," says Russo. His favorites list is long, topped by The Night Traveler author Fiona Skye and Robert Pruneda, author of Devil's Nightmare.
Related: Herald and Sons Publishing: The Ultimate Father-Son DIY Project
Note to Self
As Russo took to honing his writing craft, he jotted down lessons learned about writing along the way. The list grew longer, and he shared these tips of the trade on his Twitter account.
"In truth, they were more reminders to myself than anything else," Russo says. "But, before long, I discovered there was an audience for these writing tips."
Russo went into software engineer mode to reach that audience: He wrote a program that would keep his Twitter feed active throughout the day. Each time he discovers something new about the craft of writing, he composes a "note to self" in the form of a tweet. His software randomly selects a list of tweets to cycle through and a paid service keeps the tweets coming to a global audience. This keeps his worldwide audience supplied with plenty of writing tips — plus marketing plugs for his novels. "The tweet train has been running 24/7 for nearly 10 years now," Russo says.
Much like online reviews for restaurants and services, Russo says social media offers readers social proof of the legitimacy of a writer: "It's in the form of likes and shares, and the more followers a person has, the more influential they are in evoking this social proof." And with 91.6K followers on Twitter, Russo has plenty of proof to offer.
Related: How to Create a Social Media Marketing Strategy for Your Website
Many of his tweets link to Russo's blog, A Writer's Journey. This website has become a platform to mentor aspiring writers and includes a homepage for promoting and sharing updates about his own writing. The role of mentor feels natural to Russo after years of leading ministries, working with Boy Scouts, and training junior software engineers.

"The primary audience of my website and social media platforms are up-and-coming authors who are in the process of writing or publishing their first book," Russo says. "I try to offer a baseline level of knowledge that new writers can adopt and build upon to suit their own unique voices."
One of the most important lessons in promoting a self-published book lies in establishing an online presence — Russo calls it an "author platform," and offers a primer on how to build one. Russo's own platform is grounded in his website, hosted by DreamHost. When searching for a trustworthy host, he found that DreamHost offered up plenty of its own social proof:
"I heard nothing but good words from folks who are actual DreamHost customers," Russo says. "That drew me to DreamHost. But, what keeps me at DreamHost is how amazingly helpful and friendly the technical support is. I've had some issues crop up, and the tech support team has always been there to get my site back up and running as quickly as possible."
That kind of stability, he says, helps him keep connected with readers and an audience that spans the globe.

Shared Hosting
We Support Your Dream
Whatever your online goals, we'll be right there with you, making sure your site is fast, secure, and always up. Plans start at $2.59/mo.
Choose Your Plan
Full Circle
In addition to landing on bestseller lists, Russo's work has drawn positive feedback from readers and reviewers alike.
"Some of the quotes from review organizations have truly blown me away," Russo says. For example, one reviewer compared him to George R.R. Martin and Neil Gaiman, and another to Brandon Sanderson. "Those men are absolute giants of the industry, and to be named in the same breath as them is indescribable."
Perhaps more meaningful has been messages from readers who, thanks to Russo's writing, recognized psychological abuse in their own lives and got themselves out.
"I'm just so glad my work is actually helping," he says. "If I can get just one person out of an abusive situation, my work would be complete."
It's that determination to affect change in the world that keeps Russo coming back to the keyboard, even while undergoing chemotherapy after a recent cancer diagnosis. "My current focus is on just getting better," he says. "That takes more time than I thought it would! But, beyond that, my work and writing take up the lion's share of my time."
He's got several outlines for more stories in the works, mostly fantasy, with some literary fiction mixed in. And he's on the verge of completing the Mukhtaar Chronicles trilogy, which he started a decade ago.
"I'm hoping to have it in readers' hands sometime in 2022."