Most kids ask for new coloring books or a bike when they're growing up. But unlike most kids, Hope Looney wanted fancy cake decorating books — and that's what her mother and grandmother bought her. Despite her love for making fancy cakes as a kid, it wasn't what Looney became when she grew up . . . at first.
After earning a degree in finance, Looney realized she wasn't happy in her career in the healthcare industry. So, she decided to make a change and went to culinary school instead. She enrolled in Norwalk Community College, where her professors knew her passion for cakes, so they tailored her education to it.
"I took all the pastry courses," Looney says. "When it came to presentation projects, I was able to just use cakes, instead of having to make croissants and bread."
Baking a Better Future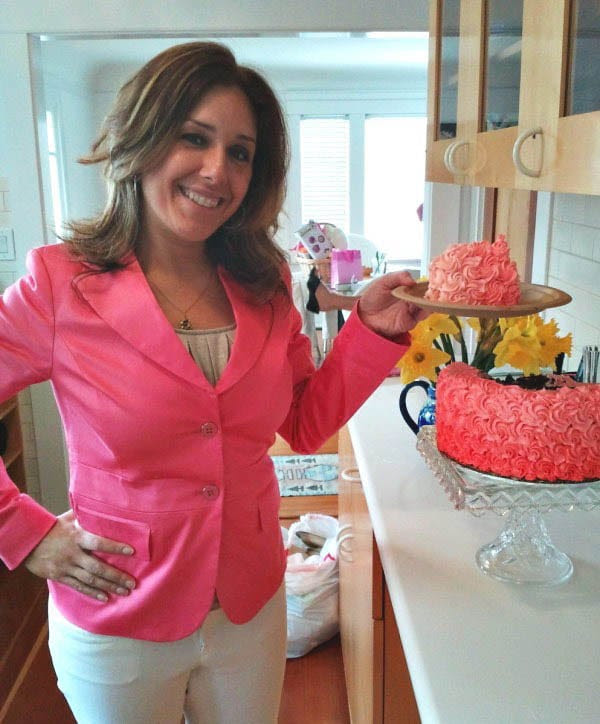 Yet after she earned her culinary certificate, Looney was frustrated that she couldn't find a job at a bakery. She needed healthcare and ended up working as a software trainer.
"Originally, I hoped to open up a bakery in California — that's where I went to college."
A year later, however, in February of 2007, an opportunity came up. It was true kismet: JCakes, a bakery in North Branford, Connecticut (where she was raised) was for sale.
"This is a bakery that I had grown up with as a kid," Looney says. "We got all our cakes from it. I kept in contact with the owner while I was in culinary school, and then she decided she wanted to sell it. The bakery I idolized as a kid growing up was even more exciting for us. We didn't want to let the bakery close either, because that's probably what would have happened. I had never really worked in a bakery before. I did stuff on my own, but it was never in that environment, so it was a fast learning curve."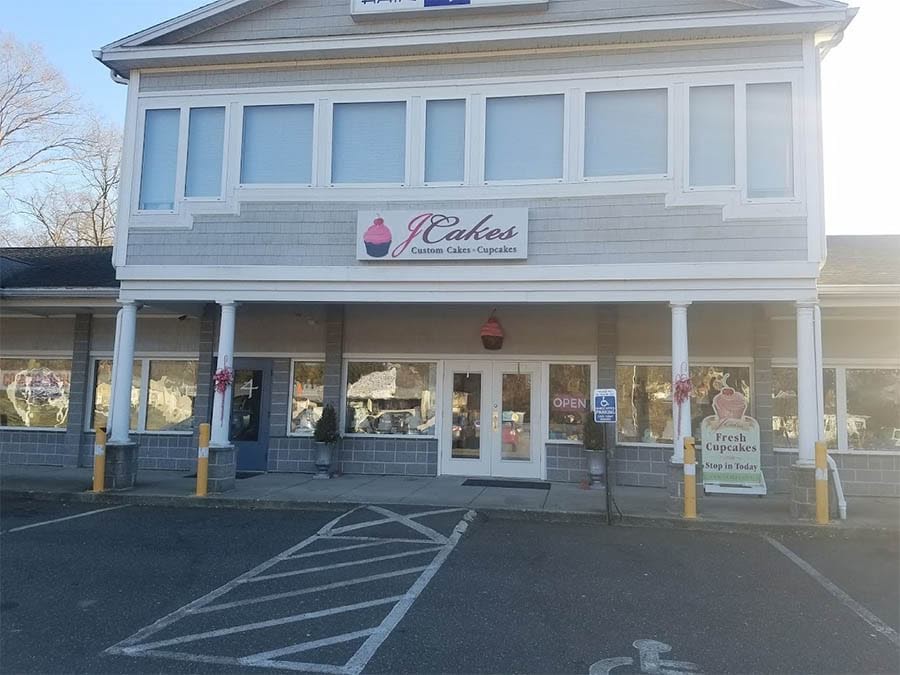 Ready for the challenge, Looney bought JCakes and dove right in. The first hurdle to cross: How to retain the bakery's loyal customers while putting her spin on the business?
"I basically kept the same menu, formulas, and recipes," Looney recalls. "I added new cakes to the menu one at a time, along with cupcakes. But I didn't want to veer too far off from what she was doing."
The prior owner was a one-woman show, so Looney grew production and brought on staff. She's now up to 12 employees. "It's rewarding supplying jobs to people in the community," she says.
Love at First Site
But growing the team wasn't the way Looney chose to grow the business. She knew the bakery needed a digital presence too. So in 2007, she launched JCakes.com, and a Facebook page followed in 2008.
"It started out as a one-page website," Looney says. "Slowly, we would add to it, piece by piece. It was definitely a work in progress. We've changed things, and we've upgraded. We've probably redone the site five times now."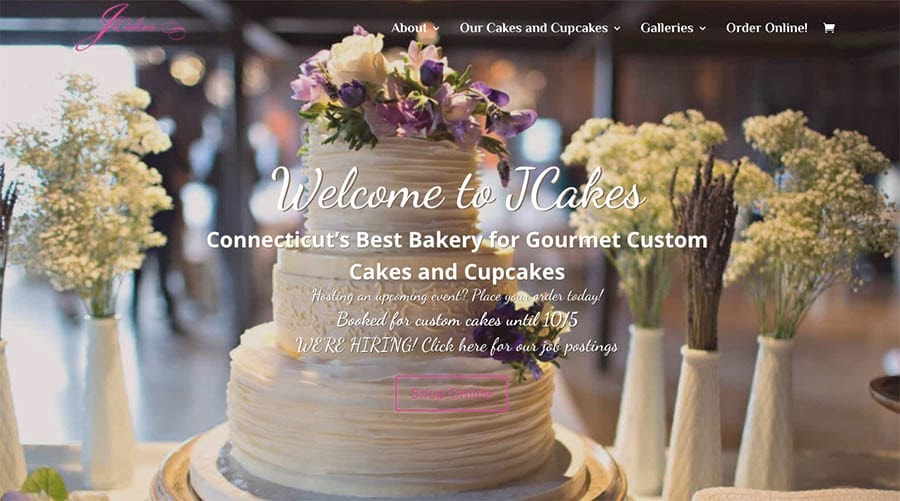 To spearhead the technical aspects of the website, Looney enlisted her good friend, Pete Kuhn.
"When Hope needed something quickly, I naturally recommended DreamHost," he says. "We started on their affordable-yet-reliable shared hosting and in time moved on to a higher-level DreamPress plan seamlessly. DreamHost offers honest, quality hosting. They never try to upsell, yet offer great perks and top-notch support. I cannot say enough about DreamHost support."
Today, JCakes.com primarily uses WordPress as its CMS. "We employ a variety of customizations and plugins and extended this further during the pandemic," Kuhn says. "The need for online ordering became urgent, and the WordPress platform offered the most cost-effective solution in WooCommerce."

Shared Hosting
We'll Support Your Dream
Whatever your online goals, we'll be right there with you, making sure your site is fast, secure, and always up. Plans start at $2.59/mo.
Choose Your Plan
Since the wedding industry is so competitive, it's crucial to have a website that gives you an edge. "JCakes.com is the virtual store front and lead generation engine for the shop," Kuhn says. "We showcase products and can share exciting press, news, and seasonal releases. Online ordering streamlines some of the back and forth of custom orders."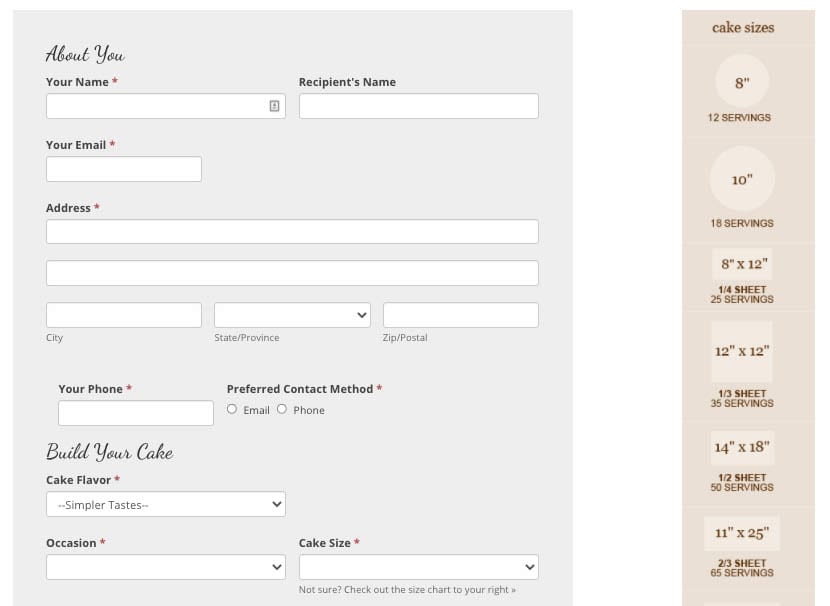 Like the menu, the JCakes website has evolved over the years.
"JCakes started with a single page, non-interactive website," Kuhn says. "Over time, as content and imagery was accumulated, we were able to move into a more catalog-type site. Soon after, powerful forms were employed to allow for easier conversation and custom orders. The latest evolution was the deployment of true online ordering."
Related: How to Set up Curbside Pickup and Delivery Through Your Website
Spreading the Word
To grow brand awareness for JCakes, Kuhn is always pushing for better search engine optimization.
"Google's suite of tools helps keep this all in line," he says. "Google has been a key partner, in fact, as the photos, reviews, and local information features of search results have been critical to success. It helps power those 'cake near me' type searches, as well as creating a virtual 'word of mouth' type recognition. We also employ Google's suite of productivity tools, so our email is cleanly integrated and from the correct domain."
Having a functional and mobile-friendly website obviously helps drive growth, Kuhn notes.
"This requires steady maintenance and considerations for improvement," he says. "Does our theme still do what we want? Are the forms reporting properly? Are the galleries dragging down our site speed? There are many things to be on top of! Without vigilance, websites can break down — or worse, fall behind the times."
When it comes to marketing the site, Looney admits she doesn't have a formal social media strategy. "I wish I did; unfortunately that gets put on the backburner," Looney says. "The biggest thing is posting pictures — that's what draws attention and keeps everyone engaged." She posts about new flavors or holiday treats, for example.
"For the pandemic, I focused heavily on cupcake sales. That certainly kept us busy, when people could order online and pick up right away, because I would keep the inventory in real time so you could always see what we had at the store."
This year, however, there has been a huge uptick in wedding cake orders, so Looney is scaling back her of-the-moment cupcake offerings.
Living the Sweet Life
With a huge surge in wedding cake orders this year, business is booming, so Looney is focused on refining systems and processes at the bakery.
"Especially since the pandemic, everything just got jumbled," she says. "My goals have been recovering from all of that, rebuilding and retraining the staff, and getting things to operate more efficiently."
About half of JCakes' orders are for wedding cakes, while the rest are other special celebrations: birthdays, bridal showers, baby showers, anniversaries, graduations, and communions. But whatever the occasion, each scrumptious cake is made from scratch.
"We make a butter cream that is European style; it's not as sweet as an American-style butter cream, so that sets us apart from the rest," Looney explains. "We are known for our hand-whipped fillings, such as our chocolate mousse and our white chocolate mousse. And our cannoli filling is really, really yummy. We're lucky that we have good sources for ricotta cheese around here with the local Italian cheese factory. Our fresh fruit fillings are also really popular. Nothing is out of the tub or pre-made."
Running the bakery is a culinary dream realized. But for Looney, ensuring that JCakes continues delighting the community with over-the-top confections is the real cherry on top.
"There are some people who have been having JCakes for close to 30 years," she says. "Their kid turns 30, and they're like, 'You did their first birthday cake.' They kept it up every year, which is amazing. The feeling you get when a customer sees their cake and they start crying over it because it brings up this emotion of the time in their life, that's really rewarding."