What should you consider before you purchase a domain? What are the top marketing words in LinkedIn job titles? What are some of the most-effective SEO tools?
If questions like these interest you, Eli Schwartz is your man.
Schwartz, director of organic product at SurveyMonkey, has built a career — and a website — based on his knowledge of and passion for all things SEO and marketing-related. And while he never set out with this path specifically in mind, his marketing expertise has taken him all over the world as a popular presenter at conferences.
With a career focused on asking the right questions, it's fitting that Schwartz works, posts, and presents on helping people find the right answers.
Blogging 101
About 10 years ago, Schwartz decided to start a blog via DreamHost, elischwartz.co, as a way to delve into some of his favorite marketing-related topics, such as data, experiments, technology, and Asia.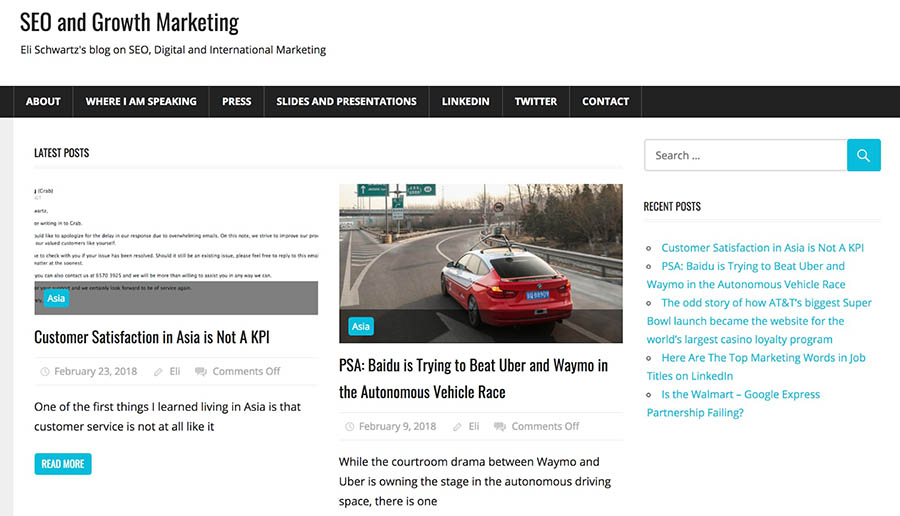 "I was publishing on the most-popular search blogs, and it got me interested in expressing my opinions," he says. "I had never really devoted time to my own personal blogs in the past because it seemed like a better use of time to just write where there was already an audience. I started blogging on my own site because there were things I felt like writing about that I did not necessarily want on other people's sites."
One of the critical components of SEO is building backlinks, Schwartz says, and his website gets traffic from his niche posts that use data to drive home a point.
"Many people build links by reaching out to different websites and asking for a link. I have discovered that when you have something unique, like data, the links just come to you," he explains.
Although Schwartz, who was born and raised in Baltimore, doesn't particularly enjoy writing, he says that the payoffs are worth the process — and the more he blogs, the easier it becomes.
"I love expressing my ideas, and it always gives me a thrill when someone reaches out with a comment. When I first started blogging, it would take me hours to put my thoughts together. With practice, that whole process is much faster."
Blogging was also a byproduct of his speaking engagements.
"People were paying attention to what I was saying. I wanted to share more details, and this was the place to do it," he says. "I wanted to have a forum to talk about discoveries I was noticing that nobody else was talking about."
SEO Scholar
For some, figuring out how to get their websites to the top of search engine results is about as baffling as understanding the components of a credit score. Schwartz, however, has learned the tricks of the trade and loves teaching others how to understand the process.
But his wisdom didn't necessarily come from a college classroom. Schwartz studied accounting and entrepreneurship at the University of Maryland and earned an MBA from the University of Baltimore — years before colleges offered SEO courses.
"I sort of fell into digital marketing, but I think if it had been offered in college I would not have studied it," he says. "I learned SEO in a truly hands-on way first as an affiliate manager working with those who practiced black hat SEO and then as an in-house marketer at a media startup."
He admits he doesn't use much of what he learned in school but still sees the benefits of his diplomas. "Looking back, college taught me how to think and write in ways I could never have done on my own," he says.
Now a Bay Area resident, Schwartz joined SurveyMonkey nearly six years ago, when it was a small company on the verge of tremendous growth. Some of his prior job experiences include setting up and running paid campaigns on Google, Bing, and Facebook, in addition to running many social media campaigns and being involved with branding.
"I have been fortunate to dabble in many different areas of marketing," Schwartz says. "However, my one specialty is technical SEO in which I have deep experience helping companies architect their SEO strategies, diagnose SEO issues, and set up plans for growth. Even within areas where I feel like I have plenty of experience, I am always trying to learn new and better ways to do things."
Related: From the Experts — 20 Great Blogging Tips
Student of Singapore
Schwartz's pursuit of learning recently took him on an adventure, one that required an 18-hour flight from home. From 2015 to 2016, Schwartz and his family lived in Singapore so he could work as SurveyMonkey's director of marketing for the APAC region.
"Going to Singapore was something I really wanted to do; it was the culmination of a year of planning and figuring out how to make it a reality," he explains. "I was fascinated by how different Asia was from the Western world and was curious to learn more. From a business standpoint, it seemed like the ultimate challenge to go somewhere where I knew nothing and try to make something of it."
Working in the island city-state turned out to be one of the most eye-opening experiences of his career, he says.
"I have always been passionate about international marketing since it adds an extra edge of unfamiliarity that makes things more of a puzzle. Immersing myself in a market as interesting as Singapore's added a whole new dimension," he says. "For one, customer satisfaction isn't really a KPI, so figuring out what businesses cared about was a fascinating challenge."
Related: How This DreamHost Customer Became India's Premier Blogger
While the Schwartz family lived there, they had a third son and traveled with their kids — the infant, a two-year-old, and a four-year-old — around Asia, visiting more than a dozen different places together.
"I enjoy spending time with my family doing things outdoors and traveling to new and exciting places," he says. "Everywhere we went we used local transportation: trains, ferries, buses, horse-drawn taxis. That was the highlight for our boys."
Schwartz notes that his favorite trip was to Yogyakarta, Indonesia, an ancient cultural city with a 900-year-old temple and jungle tours.
"The boys probably won't remember these family adventures when they get older," he says, "but they'll pretend they do from the pictures."
Also while living in Asia Schwartz learned — accidentally — a presenting hack.
"I always look to generate emotion when I'm speaking, like telling a joke or some other way of connecting, to know the audience is paying attention. It gives me energy to know they're listening," he says. "In Asia, people were slower to give emotional reactions, like smiling or clapping."
During one presentation, Schwartz was sharing slides with lots of words that were typed in a small font. While some might consider this a faux pas, the design paid off.
"The audience members stood up to read them better, which let me know they were interested in what I was saying and that they were paying attention," he says. "So I continued to use a lot of small-font words on slides and force people to stand up and look. It's a good way to get a reaction in Asia."
Tricks aside, Schwartz says he loves presenting on SEO topics and on his experiences building marketing strategy.
"Speaking forces me to put together a narrative in a way that will land with an audience, and the thrill of watching people learn something new is what keeps me picking up new opportunities to speak."
His interest in Asia also led to the creation of a second DreamHost website, demystifyasia.com, which aligned with his passion for sharing technology and business-related information.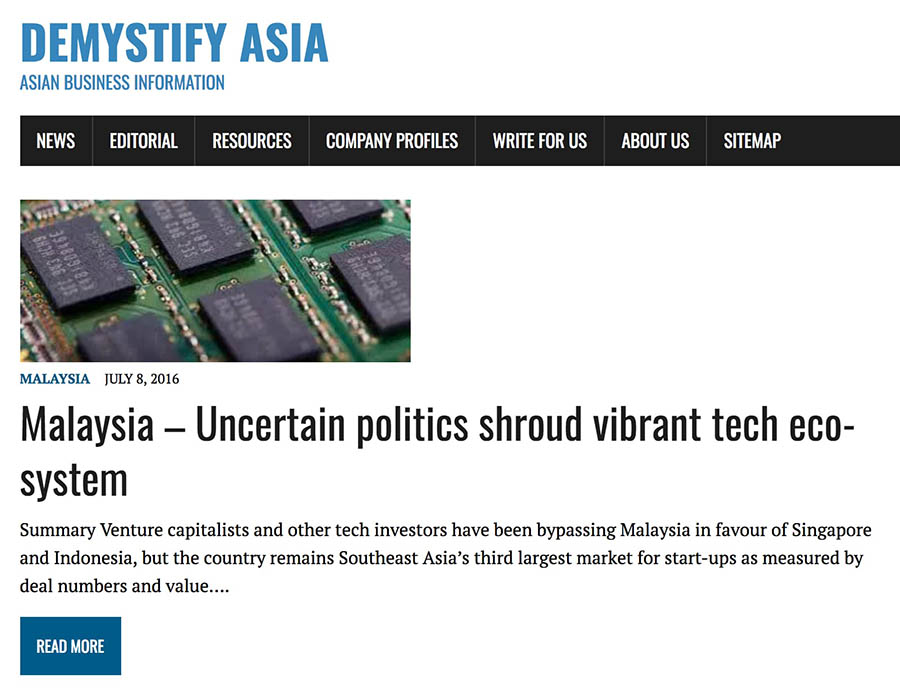 "I created this site with my wife because there is a lack of evergreen content on how things work in Asia with regards to tech," he says. "In the U.S., we have many different outlets that compare the values of one app vs. another but not in Asia. This site was an attempt to tell that story."
DreamHost Makes the Grade
Schwartz is a researcher at heart, and when it came to shopping for a web host, his instincts kicked in.
"I did some comparisons online, looked at which providers offered the most features at the best price, and which had the best reviews," he says. "Once I found DreamHost, I never really looked back. I love the one-click tools to set up WordPress blogs, and the Knowledge Base is really thorough."
He says he appreciates that DreamHost is not only easy to use but that it also offers unlimited hosting. "I originally started using DreamHost because I was with another host that charged per hosting account," he recalls. "DreamHost really justifies the cost of hosting."
He also values the customer support, especially through trying times.
"I have had excellent experiences with DreamHost and found its support teams to be incredibly responsive whenever I needed help," he says. "I even was hacked a couple times, and they helped me to shut down the incursion."
Examining the Future
Schwartz's blog audience has increased by double-digit percentages every year, and he is optimistic that as he accrues more presentations around the globe — his next is scheduled for Estonia in May — he will also accrue more readers.
"I hope to have enough of a readership that I would never think of writing anywhere else," he says.
Like many of his paths, blogging was an unexpected journey, but one he doesn't regret.
"Ideas don't count if they aren't shared, and a blog is the easiest way to delve into ideas," he says. "Every blog starts with zero readers, and if you never start writing, you will always have zero readers."