You may already be familiar with Ash Nathens, Australian illustrator and self-proclaimed "Principal Ink Technician" of scribblegraph.com. Nathens' scribbles first made their mark on Google+, garnering a multitude of worldwide fans (over 13,000 followers to date). An interview with Forbes in 2012 found him more success, and a desire to continue reaching people with his work. Recurring themes in his scribbles include mice, sandwiches, Led Zeppelin ("…because… well. It's Zeppelin, man!"), and most importantly the following elements: the ten of spades, a flea and a ladybug — all things which represent very special things in Nathens' life. While these elements and themes may seem delightfully endearing on the surface, Nathens' delicately-drawn scribbles are consistently warmhearted, whimsical, and poignant.
A DreamHost customer of 10 years, Nathens also runs Ten Spades Media, which offers web and social media services. After years of helping people build and manage their own websites, Nathens' started Ten Spades Media with the aim of helping people develop a better way to manage their online identity — "their brand, blog, band, creative space/whatever service or dream it is they put out there into the world".
When he's not scribbling, helping others with their online dreams, or spending time with his adorable daughter, Jasmine, Nathens can be found cycling, running, free diving, and ocean kayaking on the beautiful, pristine beaches of Perth, Australia. In today's Customer Spotlight, join us as we discover more about Nathens, the inspiration and future of his scribbles, advice for fellow illustrators, and how scribblegraph.com has endured success over the years with the help of WordPress and quality customer service.
What motivated you to start scribblegraph.com? Do you have a mission/goal?
There was a clear initial motivation. I was a single dad, with a young daughter (Jasmine) who started asking me why I looked so sad all the time. I hadn't really felt sad, and at first I really didn't know what it was she was seeing. Then I realised it was a huge disconnection in my life; I had stopped caring about things. I deeply hated that it was something Jasmine could see. I had to find a way to reconnect not only with her, but with myself and all that new-aged stuff. (I joke about new age stuff, but it's really important). I started sharing what I was drawing on social media (Google was just launching GooglePlus at the time) and it really exploded. Those early drawings were seriously awful, in my opinion. They were from the heart, but they weren't technically any good. It made me realise — people just want to connect, they want to feel something real. I kept sharing myself and those drawings, building on that premise. It was a wonderful place to start from, despite the initial motivation. I can say it became a life-changing thing.
What makes scribblegraph.com unique?
Honestly, I'm not sure that it really is. I mean, beyond the fact that what I draw and what I write is a really brutally honest reflection of who I am, how I think, my often very obscure sense of humour — it's unique in that way. But there are a lot of illustrators out there sharing themselves with the world. I'm friends with a few of them, and I know the ones that are very private and reclusive!
Scribblegraph is only unique in that it is about me and the stories that fill my head.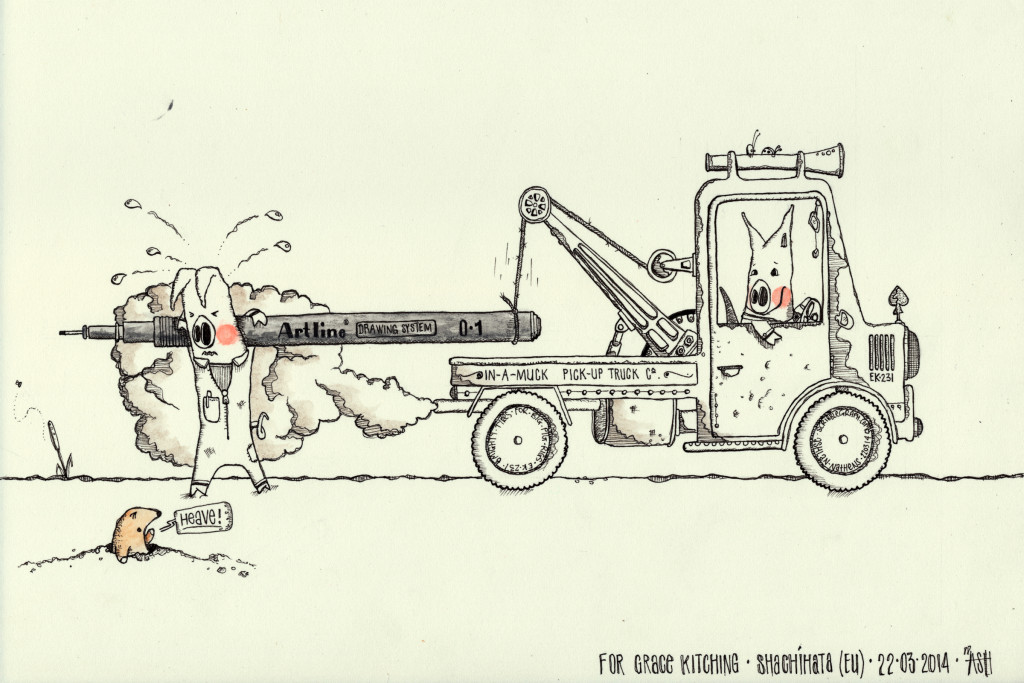 Where do you find your inspiration?
Great question. Inspiration is a big word. The "Love Is" series speaks for itself, I think. I'm excited about what I'm going to do next with that, but I'm keeping that under wraps for now.
I draw inspiration from my life, my family, relationships with loved ones, friends & colleagues. I'm inspired by the art of those that I personally follow and admire, the writers I enjoy — I'm inspired by the creativity that's out there in the world. Sometimes I'll see something and just think "wow, that gives me a really great idea!". More often I'll see a fellow illustrator's work on social media and say "I really have to learn how to draw."
Most importantly though, the initial inspiration still remains strong. My daughter & I love to work on our art together (she's easily more gifted than I am) — and the people that supported me on social media still inspire me to keep sharing with the world.
What is the most challenging part of running scribblegraph.com? The most rewarding?
The biggest challenge — I think it's the same as any industry or any other website — [is] to keep publishing. If you're not continuously putting new work out there, you become kind of irrelevant. People forget you, and move on. It's challenging to put content out there regularly — you go through cycles where you have an abundance of inspiration and there aren't enough hours in the day — and suddenly it's all gone and you feel there's nothing inside you to get out. Finding a way to maintain regular output through that cycle is a constant challenge.
Funnily enough, the most rewarding is the converse of that — in the last 12 months I have had periods of time where I've not been able to work on new things as prolifically. And yet, when I do publish something, I have a really faithful and supportive group of supporters on social media that are always very encouraging. It's rewarding just to know that some idea I had reached someone, somewhere, and made them feel something.
Is there a particular scribble that stands out for you? Why?
There are a couple that I'm particularly fond of. If I had to pick just one, it would be "The Royal Egg Bunny Army" Easter 2014. I wrote a short piece and made a bit of a video with that one which my daughter narrated. We had a lot of fun.
"The Macabre Foundry of Dr. Geoffrey P. Nutterbolt" – the drawing and the story kind of all just fell out of me one night. I enjoy writing as much as drawing.
"The Aviator" stands out for me. It was a commissioned piece, however the clouds were too much for the client. She asked me if I could just remove them, or do it again without the clouds, so it never ended up being sold. I had it framed and gave to my sister who really loves it.
What does the future have in store for scribblegraph.com?
Most definitely a book. Two books! I have several ideas that I feel are strong. I think I will feel that scribblegraph has been a completed journey once I have published a book.
When your responsibilities get overwhelming, what do you do to decompress/refocus?
I live 5 minutes from my local beach. It is surrounded by a perfect little reef system teeming with ocean creatures. I head down there at sunrise with my fins, mask & snorkel and float about until someone pulls me out. I'm totally and completely at peace in the ocean. I get really bummed when the wind blows out the beach, or a storm chops up the weed so you can't see. Those days, I'll take the kayak out and find a pod of dolphins to paddle with. They're such curious creatures, and there's plenty of them around here.
There really is only one tip I have, and it relates to everything we do: love what you're doing, or don't bother. Life is too short to invest in things without passion. I started drawing with the desire to reconnect with my daughter and with the world I was in; the success that followed still amazes me. I think people just wanted to be a part of that joy – I'm happy to share that.
How has DreamHost helped you run scribblegraph.com?
In short, I have used DreamHost with WordPress to remain in control of my own content and my own brand. That might not sound like much, but I personally found out the hard way how important that is. When you put your brand reputation in the wrong hands, it can be a complete disaster.
I had a horrendous experience with a Sydney-based company in 2012 who, after initially approaching me via social media and offering their services, resulted in an unholy mess. They developed and delivered a dysfunctional CMS with a broken e-commerce solution that resulted in a massive disaster. I had just been interviewed by Forbes and felt the entire world was before me. We co-ordinated the website launch and it went live; the flaws quickly became apparent. I spent more than half a year repairing the damage to my brand reputation. I was making sales the e-commerce wasn't recording, and I received emails for months from people saying "I really love what you do, and you're wonderful, but why have you ripped me off?". Anyone who has been through this will understand — I really lost sleep. I answered every email personally with a path to a resolution. I had to do some refunding and I lost business. To this day I'm not sure that company knows how much damage they did. Thankfully, I found the overwhelming majority of people were exceptionally patient when they understood the circumstances, and waited until I sourced my own local supplier to produce goods.
Scribblegraph was a strong name at that time due to explosive success on social media, but not yet a business in its own right. I had no reliable income from it and couldn't justify employing a web designer. So I decided to build and manage it myself using DreamHost & WordPress. Scribblegraph was a One Click WordPress Install on my DreamHost account, followed by about 40 straight hours of developing, modifying, writing and publishing. Then it went live. It was (and still is) the perfect solution. I have used a lot of the lessons learnt during that experience to help others develop better solutions for themselves.
Honestly I don't think scribblegraph would have endured without DreamHost. There are other hosts, so it's not just about the actual physical services DreamHost provide. For me, it has been the unparalleled quality of customer service of their support teams. There have been times when things have gone wrong. Sometimes, it has been an odd glitch in a database, or a server having a conniption. Other times it has been something I've done. DreamHost support has, without fail, always been exceptional. They deliver support appropriate to my level of experience, and those times when I'm totally out of my depth, they have gone above and beyond to employ a solution on my behalf. I have been a customer for 10 years, and this has been my unfailing experience.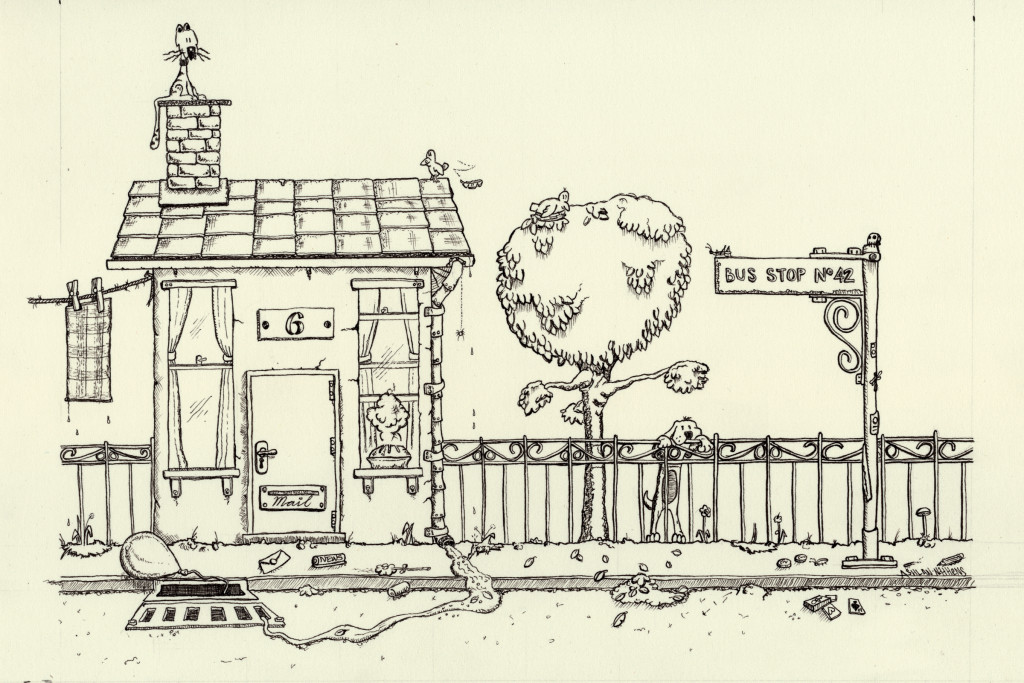 Shared Hosting
We Support Your Dream
Whatever your online goals, we'll be right there with you, making sure your site is fast, secure, and always up. Plans start at $2.59/mo.
Choose Your Plan
Do you have any advice for fellow illustrators, web designers, etc. wanting to start their own website/illustration series?
Be involved in your website & social media, or don't bother having it. A static page that is rarely or never updated is not a website and it damages your identity. People who take the trouble to find you online want you for some reason; You need to have answers there for them, or let them know how to get it. Handy tip: I'm not suggesting you don't own your domain — you should DEFINITELY still invest in that! If you publish or represent a brand/yourself purely with a Twitter account (for example) rather than a website, that's fine. Use DreamHost's domain management panel to redirect traffic from your URL to your Twitter/YouTube profile. That way you can maintain your identity on your own terms, and use a more professional email address: "me@myBusiness.com" rather than "me.mySurname-MyBusiness-name.46037-Z@hotmail.com". That's really awful, and I still see it often. Oh, and there's plenty of other DreamHost domain management tools you'll find useful.
PLAN. Recognise your limitations early, and get support. Creating dynamic content with regular updates are a commitment — an important one, and a time-consuming one. If you recognise that you're not a writer, or if your time is better spent doing whatever it is you do in the world (illustrate, take photos, write music, run a football team, lead a country, sell chickens) — then find someone that works with you who enjoys writing and knows your business. Give them the project of writing content for your site. Handy tip: You will need a plan! I build plans with clients that have a horizon of as much as 12 months; They don't have to think about what to write, and that is so often the biggest hurdle. If you work for yourself, ask a family member, or outsource the writing to someone who supports you. If you really have no other solutions, this isn't something you can ignore. For me, this part was easy, but I let myself down with planning for Facebook & social media management. I hate Facebook with a passion and I don't use it. One of my supporters on Google Plus reached out to me one day and said "you totally suck at Facebook." I said "I know. But I hate it." She said "It shows. You REALLY suck." I said, "Hey, if you feel so strongly about it, you can manage it for me." She said "OK, I will then." I said, "OK then, do it." So she did, and she still does. And, long story short, she moved to Australia and is now my better half. That was a real side-step on the point I was trying to make, but it goes to show just how well planning can work out for you.
Set aside time to interact with people who support you. People love to feel included, valued, and involved with what they enjoy. Make time to get on social media and get involved in that community — it is a really important part of building your brand. It's also free.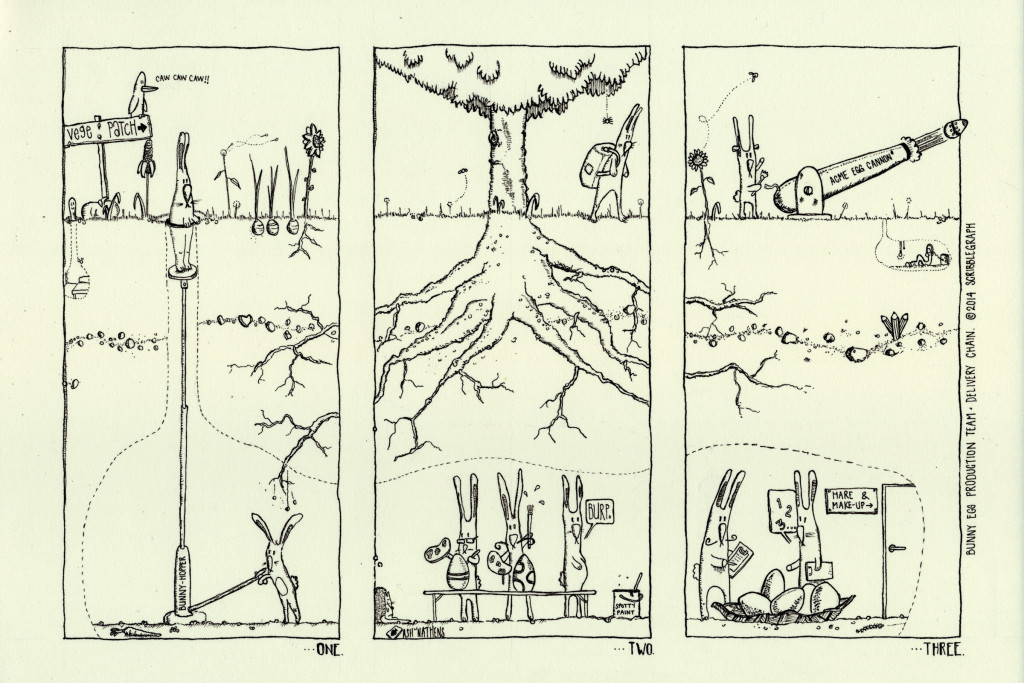 Check out more of Nathens' awesome scribbles at scribblegraph.com, and follow him on Twitter @scribblegraph.