Premium Partnership

DreamHost is launching a partnership with the top-five most registered new TLDs, with over 1.2 million .SHOP domains registered to date. The partnership is with GMO Registry, a member of the GMO Internet Group, to give away 300,000 free .SHOP domains to DreamHost's existing customers.
A .SHOP is a generic top-level domain (gTLD) extension created in 2016 for e-commerce. It allows a business to showcase itself as a standout branded merchant in a crowded internet, which is beneficial given the increase in online shopping within the last several years that continues to surge. In fact, DreamHost internal data show that more websites have been e-commerce enabled in recent years than ever before.
This domain extension is ideal for a broad range of entrepreneurs and businesses of all sizes that want to make their distinctive mark in e-commerce. Shopping platforms, large retail brands including https://www.netflix.shop/, brick-and-mortar stores establishing or expanding their online presence, crafters and thrifters wanting to move off of third-party marketplaces like Etsy and eBay to their own online stores, and even blogs and other publications that cover shopping topics are just a few of the prime users that can all reap the rewards of having a .SHOP extension on their domain names.
Although more than 1.2 million .SHOP domains have been registered since its inception, many more potential domain names are available for DreamHost customers to choose from. It's crucial that customers secure their preferred .SHOP domains promptly, before they're taken.
Customers will not be required to pay fees for the first year of their domain registrations. They'll only do so beginning with their first renewal.
Any existing DreamHost users, including hosting and domain-only customers, are eligible to receive and claim one .SHOP domain credit through December 31, 2022. Terms and conditions of service may be found here.
Related: How do I use a free domain registration?
How to Claim Your Free .SHOP Domain
1. Customers will see a banner graphic in a prime position on the Home page of their Control Panels for the initial 60 days of the offer.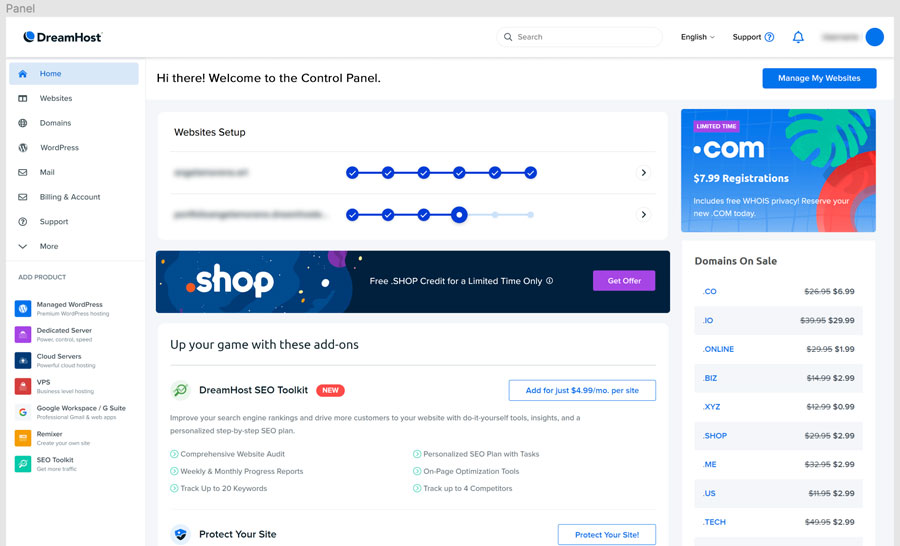 2. When customers click on the banner, they will land on the following page to claim the free domain credit, located under Redeemable Offers.