This DreamHost Customer Celebrates Holidays (Big and Small) on Checkiday.com
Seth Westphal likes to give people something to look forward to each time their morning alarm sounds. Maybe it's National German Chocolate Cake Day, Hug a Drummer Day, or National Selfie Day — whatever it takes to celebrate things that might be a little out of the ordinary.
Social media goes all heart eyes for these unique holidays, and with more than 4,000 of them, they need a place to be cataloged. That's where Westphal's DreamHost site Checkiday.com comes in.
Westphal, the lead backend engineer for Gravy Live Inc., launched the site in February 2011.
"I loved coming up with ideas for websites and implementing them," says Westphal, who began teaching himself how to program in elementary school. "I found myself between ideas, and I started asking around. One that seemed simple was a request for a holiday site."
His Google search revealed a handful of websites that listed holidays, but Westphal felt they were incomplete and not functional.
"Most of them were just static lists that you had to scroll through to find the correct month or day, and none of them had any searching capabilities," he recalls. "My goal was to create the most complete list, make it automatically show you today's holidays, and make it searchable."
Within a few weeks the Wisconsin native created Checkiday.com (see its first design here); although it listed only one or two holidays per calendar date, it won DreamHost Site of the Month the same month it debuted.
Not a bad accomplishment for a high school senior.
Get Content Delivered Straight to Your Inbox
Subscribe to our blog and receive great content just like this delivered straight to your inbox.
Calendaring the Days
Putting together a comprehensive guide for every official and unofficial holiday isn't for the faint of heart.
"At first I scoured the internet for every holiday list I could find. Since my goal was to make the most complete holiday website on the planet, I didn't want to miss any," Westphal says. "I carefully verified the legitimacy of each holiday and found when it was celebrated. Every single holiday on Checkiday has been thoroughly researched by at least one human researcher."
It's a never-ending project for Westphal, who graduated in software engineering and mathematics from the University of Wisconsin-Platteville in 2015.
"Today, most of the holiday additions are a result of people informing us of missing holidays or new ones that have been created," he says. "We are the most complete site out there. We have over 4,200 unique holidays, and that number is still growing steadily."
But even though Checkiday has the largest quantity of holidays, Westphal also strives to have the highest quality.
"We're one of the only holiday sites on the internet that invested the time to research each individual holiday," he says. "We are constantly adding to the amount of data that we expose via our site, including some of our sources, the pattern used to determine when the holiday is celebrated, who founded the holiday, when it was first celebrated, alternate names, hashtags, etc."
In addition to the information, Checkiday also includes holiday descriptions and information on how to celebrate them. "We've currently done this for over 700 holidays — more holidays than some sites have total," Westphal says.
Checkiday is also the only major holiday website that allows lookup of any date in the past or future.
"All of our holidays are represented programmatically with respect to when they are celebrated. There are tons of patterns we capture, like static dates (Christmas), the first Tuesday of July, five days after Easter, or the first day of Spring, just to name a few. This allows us to remove human error from the equation, which still plagues some of our competitors," Westphal says.
Another way Checkiday differs from other online holiday compilations: it detects the user's timezone to display the correct holidays. "Did you know there are holidays that are on different dates for different people depending on where they live? We're the only holiday site that ensures this level of accuracy," he says.
The site also boasts a large number of multi-day events (like month and week-long occurrences), social media accounts, Android and IOS mobile apps, and a robust search feature.
"When reviewing a holiday result, you not only can see the typical holiday information but also see when the previous and upcoming celebrations are," Westphal explains.
___________________________________________________________________________
Westphal's Favorite Checkiday Holidays:
___________________________________________________________________________
Holidays and the Human Connection
Westphal says that many people enjoy finding a holiday to celebrate as an escape from their typical day-to-day grind or as an excuse to meet with a friend, do a new activity, or eat something new. "We've also heard from suicide survivors who love using our site to find a positive thing to celebrate each day," he says.
Checkiday also receives a lot of fan mail from the site's variety of users.
"We hear from teachers who share holidays with their students each day. We hear from friends who plan lunch each day based on the holidays," he says. "Many people in marketing use our site to research holidays for use with their jobs. Restaurants and stores use our site to plan sales and events."
Westphal says he loves the feedback he gets — both complimentary and critical — and uses it to plan modifications and new features, creating a mobile app (for Android and iOS) and adding more information about the holidays, for example.
"We redesigned the site and launched it last year. It now has pictures, descriptions, and more information about each holiday. We are adding more descriptions and information daily," he says, noting that the app also was updated with the extra information. "Multi-day events were also asked for and included."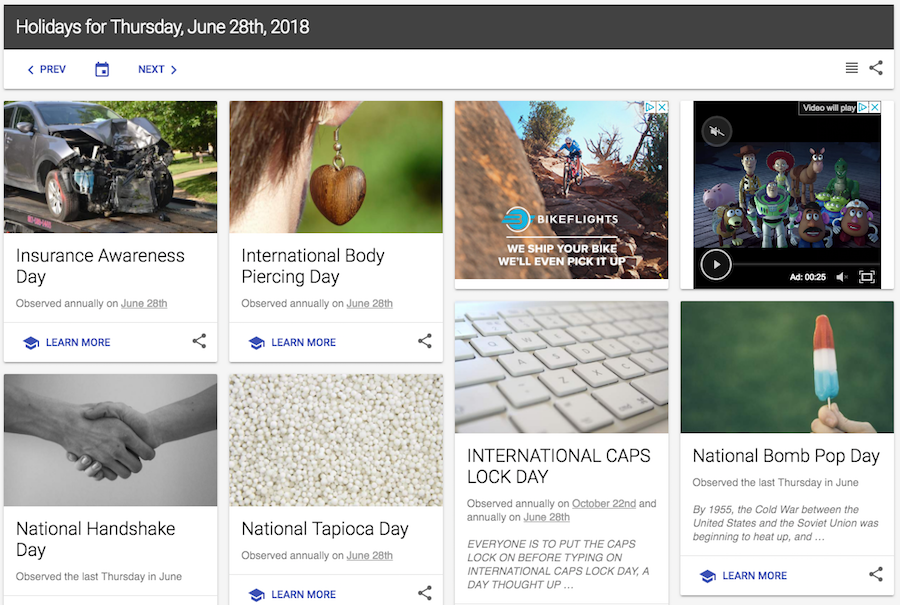 The creation of new holidays has accelerated the past few years, Westphal says, and he believes they will continue to be created for the foreseeable future. (Read Checkiday's info on how to start your own holiday here.)
"One thing I wish people knew is that there is no particular authority when it comes to holidays, no matter what people claim," he says. "I've seen countless people pay thousands of dollars for a holiday proclamation, which they could have done more effectively on their own without lining someone's pockets."
Each day averages about 10 holidays on Checkiday.
"People often ask us why there are multiple donut days, bacon days, etc. I wish people would do proper research before declaring new holidays; in many cases, the effort could be put toward promoting a day that already exists," Westphal explains.
He continues, "If I had to create a holiday, it would be one along the lines of increasing awareness of existing 'unofficial' holidays. Many people have no idea of the abundance of holidays that exists, and it would be great to increase awareness."
Checkiday also lists many international holidays and is working to make that aspect more complete.
"While the U.S. is our main focus for now, we hope to expand to other countries in the future," Westphal says. "Ideally, we would detect a user's location and only show relevant holidays. We have a handful of popular holidays from other countries and locations, like the United Kingdom."
___________________________________________________________________________
The Strangest Checkiday Holidays:
___________________________________________________________________________
Celebrating DreamHost
Westphal, a loyal customer since 2009, says he was initially drawn to DreamHost because of users' ability to host unlimited sites for a low price and also because of its strong reviews.
"What has kept me around is the customer support and the reliability of the services," he says. "Support is always easy to reach, and issues can usually be resolved in a few minutes after talking to a single person who speaks English natively."
Recently Westphal was working with a vendor who was very strict regarding an SSL/TLS certificate order.
"Many of my support inquiries, like this one, are quite technical; I usually know exactly what I need done," he says. "DreamHost does a great job of escalating requests to the appropriate team, and they usually resolve the issues quickly. I have also been impressed by how much technical knowledge the live help staff has. I think in this particular encounter, the person I first talked with was able to resolve my issue by reordering the certificates within a few minutes."
Westphal also notes that the customer portal really sets DreamHost apart from the rest.
"Many other vendors use the same cPanel, but DreamHost has a custom panel. Although it wasn't a deciding factor when choosing DreamHost initially, I really like how its panel is laid out and functions."
Westphal says he appreciates that DreamHost takes care of a lot of the tedious maintenance of a website, while still leaving customers with a powerful and flexible environment.
"I'm a huge fan of the self-renewing Let's Encrypt certificates. It makes my life a lot easier by removing the need to renew and replace certificates. Even when buying a certificate through DreamHost, they install it automatically," he says. "I also love how any domain purchased and hosted via DreamHost automatically takes care of DNS settings for you; both basic DNS in addition to custom www redirect settings. For both shared hosting and on my VPS, I love the fact that I have shell access."
From an engineering standpoint, Westphal says there are a lot of great features. "Although this is not specific to DreamHost, I love the managed VPS product," he says. "I never have to worry about PHP updates or security patches, I just have to write my code and it works!"
At the End of the Day
Westphal says that, as a kid, he always loved Christmas, especially because of the time he spent with his family. "One of my favorite holiday memories is sitting on the floor of my grandparents' house with my siblings and cousins. The adults sat on the perimeter, and we would take turns opening the presents from underneath the tree," he says. "My grandpa loved putting bricks in gifts to throw people off when they tried to guess what a package might contain."
But it doesn't need to be Christmas every day. In Checkiday's world, nostalgia, novelty, and downright silliness can belong to any day. Of all the sites Westphal has created over the years, Checkiday.com is the last one he expected to become popular.
"I initially thought that having a site dedicated to holidays seemed a bit silly, but people love it!" he says.