What is Cloud Computing and How Can It Help Your Small Business?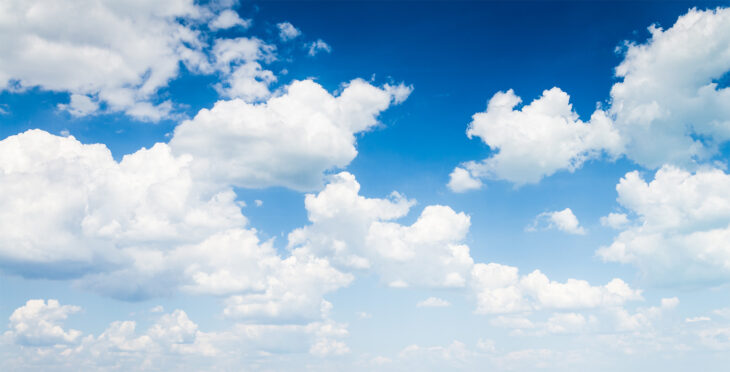 Have you ever written a word or phrase so many times you start to think the word looks silly, and then you start to wonder what it even means? 
Well, get ready for an existential word crisis because we're about to talk about cloud computing — the ins, the outs, the whole nine yards.
But, by the end of the article, instead of wondering what cloud computing really is, you're going to know, and you'll realize it's anything but silly. In fact, it's a necessary tool that can help you grow your business in ways you never thought possible.
Sounds too good to be true? Well, life really is sweet on the cloud.
Where Did Cloud Computing Come From?
When you think of cloud computing, what probably comes to mind is the big names: Google, Amazon, Microsoft. But it didn't actually originate with any of the tech giants.
In 1996, a small team of execs at Compaq Computer was building robust file software storage that would live on the web. They called it: "cloud computing-enabled applications." They believed it would change the way we work online. And oh, it did.
More than twenty years later, the web is flooded with cloud computing software that does just what those Compaq Computer techies envisioned: host computer memory, processing power, and business apps in remote and secure data centers — or the "cloud."
Cloud Computing and Business
When you team up with DreamHost, your website is in good hands! Our services pair friendly expertise with top-notch technology to give you all you need to succeed on the web.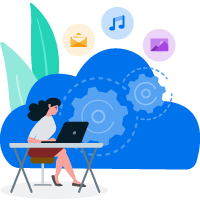 What Is Cloud Computing?
Now that we've parsed our way through cloud computing's origin story, let's talk about what cloud computing actually is . . . in non-IT terms.
Cloud computing is storing and accessing programs and data on the internet rather than on your own hard drive.
Let's look at an everyday example. Cloud computing is being able to take a photo on your smartphone, and then automatically access it from your smartphone, computer, or even someone else's smartphone, provided you have your Apple ID or Google Drive login.
Why can you do this?
Because the pictures you take on your smartphone live on the cloud (your selected service provider's network). Of course, you can download a picture on your hard drive, but with the cloud, you don't have to. With the cloud, you can use your precious hard drive space for other software.
While that's a très basic example, it gives you a crystal clear idea of what cloud computing is and how it works. And cloud computing isn't limited to just photos. Cloud computing companies offer help with many different types of data and files.
What Are the Uses of Cloud Computing?
That's right! There is more to cloud computing than just being able to access a photo whenever/wherever you want. Cloud computing has several uses, and you may be surprised to learn that you're already living on the cloud:
Infrastructure Support and Scalability —

A

2010 IBM

survey reported that nearly 80 percent of CEOs believed their environment would grow more complex in the near future, but fewer than half thought their companies were equipped to deal with the shift. Cloud computing provides cutting-edge infrastructure support that helps your company meet this challenge with confidence. These digital tools can help your business stay ahead of the game.

Big Data Analytics —

Leveraging data to make informed business choices is necessary to stay afloat in any market. Cloud computing companies provide big data analytics tools that are real-time and accessible from anywhere, even mobile devices.

File Storage and Sharing —

Cloud computing makes sharing large files, videos, pictures, documents, and more possible. It doesn't matter where your employees reside in the world, they can access important documents through the cloud.

Backup and Disaster Recovery —

With cloud computing, you can automatically dispatch data to any location, rather than having to rely on manually storing all your files. Of course, the cloud is not a silver bullet, but it's far better than maintaining it on your own.

Mobility —

Cloud computing allows you to access important data and files from any location, not just your home or office.

Testing and Development —

Need to do some QA testing? You don't have to create two scenarios on two separate servers and/or networks. Now you can use the cloud to set up multiple QA scenarios.

Security —

If you are offering any type service to several users, you want to make sure their information stays protected. Cloud hosting companies help with this.

E-commerce —

If you run an online store, you'll be pleased to know that cloud computing allows you to scale as you go. In other words, you don't have to risk losing out on sales, because your personal server can't handle an increase in volume.

Web Hosting —

Rather than draining your IT resources, consider hosting your

website on the cloud

. Again, cloud hosting provides scalability.

Email —

Gone are the days of hosting an exchange server at your company. It's far more reliable and usually less expensive to use an email service provider.

Client Relations Manager (CRM) —

Need to keep track of your clients? Don't rely on a spreadsheet. Automate your processes by investing in a cloud computing CRM.
Imagine if you needed your own hard drive to accomplish everything listed above? It would be expensive, slow, and almost impossible to do on your own. Cloud computing for the win!
What Are the Types of Cloud Services?
Now, let's get more technical. There are various types of cloud services, but most of them fit into one of the following categories.
1. Software as a Service (SaaS)
SaaS is public cloud computing that provides access to applications via your internet browser. SaaS may be the cloud service you are most familiar with and include popular products like Google Workspace, Microsoft Office 365, Salesforce, Oracle, and more. Most SaaS apps include robust configuration, development options, and customization. SaaS products work to help you run your business more efficiently.

2. Infrastructure as a Service (IaaS)
IaaS is another popular type of public cloud computing service that provides scalable databases, virtual private networks, data analytics tools, application monitoring, developer tools, and more. The main differentiator is IaaS services provide services on a pay-per-use model. In other words, with IaaS, your company is renting space on a virtual infrastructure hosted on a public cloud. For example, Netflix rents space from Amazon's cloud services to host their streaming services and bring them to you. Popular IaaS companies include Amazon, Microsoft, Google, and Rackspace.
3. Platform as a Service (PaaS)
PaaS cloud computing services are mainly for the benefit of developers and include an operating system, databases, a web server, a programming language execution environment, and other tools to help developers create their own custom applications. Some of the most popular PaaS companies include Google App Engine, Microsoft, Azure, Salesforce, and Force.com.
4. Function as a Service (FaaS)
Think of FaaS as an add-on service to PaaS. With FaaS, developers can upload more narrowly functional blocks of code and set different features to activate based on different triggers. All major cloud services offer FaaS as an additional service, and the best part is companies only pay when an event is triggered.
5. Integration Platform as a Service (iPaaS)
iPaaS is the cloud service that helps companies with seamless data integration, especially those companies using a SaaS model. IPass helps users implement data mapping, workflows, and transformations as part of the integration-building process. Popular iPaaS services include Dell Boomi, MuleSoft, and Informatica.
6. Identity as a Service (IDaaS)
IDaaS is the service that helps with identity security. It helps developers sort out rights, permissions, authentication, and create secure user profiles. The most popular IDaaS service is Okta.
What Are the Types of Cloud Deployments?
Not only are there different types of cloud services, but there are also different types of deployments. Here is a brief rundown of the most common types of cloud deployments.
1. Public
A public cloud deployment means the whole computing network is located at one cloud computing company. The cloud company has complete physical control over the infrastructure and the customers only access it via the internet. Public clouds are shared with other customers, and while they perform extremely well, they are also the most vulnerable to security issues.
2. Private
A private cloud is a network that is dedicated to one customer or organization. There is no sharing with other customers, but the network location is usually physically hosted by the cloud company, rather than on the premise of the company purchasing cloud space from the organization. The cost for a private cloud is higher, but security is better.
3. Hybrid
You guessed it: a hybrid deployment is when a customer makes use of public and private clouds. For example, they may use a public cloud for basic customer interactions, but store sensitive customer information on a private cloud server.
4. Community
A community cloud is a network that several organizations share. For example, a government that needs access to the same data, even though they work for different departments, may use a community cloud.
How Does Cloud Computing Work?
We are officially getting to the good stuff. It's time to find out how cloud computing actually works.
But first, a quick review. Cloud computing is a way for people and companies to access digital resources (files, music, photos, software, social media, etc.) over the internet. These resources are not stored on your personal or company hard drive. Instead, they are stored on the premises of a cloud computing company.
Think of it like this.
When you created your Facebook account, you didn't buy a CD and install the Mac hardware version of Facebook on your computer. Instead, Facebook uses cloud computing to deliver your Facebook account via the internet. You can then access it from a MacBook, a PC, a mobile phone, a tablet, or any type of device regardless of its operating system. Your device will quickly deliver up Facebook or Amazon or Google or Salesforce all because servers are working behind the scenes to store and deliver information.
Are There Any Cloud Computing Security Concerns?
We've talked a lot about the miracle of cloud computing, but it's also important to remember that cloud computing isn't foolproof. In fact, there are some security concerns you should be aware of before you mortgage the family farm, so to speak. When considering cloud computing remember these vulnerabilities:
Data breaches —

Security measures to protect cloud computing are reportedly believed to be low. If you invest in cloud computing, make sure to also invest in security.

Account hijackings —

If all you need to log in to a cloud account is a username and a password, it's possible someone else can acquire this information and see your stored files and data.

Insider threat —

Someone within your own organization who has access to the cloud can do harm if they have malicious intent.

Malware —

It's possible for malicious code to be disguised as part of the software code and wreak havoc on the software.

Data loss —

When your information is stored in the cloud, it is susceptible to a natural disaster, a service provider data wipe, or even a malicious attack.
While the cloud is a miracle in many ways, it's also not perfect. Make sure to invest in extra security measures and be smart about data sharing.
Get Content Delivered Straight to Your Inbox
Subscribe to our blog and receive great content just like this delivered straight to your inbox.
How Can Cloud Computing Help Your Small Business?
Simply put, cloud computing is the way of the now and of the future. When you invest in cloud computing for your business, you are participating in a monumental shift in how computing power is consumed and generated.
When it comes to how cloud computing can impact your business, the benefits are abundant. Here are some reasons why you may want to jump on board.
Savings —

Only 11 percent of an

IT department's budget

is spent on new app development, and the rest is spent on maintenance and infrastructure. Imagine how much you could save if you outsourced the maintenance.
Productivity —

Not having to manage the maintenance and infrastructure will save you money, but it'll also save time. When your team has more time on their hands, it opens up their schedules for a boost in productivity.

Collaboration —

Cloud computing opens the door for groups of developers and executives to work together, helping software innovate at a faster rate.

Insights —

Cloud computing gives business owners access to real-time data. This big data can help inform business decisions, guide marketing strategies, and, ultimately, grow your company in a more productive manner.

Development —

When you don't have to invest in your own server capacity and have more room to test and develop, you provide more opportunities for smarter innovation.
Ready to Visit Cloud Nine?
So what do you think? Do you officially have a better understanding of all the ins and outs of the cloud? And are you ready to use it for your business? Let's talk about it in the comments!