Mastering Analytics: Getting the Most Out of Analytics Intelligence in GA4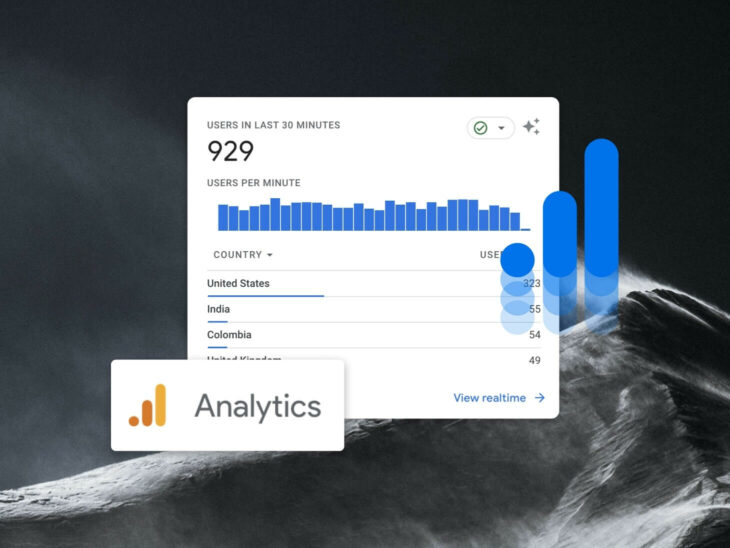 After making the leap from Universal Analytics to GA4, you'll likely spend some time learning your way around. You might need help finding insights you used to reference on the regular. In fact, you might not know where to find anything.
Luckily, there's a powerful tool that can help: Google Analytics Intelligence, an AI tool that can help even total beginners answer questions and find metrics in Google Analytics 4.
To get the most out of Analytics Intelligence, you'll need to know a few basic tips and tricks — Read on to learn what Analytics Intelligence is, how it works, and the steps you can take to unlock its power and get the most out of GA4.
What is Analytics Intelligence?
Google Analytics Intelligence is a set of artificial intelligence (AI) features that uses machine learning algorithms to analyze data and provide automated insights about website traffic and user behavior. It's designed to make it easy for anyone — even total beginners — to discover important website insights and stats very quickly, without having to spend time manually digging through their data.
DreamHost Glossary
Analytics
Analytics is the field of data interpretation, typically used to help guide strategy. When applied to SEO, this can include keyword research as well as website traffic and competitor analysis. The goal of SEO analytics is to improve a website's ranking in results pages, and ultimately drive more traffic.
Read More
If you've spent any time experimenting with popular tools like ChatGPT, you know just how powerful consumer AI is becoming. Analytics Intelligence is how Google harnesses some of that vast power to make GA4 easier for all users. With a combination of statistical analysis, machine learning, and natural language processing, it does a lot of the dirty work of analytics so you can get right to the parts that matter to you: the insights and next steps.
How Does Analytics Intelligence Work?
There are two main ways that Analytics Intelligence provides its users with data.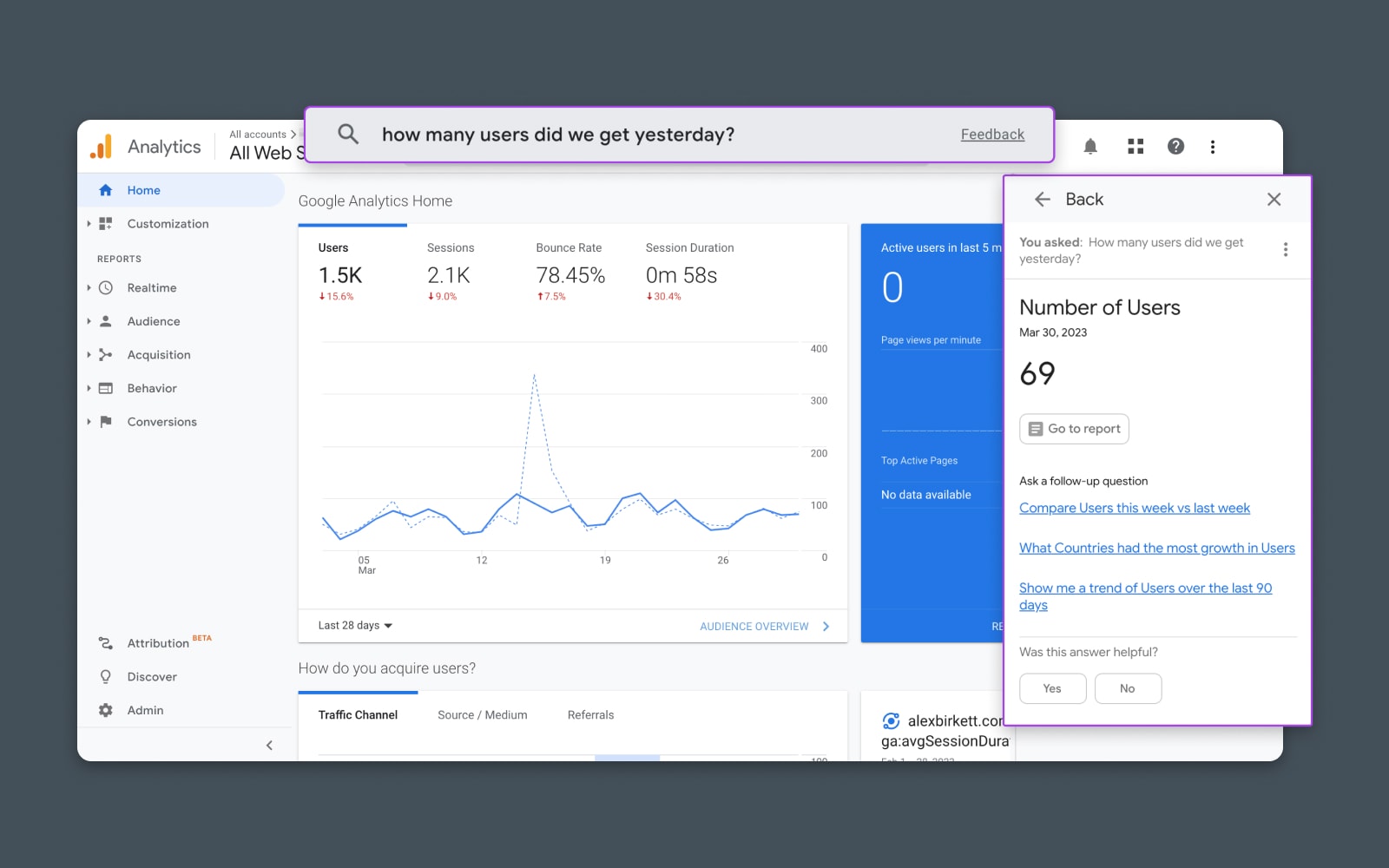 1. Ask Questions
One of the most powerful use cases for Analytics Intelligence is that you can ask it questions in plain English to get fast answers about your site.
The answers it provides are simple, easy to understand, and use everyday language. They typically give you a quick overview, with links to other solutions and more detailed reports when relevant.
For example, if you ask Analytics Intelligence a basic question about your analytics like, "How many users did we get yesterday," its response will be:
The number of users.
A graph or visualization showing the day's users.
A "Go to report" button linked to a more detailed report for further insight into the day's users, trends over time, and other useful stats.
2. Insights
The other main feature of Analytics Intelligence is auto-generated insights, usually highlighting significant changes or opportunities the AI sees in your analytics that could impact your business. These are offered without you having to ask any questions.
Automatic insights can act as an alert system for any major changes or anomalies that could indicate a problem or opportunity you should address quickly. Some examples are sudden increases or decreases in traffic, rapid spikes in conversions, sudden drops in revenue, and other unexpected changes.
3. Other Features
Aside from questions and insights, Analytics Intelligence offers features like Smart Goals, Smart lists, and modeling features like session quality and conversion probability.
Before You Use Google Analytics Intelligence
To use Analytics Intelligence, you'll need a GA4 account for a website property that has historical data – ideally three or more months, so the data and insights you see will be statistically significant.
If you try to use Analytics Intelligence for a brand new reporting view without any historical data, the AI may not be able to answer your questions. For example, this is probably what's happening if you ask a question and get this answer:
"We understood your question, but there is no data for your profile in this time range."
Get Content Delivered Straight to Your Inbox
Subscribe to our blog and receive great content just like this delivered straight to your inbox.
How to Use Google Analytics Intelligence
The whole point of Analytics Intelligence is to make GA4 more straightforward and user friendly by putting data analysis capabilities in the hands of people who are not data scientists. As such, it should come as no surprise that Analytics Intelligence is pretty easy to use and navigate. Here's a step-by-step guide to getting started:
Step 1: Sign In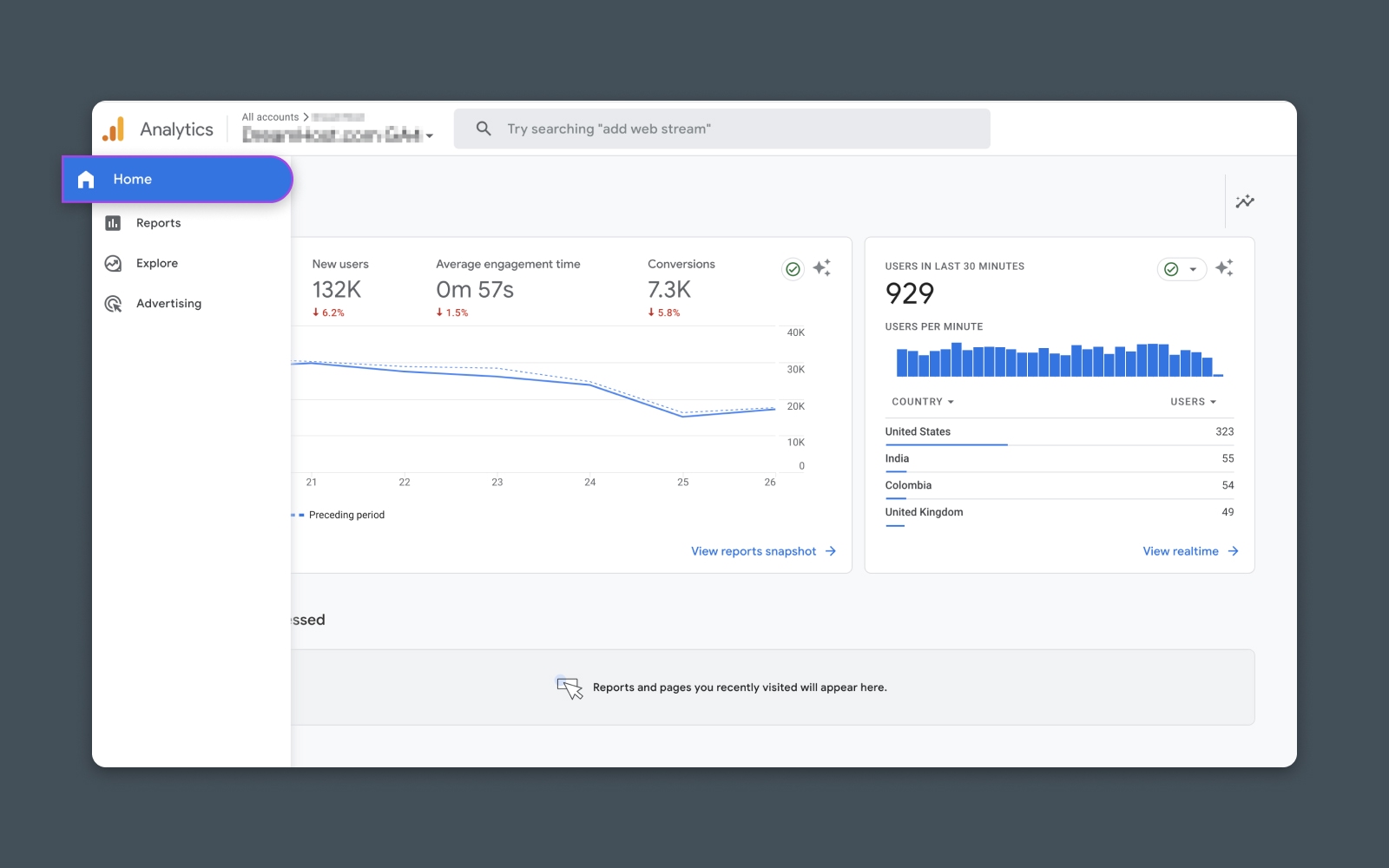 First, sign into Google Analytics and choose the website property you want to explore. Navigate to the Home page using the left sidebar.
Step 2: Navigate to the Search Bar and Ask a Question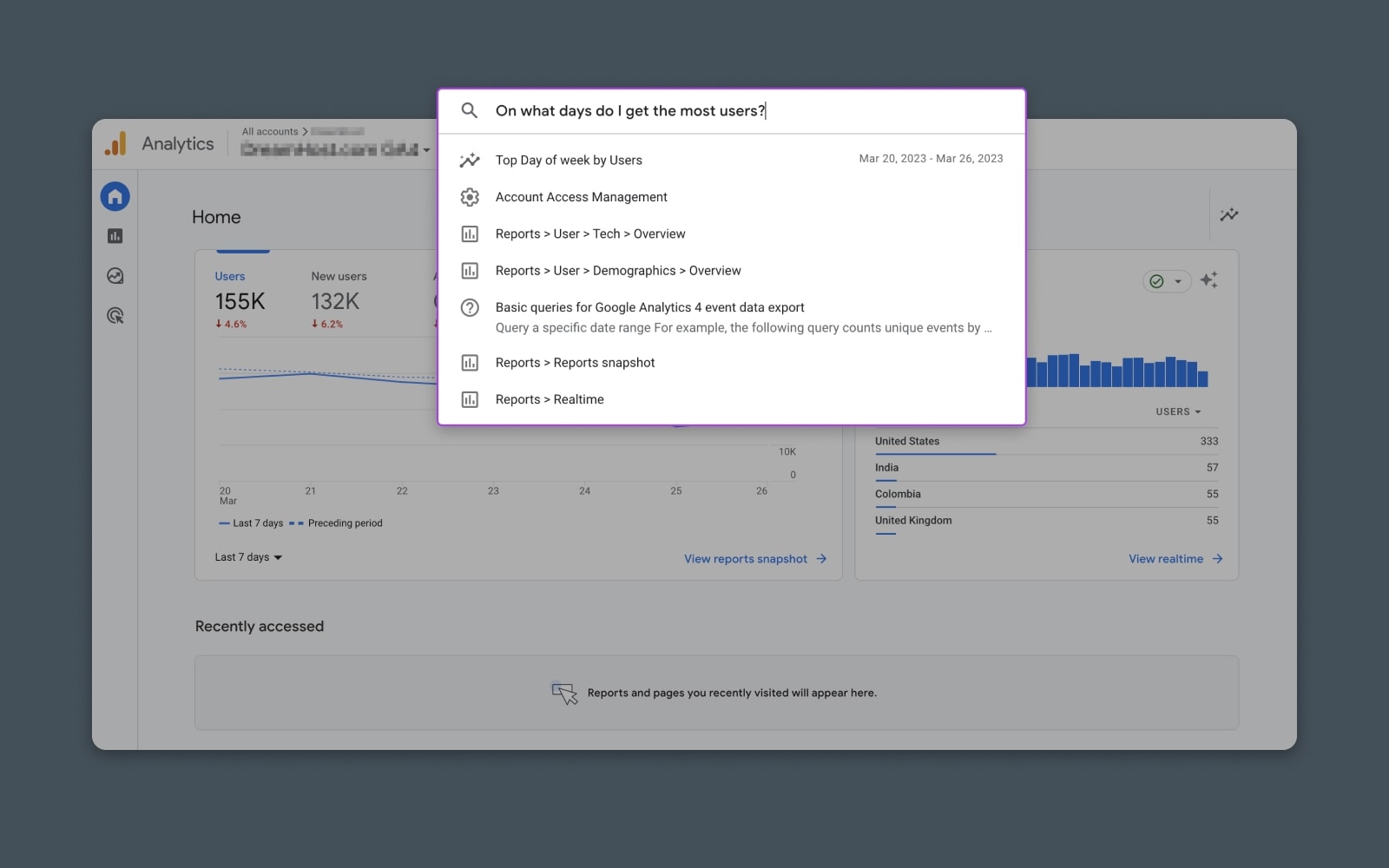 At the top of the home page, you'll see a search bar that says, "Try searching…" This is where you can ask Analytics Intelligence a question.
Click on the search field and type your question, and you'll see a drop-down menu with possible answers. Anything with the Analytics Intelligence icon is powered by AI, and you can click these options to get more information.
For this example, we've asked, "On what days do I get the most users?" Analytics Intelligence is suggesting an AI report for "Top Day of week by Users."
Step 3: Explore the Insights Panel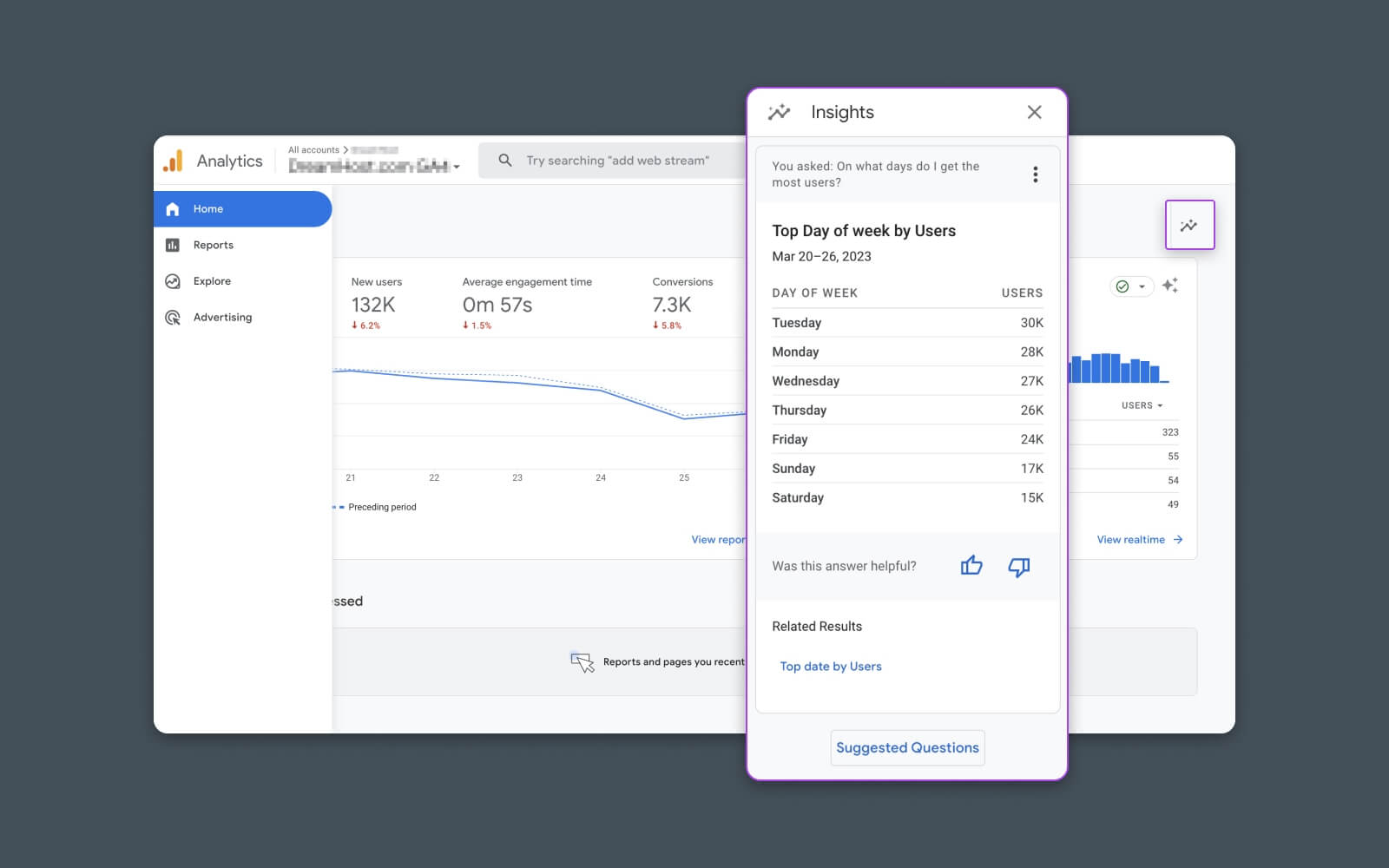 After you click an Analytics Intelligence answer, it will pop up in a sidebar on the right side of your screen. There, you can see the answer, any related queries, and, if available, a link to a more detailed report about your question.
Navigating Analytics Intelligence
Google Analytics Intelligence offers more than questions in the search bar. Here's how to navigate its features to take full advantage of AI analytics:
Insights Panel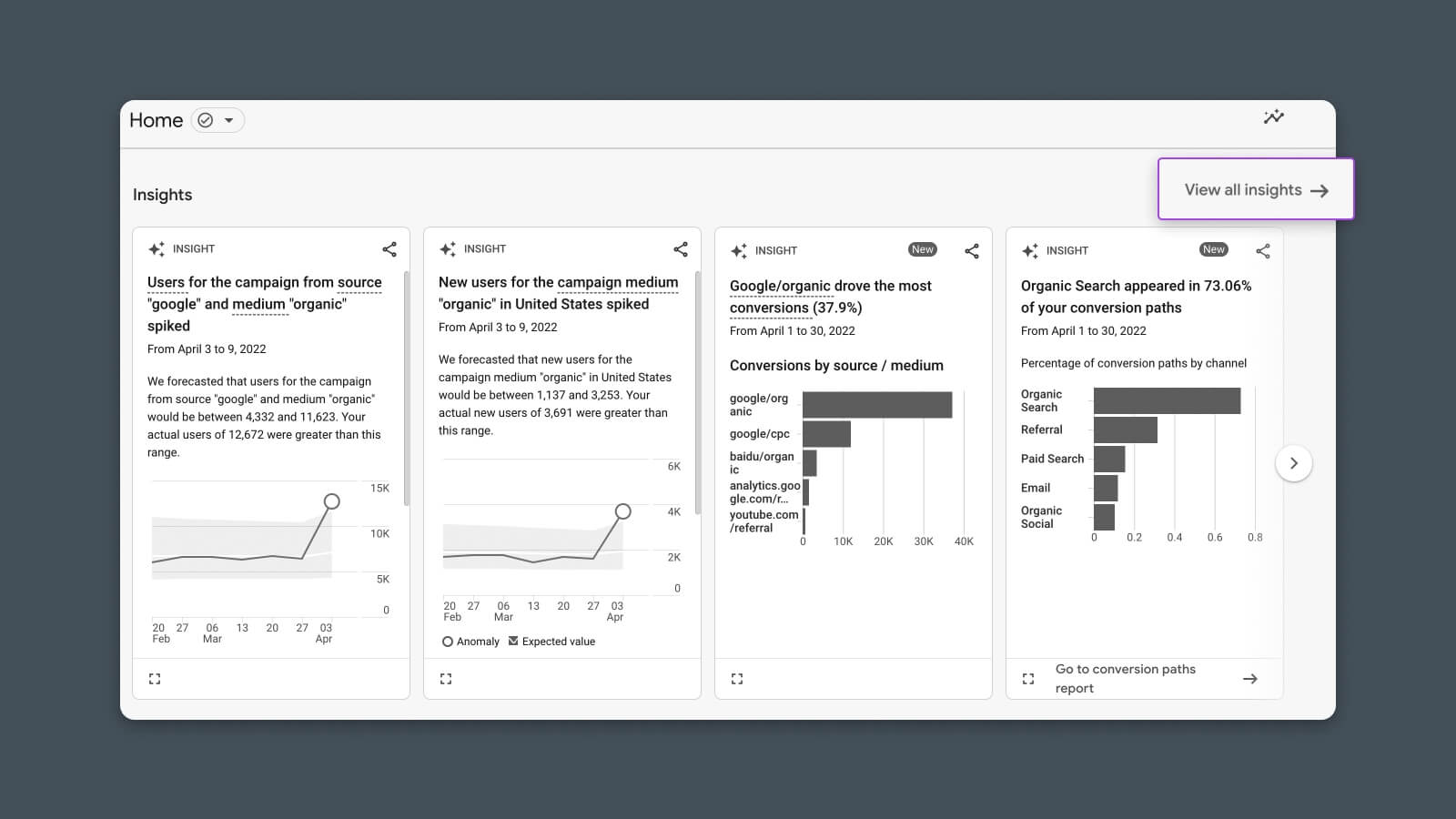 If you scroll down on your Google Analytics home page, you'll see the Insights panel, powered by AI and offering a series of snapshots (both real-time and historical) to get a quick overview of some important stats about your site.
When you first start using Analytics Intelligence, this panel will be filled with auto insights generated by Google based on your Google Analytics usage history. Auto insights are updated regularly as Google learns more about how you use GA4 and Analytics Intelligence and seeks to provide you with the most relevant and useful information.
You should see a link at the top right of the Insights panel that says, "View all insights." Clicking this will take you to a more detailed view where you can see more insights and customize what you see.
Each card in the "View all insights" view is clickable — clicking an insight will show you the full details. Click "Load more" to see older insights, but keep in mind, insights are stored for one year after they're created.
Creating Custom Insights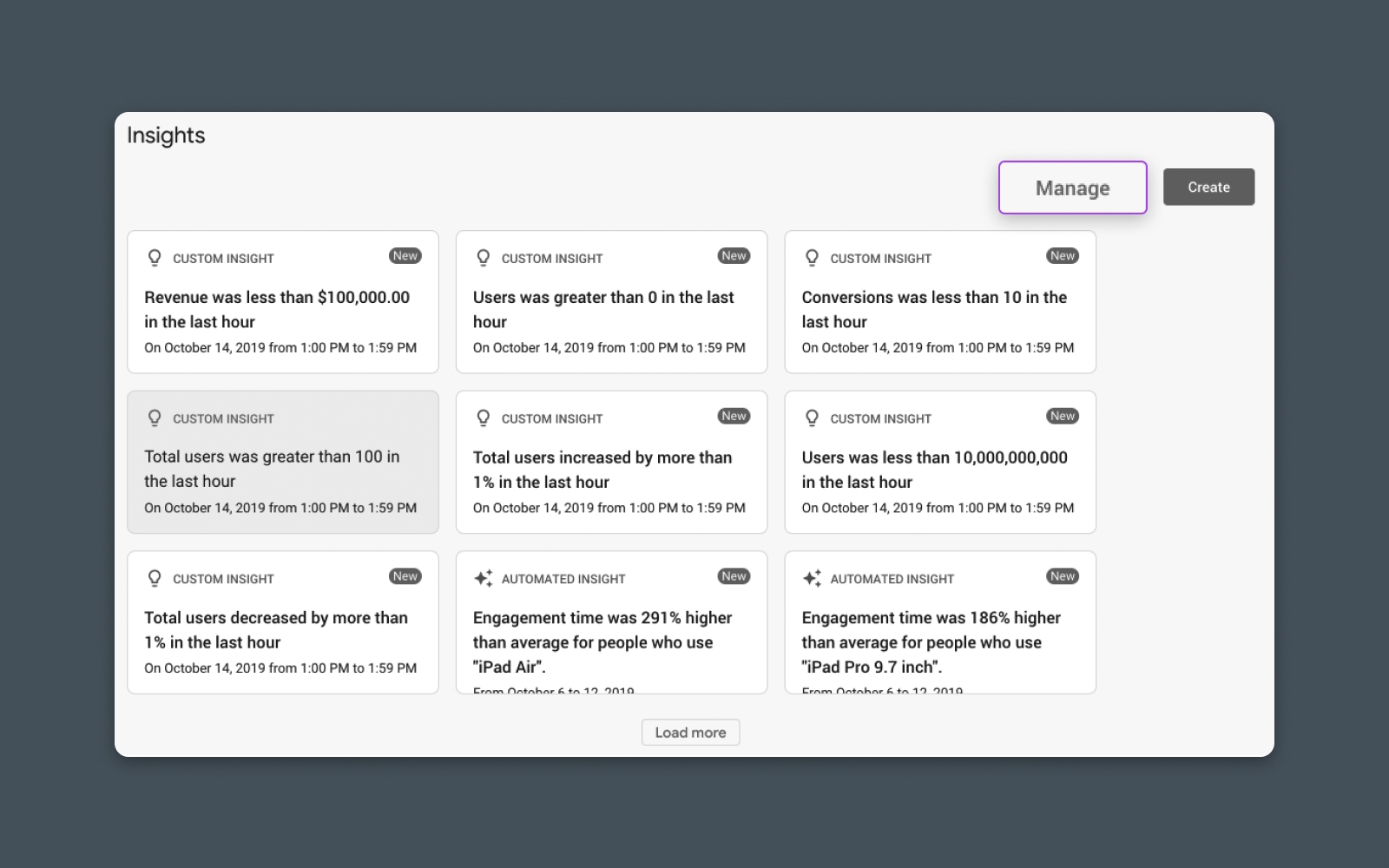 From the "View all insights" view, you can create your own rules to generate insights you want to keep track of.
First, click "Create." Then, click the checkboxes for any suggested insights you want to create or click "Create new" under "Start from scratch." From there, enter a name for the insight, fill in the required information for evaluation frequency, metric, and segment, and click "Create" on the upper right side of the screen.
Managing Custom Insights
Once you've created custom insights, you can manage their notifications or remove any insights you no longer want to track.
From the "View all insights" view, click "Manage" to open a list of all the custom insights you have set up.
From there, you can adjust email notifications, or click the three dots next to an insight and select "Delete" to remove it.
Note that you'll need the Analyst or Editor role (and all associated permissions) to create, edit, or share insights for a property.
Anomaly Detection
One of the most useful features of Analytics Intelligence is its ability to use statistical analysis to detect (and warn you about) anomalies in your site data.
For example, let's say your website has a day with much higher conversions than usual. Analytics Intelligence will automatically generate an insight to let you know this happened.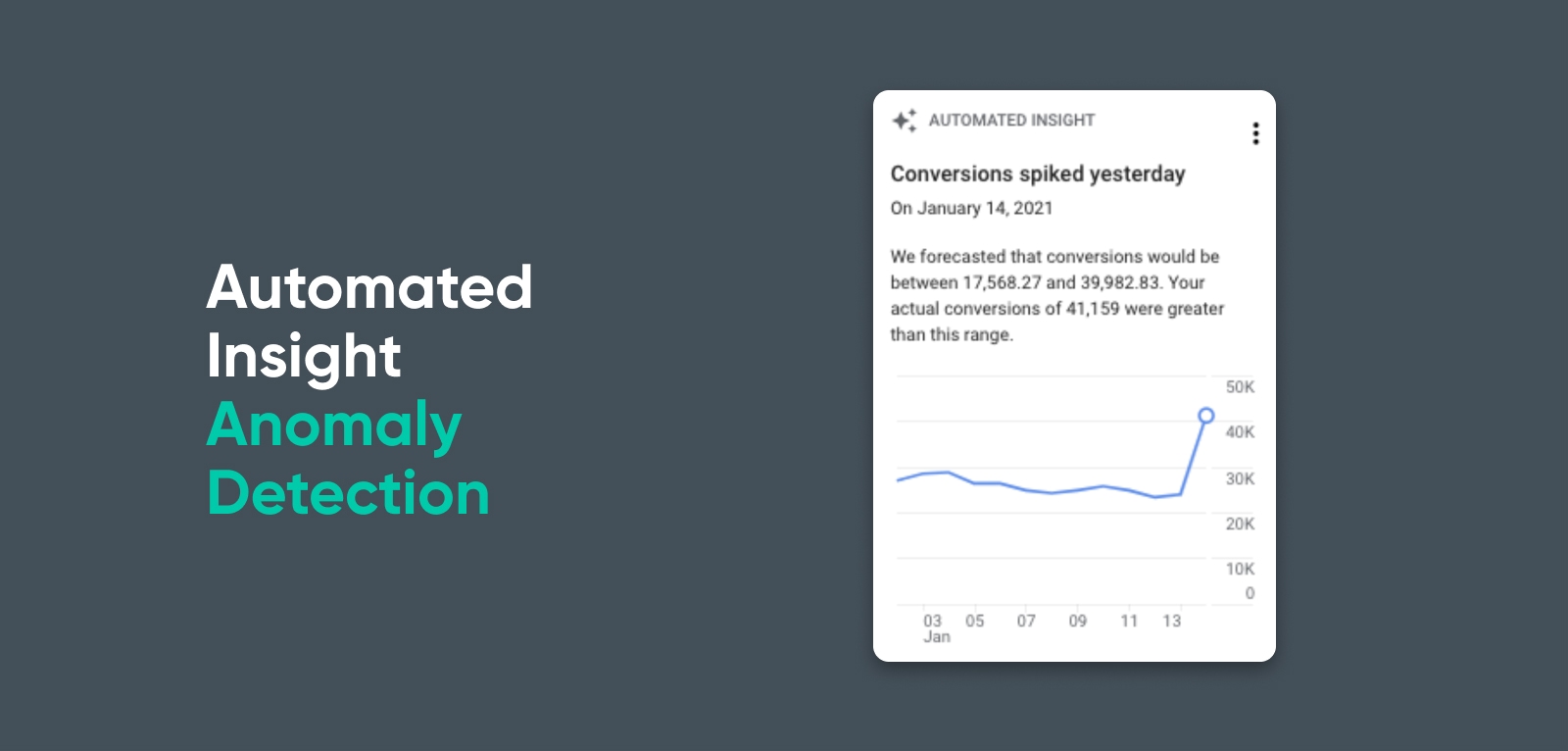 But even more than that, Analytics Intelligence can investigate the anomaly to identify specific segments that contribute to it, which can help you get to the bottom of unexpected changes more quickly.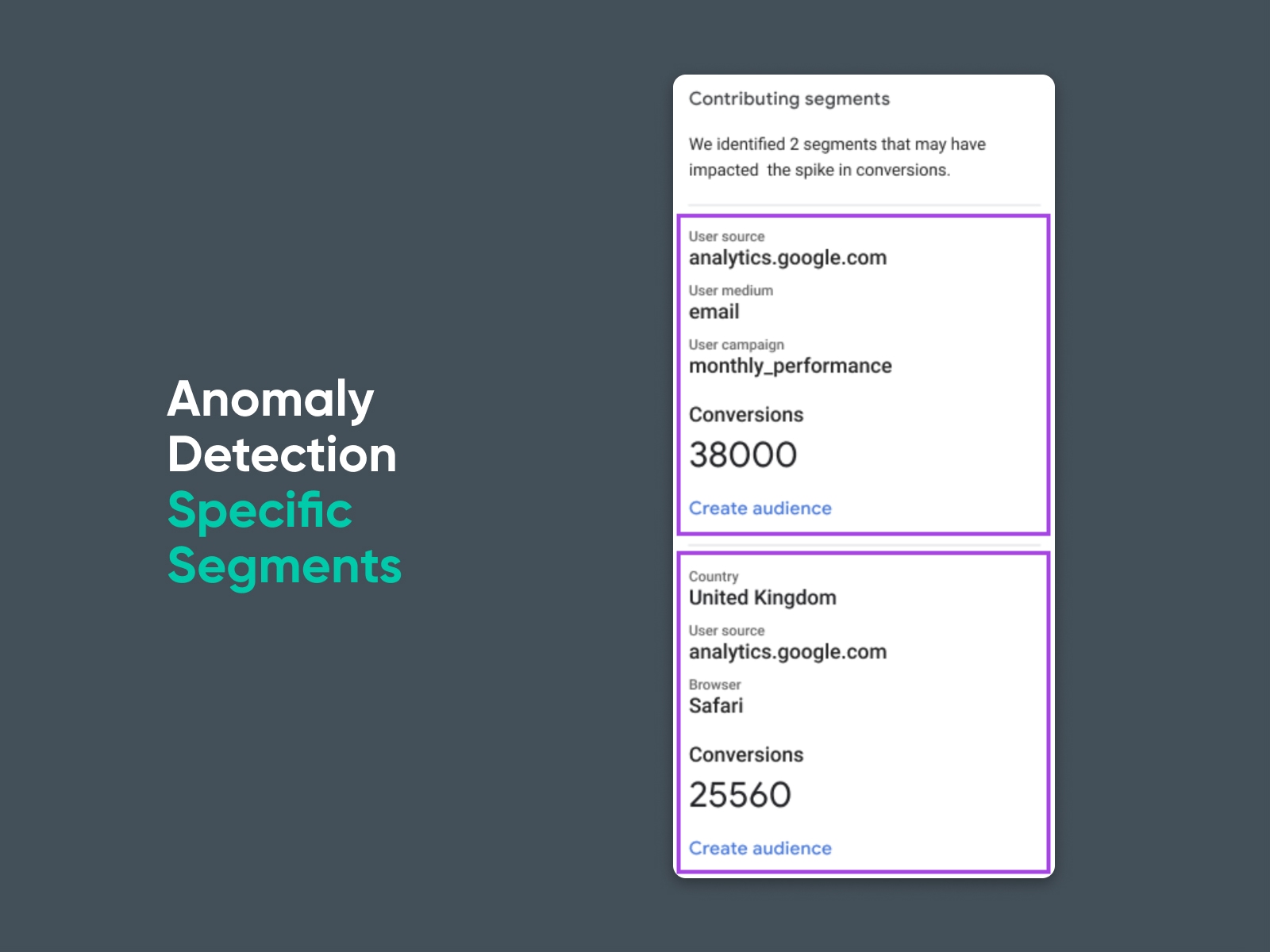 Recommendations
The last area of Analytics Intelligence that you need to know about is Recommendations. These can be found on the Home page in the "Recommendations" section, as well as throughout Google Analytics — they'll appear in the upper right of your screen if Google has a relevant recommendation to show you.
Google uses your property's history, settings, and trends from across GA4 to create customized recommendations. These often use business intelligence and automation features to help you get the most out of your analytics. They also highlight new features that you may want to take advantage of.
How to Format Analytics Intelligence Questions
One of the nice things about Analytics Intelligence's ability to understand plain English is you don't necessarily need to format your questions as questions — that is, they don't need to start with "what," "when," "where," or "how" and end with a question mark. They also don't need to be perfectly grammatically correct for Google to understand what you're looking for.
Type queries like "trend of new users this week" or "sales today," and Analytics Intelligence will still be able to return the insights you're looking for.
Of course, it's always best to be as specific as possible with your queries. This will help Google understand what data you want and return the most relevant results.
Limitations of Analytics Intelligence Questions
While Analytics Intelligence is pretty good at figuring out what you mean in most cases, it does have some key limitations. These are some of the types of questions it may struggle to answer:
AI isn't great at answering the "why." If you ask a question like "Why are my pageviews declining," Analytics Intelligence probably won't be able to give you a good or conclusive answer.
AI doesn't give advice. If you ask a question like "What kind of marketing campaign should I use," Analytics Intelligence likely won't be able to answer — it can provide the data, but the decision-making is still up to you.
AI isn't great at forecasting (yet). AI tools are getting better and better at predictive technology, but this is still a limitation for Analytics Intelligence. If you ask a question like "What will my sales look like in 6 months," it may or may not give you an answer, but it may not be accurate if it does.
AI can't answer generic questions. Analytics Intelligence isn't an all-purpose chatbot. If you ask it something like "How's the weather today," it won't be able to answer.
20 Sample Questions to Try
Experiment with Analytics Intelligence (and explore your site's stats) by asking some of the questions below:
What landing pages on my website are currently experiencing the most traffic?
What is the overall bounce rate for my website?
What is the conversion rate for my most popular product?
What are the top traffic sources to my website?
What is the average session duration for my website?
What is the click-through rate for my latest email campaign?
How many users are currently on my website?
What is the most popular page on my website?
What is the conversion rate for visitors coming from social media?
Over the last year, have pageviews for my website trended up or down?
How many sessions have resulted in a transaction in the last week?
What is the geographical location of my website visitors?
What is the behavior flow for visitors on my website?
What is the revenue generated from my website in the last month?
How many visitors have returned to my website within the last 30 days?
What is the percentage of visitors using mobile devices to access my website?
What is the average order value for transactions on my website?
What is the exit rate for my shopping cart page?
What is the engagement rate for visitors on my blog?
What is the overall performance of my website in comparison to the previous month?
Pros and Cons of Using Analytics Intelligence
Now that you know how to navigate and use Analytics Intelligence, let's talk about what makes it such a useful, powerful tool — and what limitations it has.
Analytics Intelligence Pros
Analytics Intelligence Cons

Intuitive and easy to use, even for beginners with no data analytics or data science experience.
Auto-generates insights to scan for anomalies, significant changes, etc., and shows them all in one place.

Sometimes doesn't understand questions in plain English.
Can't provide answers to questions seeking strategic advice.
Can't answer general support-related questions.
How to Get the Most Out of Analytics Intelligence
By now, you've probably gathered that Analytics Intelligence is a powerful tool that deserves a spot in your daily rotation.
One of the key ways to get the most out of Analytics Intelligence is to keep using it — and providing it with feedback — over time.
Each time you ask Analytics Intelligence a question, it will ask you if the answer it provided was helpful. Click the thumbs-up or down icon, then explain why the answer was helpful (or not). This information helps Analytics Intelligence improve over time — user feedback helps inform new features and optimizations that Google rolls out over time.
The other way to keep improving your Analytics Intelligence experience is to keep experimenting. Over time, Google will learn more about you — and how you use analytics — and provide more tailored recommendations and auto-insights.
You're now armed with the knowledge to take your GA4 insights to the next level. It's time to master your site's analytics with AI — and it all starts with asking your first question.
Get More Visitors, Grow Your Business
Our marketing experts will help you earn more traffic and convert more website visitors so you can focus on running your business.