We're pleased to announce a new promotional offer for .ONLINE, which is quickly becoming one of the most sought-after generic top-level domains available.
Radix, the Registry that owns .ONLINE and nine other domains, has provided DreamHost with 300,000 .ONLINE domains and the authorization to register those complimentary domains for all eligible customers. Eligible customers are limited to active DreamHost customers. No web hosting account is required for a customer to qualify, and standalone domain-only customers are eligible.
About .ONLINE
A .ONLINE domain is flexible, transformative, and modern — ideal for any business or organization that's either primarily or solely an online-only entity wanting to stand uniquely apart from traditional brick-and-mortar businesses. So, it's perfect for companies, startups, entrepreneurs, ecommerce sites, personal profiles and portfolios, and blogs, to name a few.
This rising domain is an excellent alternative to other extensions like .COM and .NET that have a broader scope, and a customer who registers a .ONLINE could secure their existing website address on this extension before it's taken by a competitor.
The word "online" is understood in over 24 languages. That makes .ONLINE a globally well-received, powerful domain name for all types of businesses that want to build a universal brand.
What's more, since over 2.3 million .ONLINE domains have been registered in over 230 countries, and since it's the second most known and visited new generic top-level domain globally, any business that registers a .ONLINE domain web address instantly launches — or relaunches — itself to capitalize on that global reach.
Why Register a .ONLINE Domain?
When you're a global company with clients and customers around the world, registering a .ONLINE domain tells them in clear branding that your virtual doors are open for business to all of them, wherever they are. You're making a clear statement that you're not bound and limited to a physical geographic location, so you're likewise not bound to serving customers near a physical location.
With all these qualities, there's no reason to pass up staking a claim on a complimentary .ONLINE domain today.
SEO-friendly
Available
Simple yet definitive
Memorable
Intuitive
Global
Brandable
Relevant
How to Claim Your Free .ONLINE Domain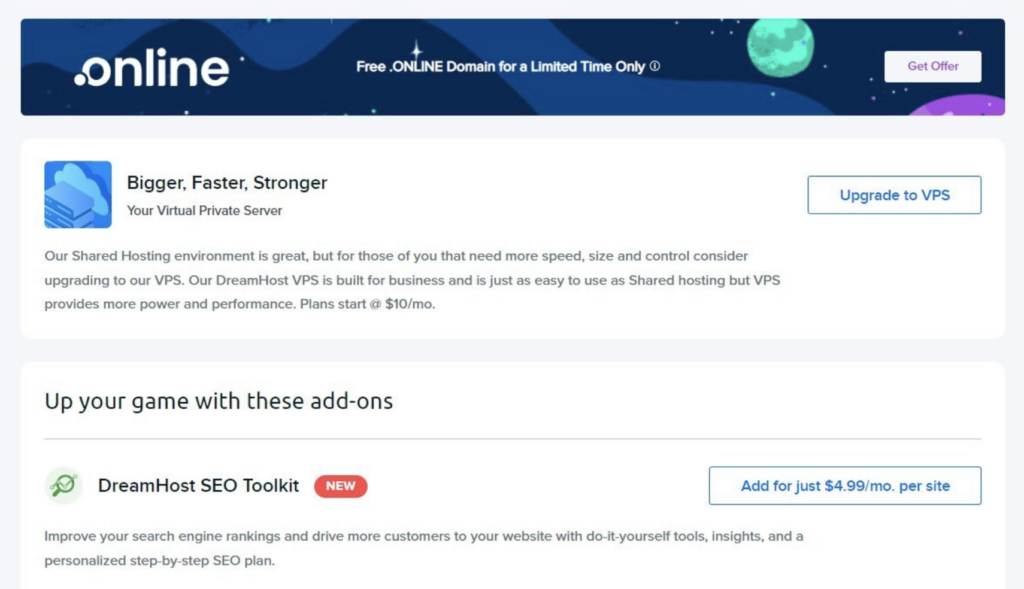 The promotional offer — which runs from January 1, 2023, to March 31, 2023 — is a credit for the first year of complimentary .ONLINE registration. After the first year, the registration will renew at the then-regular price of $29.95 per year. Active DreamHost customers will find a promo on the DreamHost.com home page and a banner in the Manage Accounts section of their panels, and the offer will also be sent via an email campaign.

Free .ONLINE Domain
Register Your Free .ONLINE Domain Today!
This promotional offer is free for a limited time for eligible DreamHost customers. Grab your free .ONLINE domain today before someone else does!
Log In