An Enhanced DNS Configuration Experience
The Domain Name System (DNS) is the phonebook of the internet. When someone types your website's address into a browser, DNS is what translates that memorable domain name into the much-less-memorable internet protocol (IP) addresses that web servers use to load your site's content.
With multiple DNS record types that serve different purposes, and settings that need to be exactly right for a website to operate as expected, DNS setup can be a complex and sometimes daunting experience. Fortunately, DreamHost handles this for you whenever possible. For most websites, everything "just works."
But, for those with more advanced or bespoke web hosting needs, sometimes it's necessary to lift the hood and adjust DNS settings on your own. The Manage Websites section of the DreamHost Panel provides full access to view and update your site's DNS records as often as needed.
Based on suggestions and feedback from those who frequently tinker with their site's settings, we're proud to announce a number of improvements to the DNS control panel. These updates are designed to enhance your DNS configuration experience, simplify common tasks, and clarify the communications you receive from us related to your domain.
Let's take a look at them!
Custom Records on 'Fully Hosted' Domains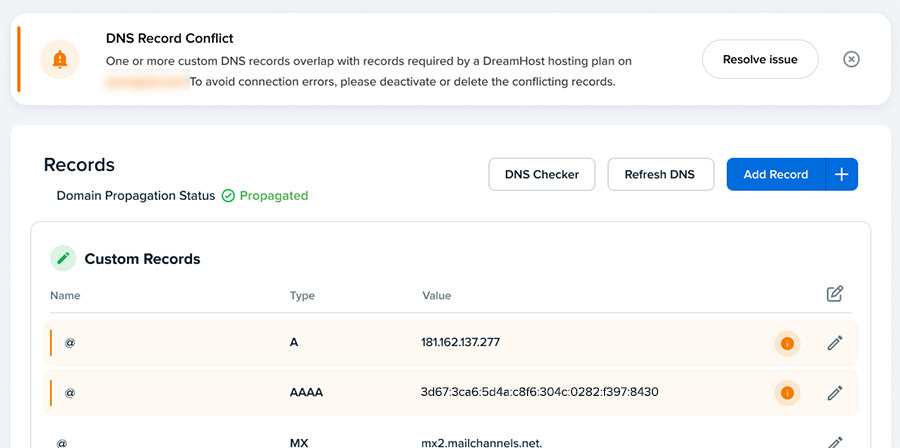 We've improved the alerts and helpful guidance you'll see when creating custom DNS records for domains that are already connected to a DreamHost hosting plan. If there's a potential DNS conflict with a hosting service on your account, you'll be able to see what's causing the problem, with a straightforward way to resolve the issue in just a few clicks.
Notifications for Missing 'Companion' Records

Most websites are designed to load whether visitors type the www or not. If your domain is missing one of these important www or non-www companion records, you'll receive a set of in-panel notifications that will show how to add it so you don't miss out on site traffic.
Custom Record Distinction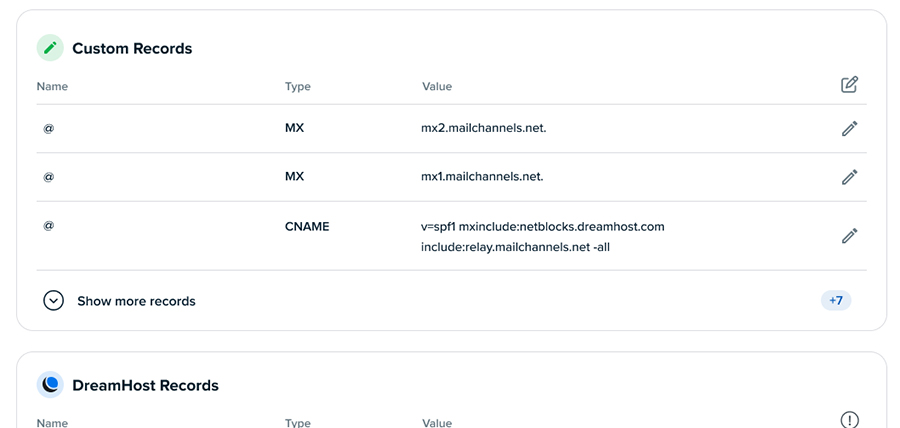 Some websites rely upon a combination of system-generated DNS records (usually from a hosting plan such as Shared Hosting, VPS, or DreamPress) along with custom records you've manually defined. We've improved the way these groups are organized in the DNS page of the panel. Custom records now appear in a separate, dedicated section at the top of the page, so they're easier to locate and update.
Fully Qualified Domain Name (FQDN) Previews

When manually typing the hostname for custom DNS records, the completed record preview now updates inline as you type, so it's immediately clear what the final record will look like before clicking 'Save.'
Improved DNS Record Descriptions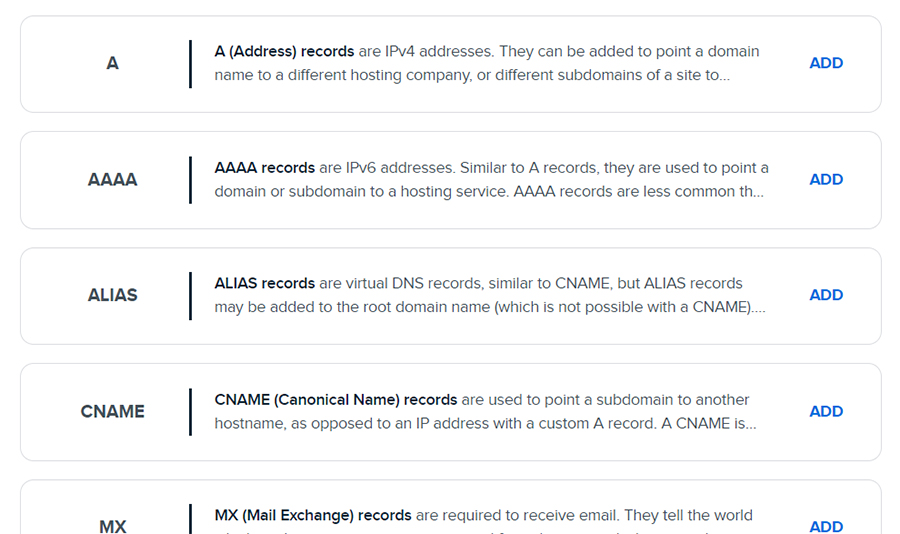 Do you know your A record from your CNAME? We've added more helpful descriptions in the list of available record types shown while configuring DNS settings, so you'll know both the technical details and why each record matters for your website.
DreamHost is honored to be the partner in your online success journey! We're committed to continually improving our technology and services, like the ones we've discussed here, that help you keep your domain and your site functioning in top form.