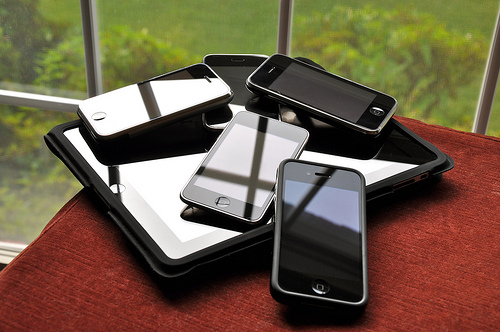 Back in the bad old days, sysadmins were tied to their desktops when they needed to manage and monitor their servers. Laptops make life a little easier, but most aren't available immediately wherever you are. That's why mobile devices make it extremely convenient to keep an eye on servers while on the move, and developers have created a broad range of system administration apps for both Android and iOS. Let's check out some of the most useful apps in the Play and App stores for monitoring, managing, and accessing servers.
SSH
A decent SSH application is a tool that anyone who works with Unix servers needs to have on hand. ConnectBot ticks all the boxes for Android users, with the ability to manage multiple simultaneous SSH connections and create secure tunnels. In the unlikely event that you'd want to, you can also connect via Telnet.
For iOS users, iSSH is a must. It supports emulation of most major terminals, including VT100, ANSI, and xterm-­color. Its connection organizers make managing your sessions a breeze.
Monitoring
Servers tend to develop problems at unexpected and inopportune moments, so keeping a close eye on their status is essential. As you can guess from the name, httpmon is a straightforward monitor for HTTP servers. It periodically checks a server's status and alerts the user via Android's notifications or SMS, according to a set of configurable conditions. There's a free version, but the paid version adds great features like VMWare View support.
iStat is a beautifully designed app for the iPad and iPhone that monitors Macs, Windows machines, and Linux servers via a third party app.
Remote Desktop
For those of you managing Windows and Mac servers, it's often easier to connect via RDP or VNC than a shell session. PocketCloud Remote RDP / VNC gives you all the access you could want to Windows and OS X-­based devices. It's a full desktop remote access application, so you can run apps from your desktop or laptop on your Android device.
iSSH has RDP support, but if you'd prefer to use a dedicated app to connect from iOS devices, you can't go wrong with iTap, which provides apps for both RDP and VNC.
FTP
There are lots of Android FTP clients out there; AndFTP is among the best. It can handle FTP, FTPS, SCP (paid only), and SFTP connections. It does almost everything you'd expect from a full-featured desktop FTP client. For IOS, FTP On The Go is one of the best FTP applications available on any platform, with a built-in text editor and a comprehensive array of tools for managing files.
Network Tools
Most system administrators don't like to leave home without a set of network tools tucked away in their pocket. Fing is a great package of network discovery tools and includes features for port scanning, ping, traceroute, and connection testing. It's available for Linux, Windows, Mac, Android and iOS devices, so you can use one tool across all your platforms.
There's not much more annoying than having a dodgy WIFI connection. WiFi Analyzer is a nifty little app that analyzes the air around you, and shows a graph of channels that are in use, so you can tweak your router and avoid interference. Unfortunately, Apple recently pulled most of the WiFi analyzer apps from the App Store, so you're not able to easily get an app that does this on your iOS devices.
Some Extras
These aren't strictly system administration tools, but they're extremely useful.
Evernote is great for dumping all sorts of information for future access. It has excellent search capabilities, especially for PDFs, so we can pull up manuals whenever we need them. Evernote is cross platform, so you can get it on Android and iOS.
Another tool we find ourselves turning to all the time is OmniGraffle, which makes it easy to quickly create network diagrams. OmniGraffle is an Apple only app, but DrawDia will let you do something similar.
These are just a few of our favorites. If you have an app that makes your sysadmining easier, please share in the comments!
About Graeme Caldwell  
Graeme works as an inbound marketer for InterWorx, a revolutionary web hosting control panel for hosts who need scalability and reliability. Follow InterWorx on Twitter at @interworx, Like them on Facebook and check out their blog, http://www.interworx.com/community.