Today DreamHost turns 62 years old*! It's hard to believe, but we've watched the hosting industry blossom and grow over the course of 62 grand years – that's longer than any other web host in the industry. Some would say that's older than the Internet itself, but they are MISINFORMED.
I was doing some digging in the DreamHost Archives and came across an old steamer trunk full of promotional materials dating back to the late 40s. There was a fair amount of water damage to the contents of the trunk, so much of what was in there has been lost to the elements. The good news is that I was able to salvage a few old photographs that hearken back to a simpler time.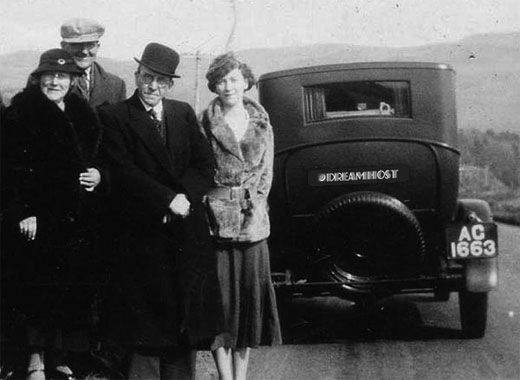 The man with the glasses is one of my predecessors – the great James P. Abernathy III – DreamHost's first marketing manager. He popularized the use of bumper stickers as promotional materials and is credited with making DreamHost the household name that it is today.
He died of venereal disease in 1953.
Early in our company's history we realized the importance of buddying-up with famous people. Decades before the T-Mobile tent made its first appearance on the Academy Awards red carpet, the DreamHost milk truck was out in force delivering ice cold milk and promotional t-shirts to Hollywood's elite.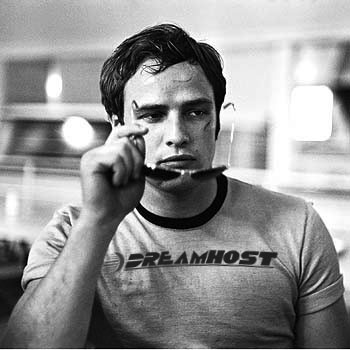 It occurred to me that our company's rich history need not spend an eternity buried in a steamer trunk, forever hidden from the prying eyes of the world. So we're throwing a little contest to bring back the glory days of DreamHost.
Create your own retro-styled DreamHost t-shirt design to recapture the early days of web hosting as we know it. If we like yours enough we'll turn it into actual t-shirts. Our employees will get them, people on the Internet will be able to buy them, and YOU'LL get a yearlifetime of free hosting! And mayyyyyybe even some copies of your own shirt! What the heck!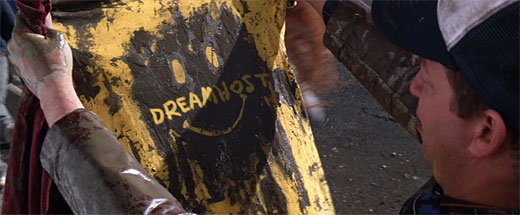 You don't need to be a current customer to win. Just post a link to your entry (or entries) in the comments of this post. If you're a winner you'll need to be able to provide your artwork to us as a 200-300 dpi PNG file at a maximum size of 13.5″ x 16.5″. (Don't forget the alpha channel data for any transparent areas.) File sizes must be no larger than 10 megs. Post an email address with your submission so that we can contact you if you've won and award you your prize!
Remember, this isn't just a t-shirt design contest – this is a retro t-shirt design contest. Walk through a thrift store if you need inspiration. Ask anyone wearing a polo shirt what they think of your design – If they hate it, you're probably on the right track!
The submission deadline is 11:59PM PST, Sunday October 11th. We'll announce winners the following week – probably one from each "decade" (the 60s, 70s, 80s, and 90s). Feel free to take large liberties with the logo, taglines, etc. Good luck!
* Just kidding. We're 12 today.
UPDATE: The winners have been announced!