2016 marks the third year in a row that DreamHost has attended BlogHer, and let us tell you—the thrill is not gone!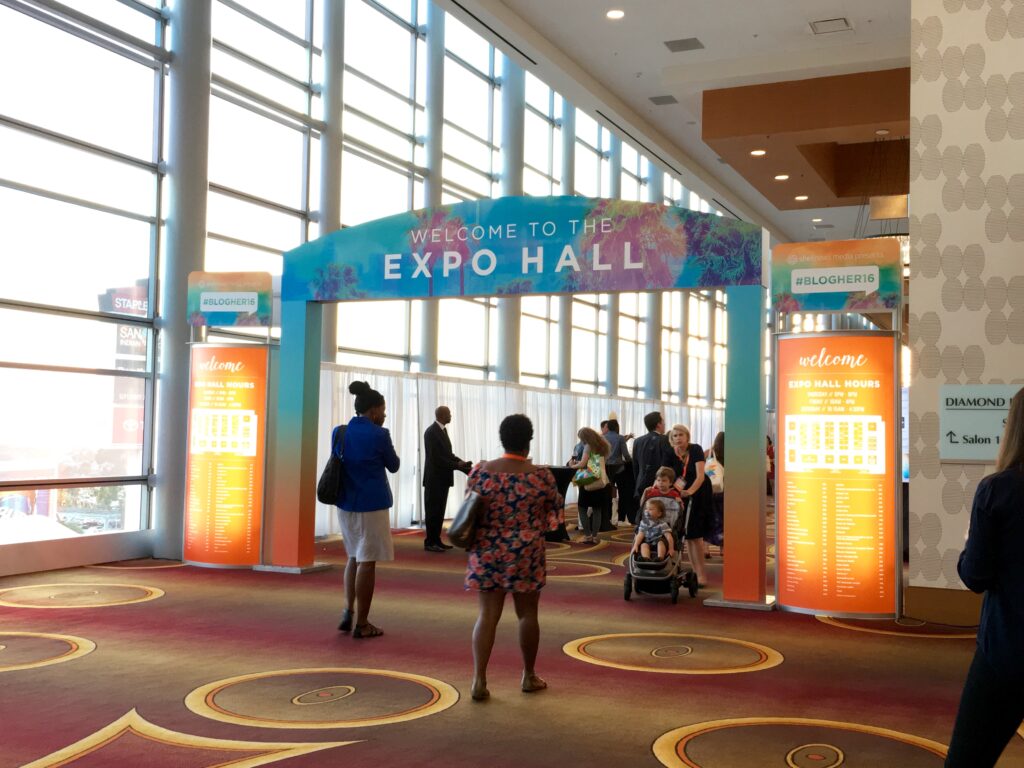 This year, the three-day conference was held right next door to our DreamHost office in Los Angeles, at the J.W. Marriott in Downtown's L.A. Live. From August 4-6, the venue was bustling; BlogHer '16: Experts Among Us brought together thousands of content creators, entrepreneurs, activists, social media superstars, and more. Although geared toward female bloggers, the conference welcomed all ages, genders, and occupations—from young girls bringing positivity to their community, to Matt McGorry (of Orange is the New Black fame) speaking on feminism at the closing keynote.
The theme for our booth this year was Homegrown in California—complete with palm trees, laidback vibes, and a giant "Greetings from DreamHost" postcard as our backdrop! The colors popped and our adorable robots came through once again to attract hundreds of attendees to our booth, where they had the chance to talk websites, hosting, and pick up a limited edition DreamHost coloring book (featuring some of our awesome female employees, we might add)!
Like last year, we were once again surrounded by fun, energetic exhibitor booths in the Expo Hall, including Babybel, Eggland's Best, Ancestry.com, Best Buy, Kraft Macaroni & Cheese, Bai, Baskin Robbins, and many more. Attendees scoured the booths for info and swag, and boy, was there a lot of cool swag. (We see you, Vega and Gorjana—our faves!)
When we weren't chatting at the booth and picking up sweet swag, our team was able to attend a few of the keynote sessions at BlogHer. We got to hear from Sarah Michelle Gellar, Sheryl Crow, Kim Kardashian West, and Mayim Bialik. Though each woman is well-known for different reasons, the common ground they all shared was the devotion and hard work they put into their businesses, causes, and passions. Gellar spoke about her food business, Foodstirs, Crow shared her story of beating breast cancer, West chatted about being a busy mother and running her businesses and website, and Bialik expressed the dedication she has towards the sciences, and the importance it has on everyone as a whole.
Keynote speaker, Sarah Michelle Gellar
But the cherry on top of this fantastic conference was the fact that we had the pleasure of meeting so many fantastic women at BlogHer who are DreamHost customers as well! We even got the chance to meet a few customers who were speaking at some of the BlogHer sessions, including Heather Gold, Jessica Kupferman, Denene Millner, and Yolo Spinks. Thank you so much for all your kind words ladies; it warmed our hearts so much, and we loved spending time with all of you!
BlogHer speaker and DreamHost customer, Jessica Kupferman
BlogHer '16 once again solidified the unending respect and devotion we have for the Women in Tech community. We saw, listened to, and met so many hardworking, dedicated, unique women, with the shared goals of pursuing their dreams, and making those dreams a reality. By the time we headed back home, our hearts and minds were filled with so much inspiration and admiration for all of these women; it was truly an honor to once again be a part of this event. Thanks so much to BlogHer for putting on such a fun and inspirational conference!