This International Marketing Firm Uses Small-Biz Smarts (and a Dedicated Server) to Play Ball
As a senior at Towson University, Michael Lee was searching for an internship to accompany his studies in mass communications.
"Towson has a good internship program and a database of available positions as well as a rating system for those companies," he explains. "I was slacking on finding my spring internship and luckily found that PTC International had just posted an opening."
Little did he know that the day he walked through PTC's front doors, it would be the beginning of his career with the international sales and marketing company.
"Things just kind of fell in place and have worked out since day one," says Lee, who is now an account manager.
PTC, who uses DreamHost for its web hosting needs, has offices around the world and offers items and services ranging from chocolate to investment advising to custom soccer balls.
"The first day was very nerve-wracking," Lee recalls. "At the time we were selling a lot of NFL and NCAA neon signs, so it was exciting to be entering a company that had a working relationship on that level."
Lee, who was born and raised in Maryland, has always had a huge interest in sports. As a college student, he dreamed of working for the Orioles' or the Ravens' marketing department.
"I took the internship since PTC had a sports angle along with marketing, so it seemed like a perfect fit," he says. "Over time, we created Make-A-Ball, where customers create their own custom sports balls. So, in the end, I guess it all kind of came full circle: marketing for sports products."
Ten years later, Lee says he's stayed on with PTC for multiple reasons, one of which is being part of a small but successful company.
"We have great people working here who have become good friends, and it's a pleasure to come to work each day," says Lee, who lives in Baltimore City, close to PTC's downtown office. "We're working on something we feel could be really big with makeaball.com, so there is excitement day in and day out as we work to grow that brand. The challenge of growing something we created into a large company is something that drives us and keeps us coming back."
Like DreamHost, PTC has clients worldwide who depend on it not to drop the ball when it comes to delivering products and top-notch service.
Get Content Delivered Straight to Your Inbox
Subscribe to our blog and receive great content just like this delivered straight to your inbox.
PTC's Starting Lineup
Every sport has its beginnings (like when James Naismith created basketball hoops from peach baskets), followed by evolutions. For PTC International, it got its start as an American food export and China export business in 1980. "Before big Ag companies and China sourcing, we were there," Lee says.
Since then, it has created three divisions: PTC Food, Invested, and Make-A-Ball.
"It's our goal to create niche markets, not only because it ensures we will 'go the distance' as a company, but it also helps us make strategic plans," he explains. "In doing so, we have to really evaluate why we are strong in one area, and who could use that type of good or service."
PTC Food oversees the process of food creation and distribution for companies, including market research and product recommendations for customers.
"We work closely with R&D teams in South Korea to find the correct flavor, shelf life, quality, and overall spec that will best fit the product they would like to develop," Lee says. "We hope that the ingredients we supply, like a specific American type of peanut, make a difference that end consumers won't notice, but that we know helps create a superior product."
American ingredients aren't always the least expensive, he explains, but PTC's partners usually value quality and their customers also expect it.
"As an example, we supply a special peanut, which has a longer shelf life, a great consistent quality, and a 'bigger' peanut flavor due to roasting. That peanut ends up in South Korea's equivalent of a Snickers bar," he says. "It's exciting for us because 99 percent of new product launches last less than one or two years. When a product lasts for many years, it's proof that we supplied the correct product."
Picking out ingredients for the food products requires more than just having a stellar sweet tooth.
"Our chocolate ingredients have moved into Korea for more than 20 years, and it's because of the technical development and consistent quality of the chocolate that they are so popular," Lee says. "Chocolate is a difficult product to master and consumers really can tell the difference between 'compound' chocolate and real chocolate."
Invested — the next service in PTC's hat-trick — offers financial advice and investments for a minimal fee.
"It started with the belief that we should be able to offer young professionals, millennials, and people with less means the same quality of service that we offer to high net-worth clients. We do this by automating," he says. "Proudly, we are one of the lowest-cost providers to our clients and always serve them in a fiduciary standard — putting the client interest before ours."
And don't forget the sports angle, which initially drew Lee to the company.
"PTC was one of the first involved in the folding tailgating chairs for the NFL, and we've developed since then with a full line of products like the Strap-A-Handle and NFL-licensed items," Lee says.
The company's goal is to create products that are unique and meaningful.
"One current product is Make-A-Ball, where people can design personalized and customized photo sports balls — football, basketball, soccer, baseball, and more — and receive their real products in days," Lee explains. "These are breathtaking products and our reviews are some of the best in the industry."
The customized balls have been a hit.
"One of our best-performing products is our football and baseball," Lee says. "Our process of photo-decoration is durable, picture-perfect, and edge-to-edge, which truly makes it unique."
Typical clients are usually moms, dads, and kids, but opportunities are expanding as word gets out.
"We constantly are seeing prom-posals, wedding favors, and Christmas gifts," he says. "Most of them are just amazing and really make us proud. People are using our sports balls to send messages of support, love, or appreciation, and that's a great thing to see."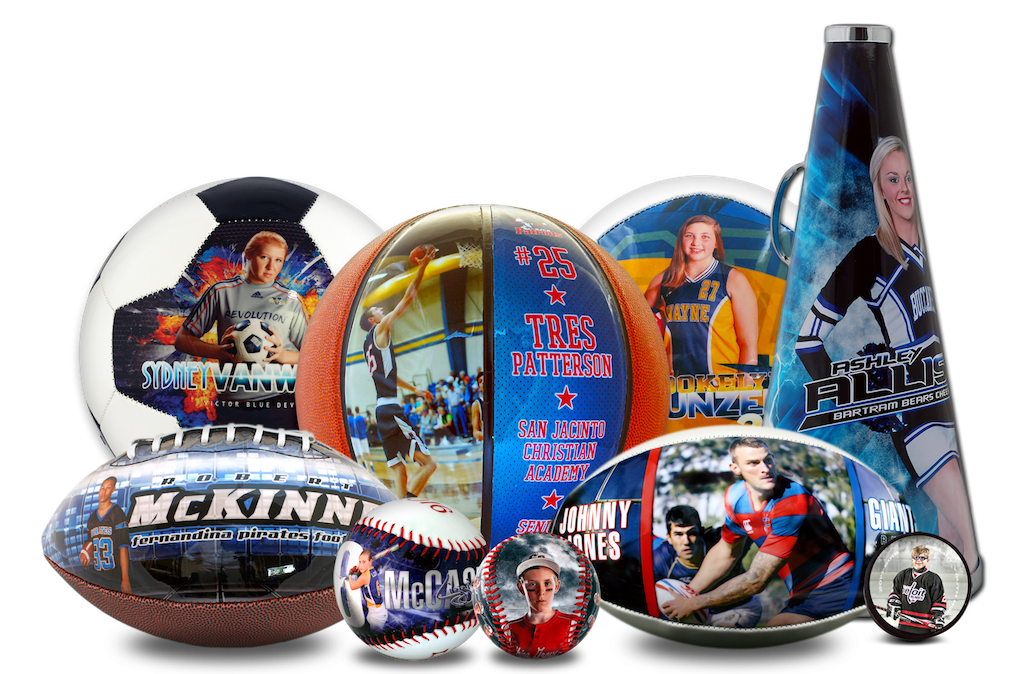 Although the company stays busy year round, it does see spikes in orders at certain times of the year. "Basketball season is January and February; baseball/softball season is April/May; Father's Day is always busy; September through December is football/soccer season, and we're absolutely slammed November/December for holiday gifts," Lee says. "We sell a large number of our sports balls for high school seniors, championship teams, coach gifts, end-of-season banquets, etc."
Behind PTC's products and services is a small-but-mighty worldwide team, which includes 20 employees in Baltimore, a couple of creative contractors around the world, dedicated programmers in India, an affiliated seven-person office in Seoul, South Korea, and a 15-person co-owned office in China.
Any small business has a zillion problems, Lee says.
"Most revolve around too little money or time, but we believe that growing a business takes time, and we are able to make good decisions about how to spend our 'too-little time and money.' Most of all, we believe that what we do makes a difference to not only our customers but also to each other," he says. "Finding great people to partner with is one of the most difficult parts of being in a small business."
A Dream Team
Like drafting and trading professional athletes, PTC has also shopped around to find web hosting that's a good fit. Lee is quick to acknowledge that partnering with DreamHost has been a win-win.
"We've been with a few different providers, but made the switch to DreamHost about two years ago," he says. "They've been by far the best quality for a fair price."
DreamHost's quality has kept PTC as happy customers.
"We've had the unfortunate problem of going low cost and end up with downtime issues that really scared us," he explains. "We also looked into larger providers, but felt that DreamHost offered the best support and quality at a similar pricing structure."
PTC, which received Maryland's Small Business Exporter of the Year multiple times, has a dedicated server to host its numerous sites.
"We've had nothing but great support when it was needed and were even lucky enough to meet a few of the team members for dinner one night," Lee says. "They were able to provide some great insight regarding our site, which we've been able to implement with success. We would highly recommend DreamHost to anyone looking for hosting or considering switching providers."
Knack for All Trades
PTC's success has stemmed from its employees' ability to keep their eyes on the ball. As the industry has evolved and as technology has influenced small businesses, Lee and his colleagues have considered the changes as learning opportunities instead of curveballs.
"At PTC we wear many hats — we do a variety of things. As a result, we're constantly researching and learning," he says. "This fits perfectly with me because I'm very interested in continual learning. Not so much in the higher education form but more in allowing my interests take me where they may. I love falling into new topics then diving in to learn more. Working at PTC allows me to do that as a result of the many things we do here."
Part of that continual learning means keeping up with technology.
"When we first started, we were using fax machines, Iomega drives, and international phone plans. Today, we use Skype, cloud storage, and dozens of apps to communicate internally and also with our customers and clients," Lee says. "We require our service providers to be some of the best in the industry and try to partner with the best quality at a fair price."
These advances have also helped in the creation of new products, especially with the customization angle, which Lee believes will influence marketing more and more.
"Fifteen years ago we believed that people wouldn't want the same trophy or sports gift that everyone else had," he says. "We've seen that real push to customization, which wouldn't be possible without technology."
He also emphasizes that accountability will become more and more important in the marketing realm.
"Being honest and building real relationships that provide not only tangible value but also unseen value will be critical," Lee says. "That's why our financial advising business, Invested, is a fiduciary service and our PTC Foods entity focuses only on select larger corporate partners who can supply honest and consistent food ingredients."
PTC appreciates diversity and expects its employees to have a strong global understanding. Enjoying occasional employee outings to Orioles games also helps. In fact, that camaraderie is what got the ball rolling for Lee as an intern and kept him in the international marketing arena.
"We have a great group of people. We have exciting products. We tend to believe in the power of creative thinking to solve problems," Lee says. "We believe in what we do and its relevance to peoples' lives."