How Cooperative Learning Yesterday Leads to Democratic Workplaces Today
I graduated with a BA in Education in 1994. Back then, the world of teacher education focused on high-level achievement through a concept called cooperative learning. Cooperative learning means exactly what it sounds like! In its most basic definition, it's a method where teachers assign a task to students, asking them to solve problems as a team instead of as individuals.
The idea of cooperative learning stems from pre-World War II research which found that people work better when they are not in competition. Researchers and Education theorists, like John Dewey and Kurt Lewin, further developed the theory in the 1940s stating that, "in order to maintain and build a democratic society, our children must practice the skills required for task completion in democratic cooperative learning settings" (Sharan, 2010).
Today's workforce is filled with former students of this education system—a system where we were taught that our opinion matters. And we were taught the skills to hold each person accountable for their individual contributions.
Ironically, when these same students enter the workforce, many are put into positions where they're told what to do, when to do it, and have little to no say in the way the company they work for makes decisions. Today's generation of workers enter into most corporate America environments and cultures, and find the complete opposite of a cooperative atmosphere, freedom, and democracy in the workplace.
On the HR side of the company, this presents a challenge.
We face a changing world and a changing generation of workers—a generation demanding more freedom at work. Is giving in to their demands a viable option for both meeting the needs of the employee and the company?
Imagine a company where democracy is the cornerstone of how the organization operates and a staple in the workplace.
What would it be like to work at a place where employees are intrinsically motivated and engaged to produce their personal best?  What would happen to employee morale if leadership were transparent with financial and other decisions, and where "Open Door" is not a catch phrase, but the standard?
Exit Power and Control Model of leadership, enter DreamHost!
DreamHost is a democratic company. We believe that everyone should have a voice and be heard (including our customers)! We believe choice doesn't just appease employees-it empowers them. Freedom at work makes employees want to work harder and participate in groups more actively than they would if they were working at a place under leadership using the command and control model.
The large majority of employees here will tell you they love working at DreamHost. We believe it's because, as leadership, we are committed to the Principles of Democracy laid out by WorldBlu organization.
We are proud to be a WorldBlu company!
Heard of it? We did not have to pay a registration fee to join like one of those other membership organizations. Instead, in order to be on WorldBlu Most Democratic Workplaces list, each employee takes survey based on ten principles of freedom in the workplace, and measures how leadership of the company are doing against the principles. It's about democracy in the workplace. We have made the list for a proud 6 years in a row.
On May 14-16, other WorldBlu companies will have a pow-wow in Denver. Leaders from companies like Zappos, WD-40, New Belgium Beer, and Davita will all be there. At the meeting, I will speak on how fear ruins progress and my own personal transformation from a command and control mindset to one of freedom in the workplace. Leading with fear or creating environments driven by fear makes employees shut down. This is something most leaders know, but still end up practicing it. But leading with trust, equality, and with values will foster more respect in employees and a workplace where people want to be!
For more information on WorldBlu go to www.worldblu.com.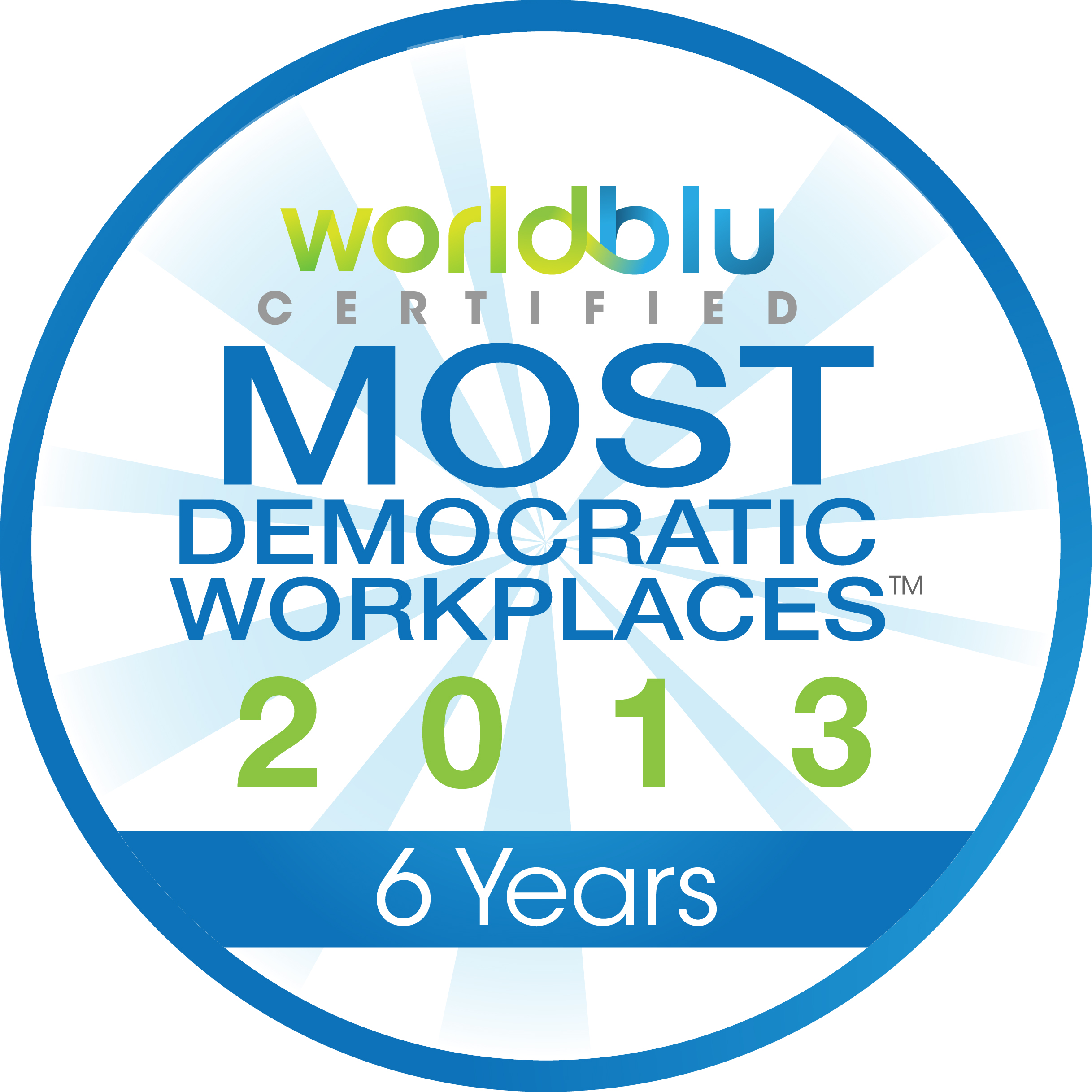 Sharan, Y. (2010). Cooperative Learning for Academic and Social Gains: valued pedagogy, problematic practice. European Journal of Education, 45,(2), 300-313