Girl Develop It comes to DreamHost!
"Don't be shy. Develop It."
That's the motto of Girl Develop It, a nonprofit organization aimed at helping women improve both their careers and confidence by allowing them to learn software development in a judgment-free environment.
And there was no sign of shyness at the Girl Develop It Los Angeles Social Night, which DreamHost was proud to host at our Los Angeles office on Tuesday night. Attendees gathered to eat a yummy dinner, get to know each other, and chat about coding and web development goals.
Girl Develop It organizer, Natalie MacLees, started the night with a creative introduction: Every attendee had the chance to stand up and state their name, what they do for work, and what they WANT to do for work. Not surprisingly, everyone in attendance (mostly women, and one man – high-five, @wpverse!) had the common interest of becoming more involved in the tech world in some way – whether it was learning how to use Javascript or advancing their User Experience skills, or simply learning the basics of programming.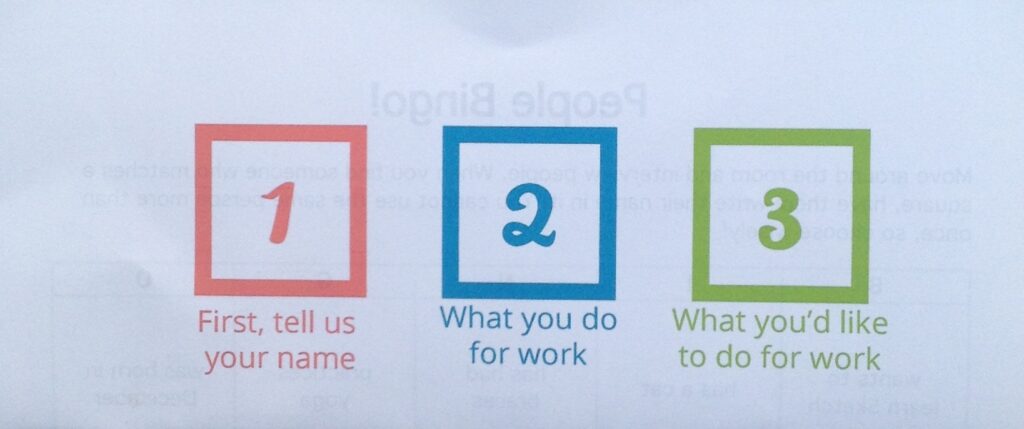 Shortly after the introductions came an icebreaker game that got everyone out of their seats and getting to know each other. Natalie passed out bingo sheets with tech-related questions, and attendees quickly darted around the room, asking questions about each person with the hopes of being the first to fill out the sheet and shout "Bingo!".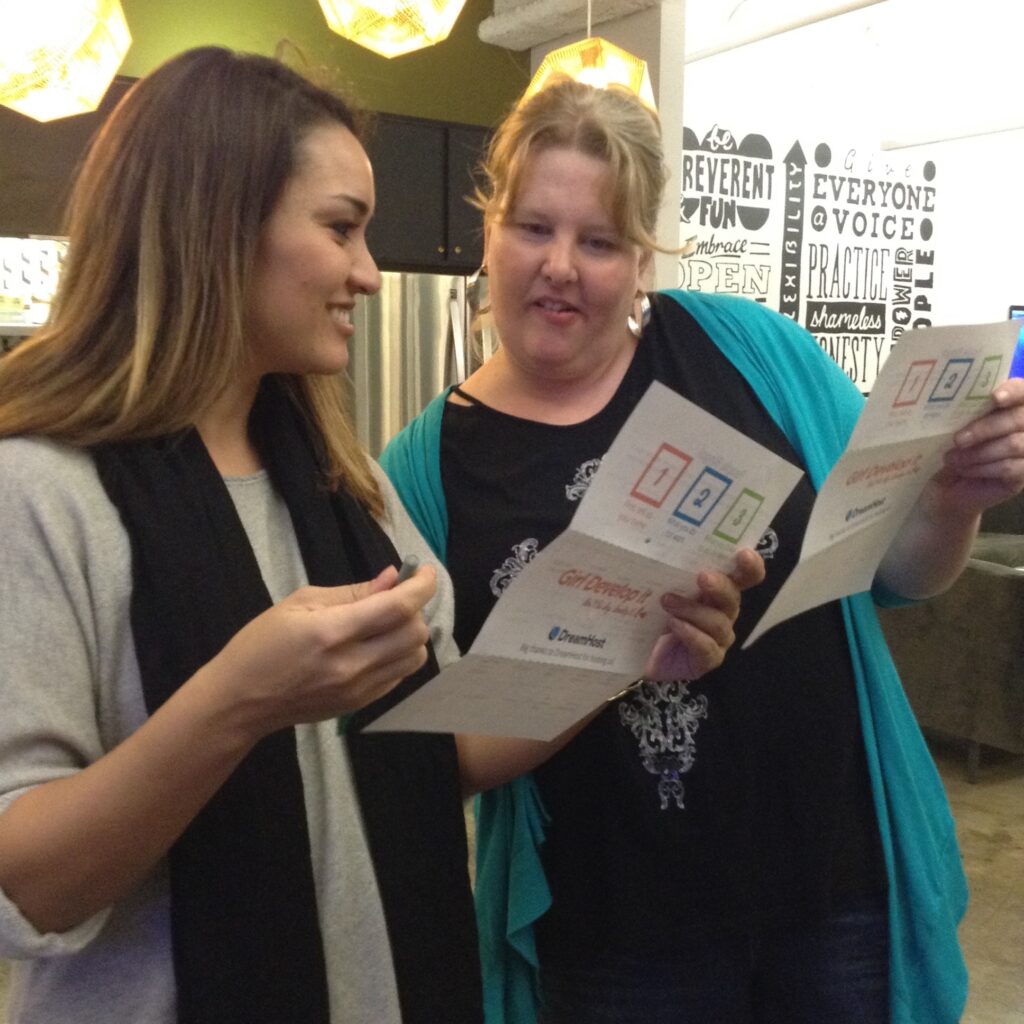 Once the icebreaker was over and the winner received a half pound of chocolate (great minds can't live without chocolate, am I right?), Natalie began telling everyone a bit about Girl Develop It and its mission. Here it is below, from their website:
Girl Develop It is a nonprofit organization that provides affordable programs for adult women interested in learning web and software development in a judgment-free environment.
Girl Develop It is a nonprofit organization that exists to provide affordable and accessible programs for women interested in learning web and software development. Through mentorship and hands-on instruction Girl Develop It helps women of diverse backgrounds reach their goals. Our vision is to create a network of empowered women who are confident in their abilities to code and build beautiful web applications. Through teaching women around the world to learn software development, we can help them improve their careers and the confidence they carry with them in their everyday lives.
Get Content Delivered Straight to Your Inbox
Subscribe to our blog and receive great content just like this delivered straight to your inbox.
Natalie informed everyone that Girl Develop It classes cover everything related to web and software development – everything from Beginning HTML to CSS to design and user experience classes. In-depth back-end classes, python reviews, and mobile development are also covered among many other topics.
"We have a little something for everyone. Even the people who are already working as developers, there is so much to know that a lot of times there's something they want to learn such as Ruby or Python — they can take classes with us."
Girl Develop It is also always looking for help in the form of volunteer help (to organize events, post to social media, etc); Most of the work done at the organization is on a volunteer basis. They are also always looking for teacher assistance — being a Teacher's Assistant is a stepping stone to becoming a teacher at Girl Develop It, Natalie pointed out.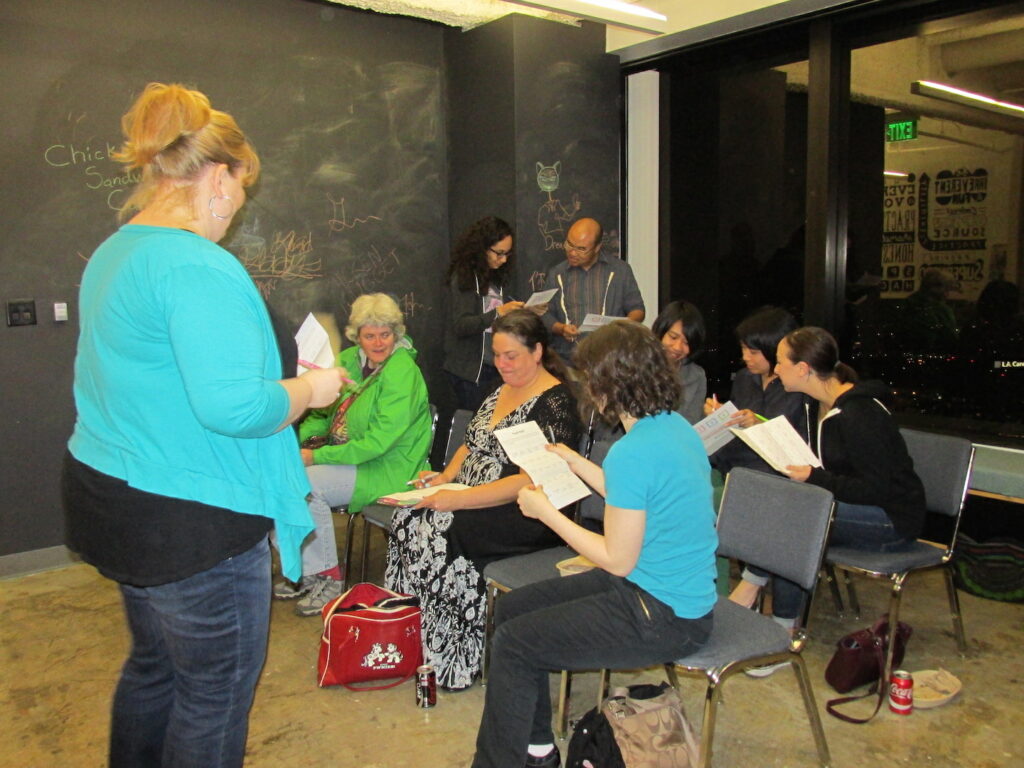 Classes are relatively small (ideally 12-15 students per class). Teacher's Assistants are around to help you if you have questions that are specific to you, so you won't feel like you're holding up the whole class. Girl Develop It wants everyone to feel comfortable and excited about learning a new skill in a judgment-free environment.
The classes also focus on making sure you have something you can show at the end of the class that you've made, sometimes more than one thing depending on the class. For example, the Intro to HTML/CSS class focuses on making a simple web page so you can say "'Here's something I actually made', not just learning lines of code with no end goal in mind," Natalie explained.
Natalie also gave a preview for upcoming classes: In the coming months, Girl Develop It students will have the chance to learn Javascript, jquery, HTML, and CSS.  An Intro to Web Concepts class will also be held at our DreamHost Los Angeles office again, where you will be able to learn how web sites work and all the work that's involved in making a web site.
Sign up here for that super informative, affordable class – not to mention gorgeous views of Los Angeles from our 50th-floor office space.
Girl Develop It is also very conducive to those on a budget — they offer at least two scholarships for every class that is $50+, and most classes are under $100. Their classes are very affordable — it's a 70-90% discount on what you'd normally pay for a comparable class somewhere else. Additionally, if you don't have a laptop, Girl Develop It has donated laptops they can provide for you so you can get to learnin'! Find out how you can donate to Girl Develop It here.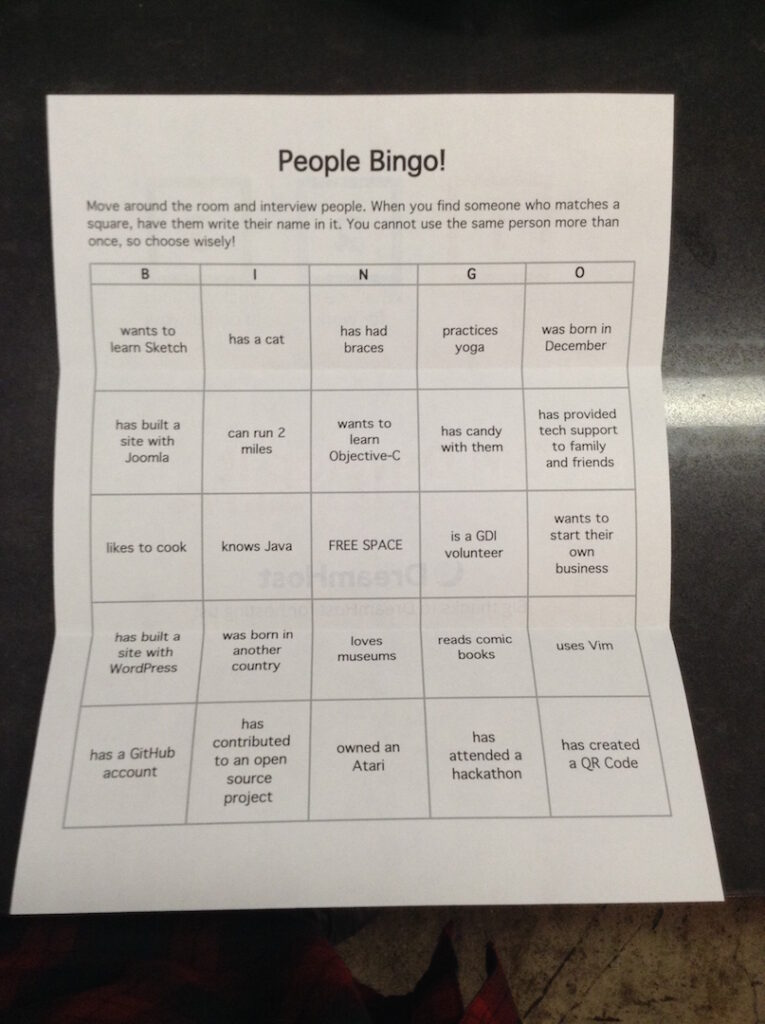 Natalie made sure to note the key takeaway from being a part of Girl Develop It. "We're not just getting more women into tech, we're also taking women who don't have money to pay for classes, don't have a laptop, don't have skills —  and empowering them into a career with a really bright future and really great earning potential."
She also pointed out that Girl Develop It isn't exclusive to women; it's for anyone who wants to help empower women to reach their goals.
And in case you were wondering, Natalie pointed out that if there is one Girl Develop It class you should take, it's the Javascript course (the next one is on Feb. 22nd! Sign up here).
All in all, it was a great night! Tacos were eaten, hopes and dreams were shared, and new friends were made (we hope!). If you're interested in taking a class in the Los Angeles area, be sure to check out their Meetup page for all upcoming events! Feel free to check out their web site for more information as well: https://www.girldevelopit.com/