DreamHost Wins ScaleUp Award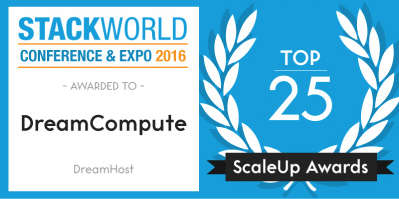 The DreamHost Cloud team has just won the ScaleUp Award from the StackWorld Conference! The honor is given to technologies that have enabled customers to scale up fast.
DreamHost is honored to be among the 25 winners of 2016 for DreamCompute. The recognition comes from DreamHost Cloud helping our customer, atmail, to drastically simplify and automate its expansion.  After only one year from development to deployment, atmail has successfully migrated 10% of their 30 million email account base to the DreamCompute platform, representing a massive 40% of the company's revenue.
DreamCompute's use of SSDs and embedded cloud storage technologies has delivered atmail a significant boost in performance. According to atmail, the most surprising impact of its move to DreamCompute (and its newfound capability to scale at will) has been the opportunity to re-engage with and approach new customers knowing they can now confidently quote large scale email solutions and deliver on those commitments simply and efficiently.
We'll be grinning all the way to the stage on Tuesday, June 28, to accept the award in San Francisco. Help cheer us on — let's raise a glass together!