Today marks a big milestone for DreamHost – the beta launch of our latest cloud service, DreamCompute!
Our development and engineering teams have worked hard on this next generation public cloud computing service for the last year, and we're now ready to invite customers to sign up to try it out. We'll be gradually letting people onto the new cloud platform DreamCompute over the next few weeks, so go to https://www.dreamhost.com/cloud/dreamcompute/ to check it out.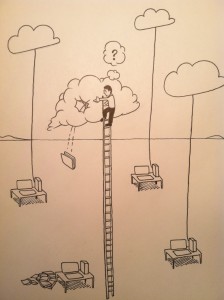 DreamCompute is great for developers and tech-savvy entrepreneurs who are familiar with other public cloud computing services like Amazon EC2, but who want the simplicity, flexibility and stellar support that DreamHost is renowned for delivering in web hosting.
DreamCompute combines cutting edge open source software platforms including the OpenStack cloud platform and Ceph storage, plus powerful new virtual networking features delivered by Nicira and Akanda, to deliver a cloud computing service that is secure, reliable and cost-effective.
DreamCompute provides virtual servers through the use of the KVM hypervisor. Virtual machines (VMs) can be started by creating an Instance using the DreamCompute dashboard. Each instance is based on a Flavor. Flavors define the amount of resources allocated to the VM in terms of vCPUs, memory and boot volume size. DreamCompute provides Flavors small enough for companies just starting out to large ones for companies with greater computing needs.
DreamCompute pricing is based on usage and will be billed in compute hour units, bandwidth usage out, storage usage, and network usage (e.g. VPNs & Static IPs). Pricing for the services will be released publicly in the coming weeks and, in the tradition of DreamHost, will be very attractive to Internet entrepreneurs and developers!
Look out for more updates on the roll out of DreamCompute in the coming weeks, and sign up now https://www.dreamhost.com/cloud/dreamcompute/ to get on the free trial beta list.