8 Things to Remember When Transferring Your Domain Registration to DreamHost
So you want to transfer your domain registration to DreamHost, do you? That's awesome! If there are three things we love, it's domain names, websites, and customers.
Keep in mind, transferring your domain registration from one domain registrar to another isn't the easiest thing in the world. In fact, it can be a pain in the butt because there are so many little things to be aware of and so many little things to do in order to successfully transfer your domain.
Here are some things to remember before, during, and after you transfer your domain registration to DreamHost.
Wondering How to Move a Domain Name to a New Host?
We can help! Subscribe to our monthly newsletter and get domain insights directly in your inbox.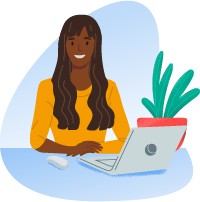 Before You Transfer
1. Get Your Authorization Code
This code, also known as "auth code" — or "EPP key" if you're really nerdy — is absolutely, 100 percent required to transfer your domain name. The auth code was designed to prevent unauthorized or fraudulent domain transfers as it helps ensure that the person transferring the domain is, in fact, the owner, but make no mistake about it, without the auth code, your domain will not successfully transfer.
Also, some auth codes may expire depending on the domain registry, so when you obtain your auth code, don't just sit on it. You'll most likely find your auth code either in the control panel of your current domain registrar or your current registrar may email it to the admin contact's email address of your domain name.
2. Unlock Your Domain Name
This is pretty simple and something that you'll do in the control panel of your current domain registrar. Basically, your domain can't be transferred if it's locked. So before you initiate a domain transfer, unlock your domain.
3. Remember the 60-Day Domain Rule
Something that people often forget is that your domain can't be transferred within 60 days of registration. If you registered your domain within the last 60 days, then tough break, you will not be able to transfer it to a new registrar. Come day 61, you'll be free but not before then. A domain also cannot be transferred within 60 days of a previous transfer. This 60-day domain rule is brought to you by our good friends at ICANN.
4. Turn off Whois Domain Privacy (If It's Turned On) 
I know, I know. We love domain privacy too — heck, we even offer it for free! — but in order to successfully transfer your domain to us (or any registrar for that matter), you have to turn off privacy temporarily. Why? Because your new registrar has to recognize that you are the legal owner of the domain. With privacy turned on, we can't see that you're the real owner of the domain. Don't worry, when initiating the domain transfer process in the DreamHost panel, you'll be able to enable domain privacy again.
5. Make Sure You Have Access to Your Admin Email Address
In other words, make sure the whois info of your domain name is accurate, especially the admin email address. When you transfer your domain, all the important transfer emails, like the Form of Authorization (FOA) email, will be sent to the admin email address. If you don't have access to that email account, then you'll never see the FOA email which links to the page where you'll submit your transfer approval (more on that later).
6. Add One Year to Your Registration
Transferring a domain adds one year to your current domain registration. This is common at every domain registrar but different registrars have different prices for this additional year. At DreamHost, for example, it's $9.95 if you're transferring a .com to us.
During the Transfer
7. Approve Your Domain Transfer
After you've initiated the domain transfer in the DreamHost panel, you'll have to eventually approve it. That approval process starts with the FOA email we talked about in point No. 5. Here's what it looks like: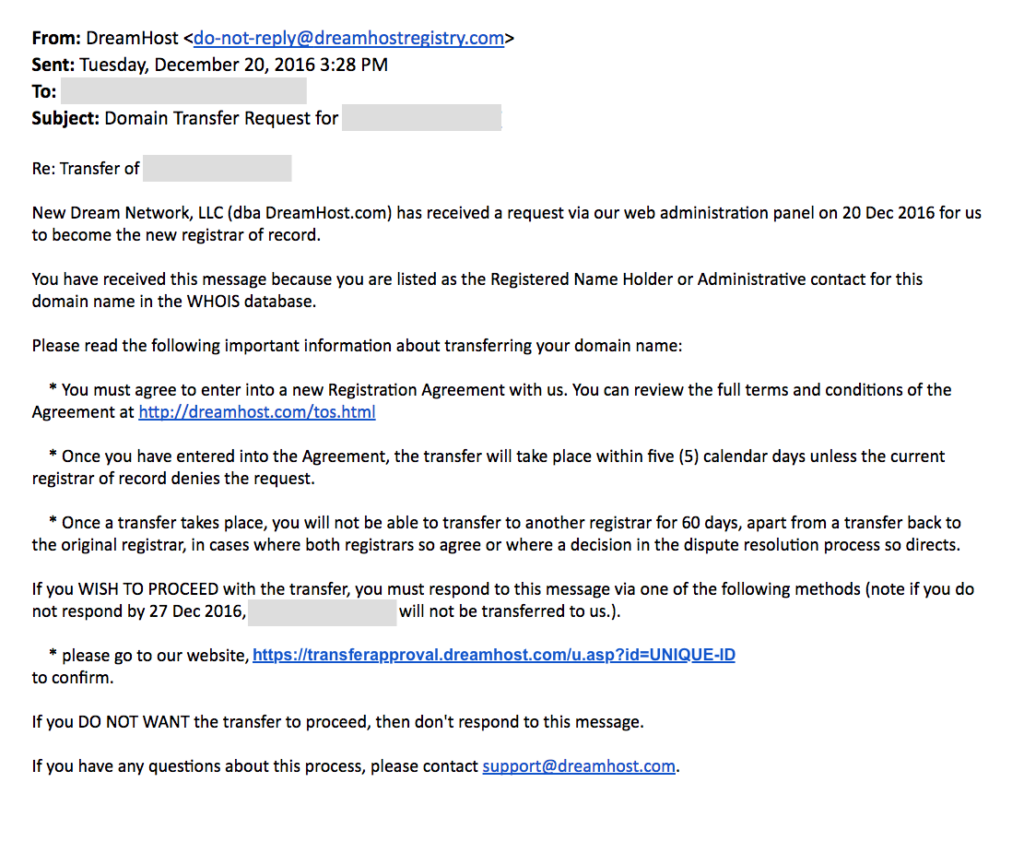 The email is sent from do-not-reply@dreamhostregistry.com so you may want to whitelist that address ahead of time. If the email doesn't pop into your inbox, be sure to check your spam/junk folders just in case.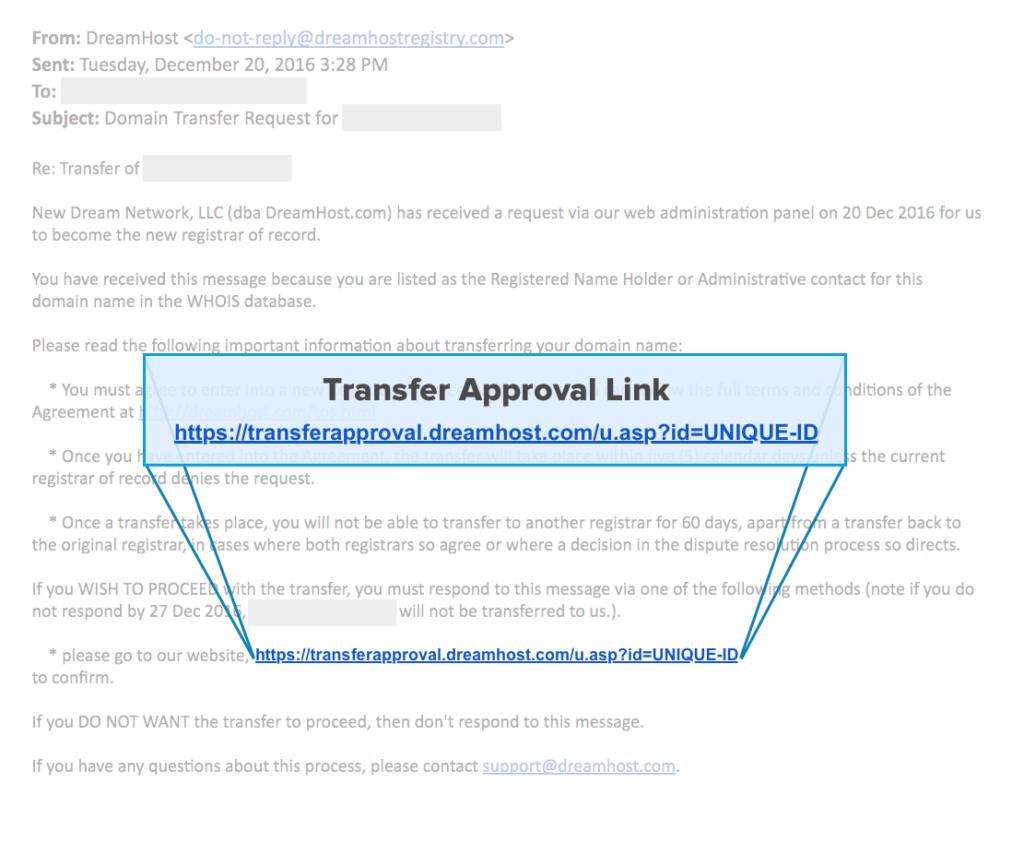 The most important thing to remember, though? Opening the FOA email is not enough to get your domain transferred. You've actually got to click on the link to go to the Transfer Approval Page to confirm your approval there. The link is only valid for seven days so don't wait or you'll have to start the transfer process over again.
Curious what the Transfer Approval Page looks like? Wonder no more.
This page is pretty self-explanatory. Simply select "Approve Transfer", click "Submit", and voilà! Your domain will be on its way to DreamHost.  
Ready to Switch Your Domain Registrar?
Search DreamHost's 400+ TLDs to find the perfect URL for your website.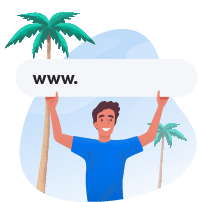 After You Transfer
8. Ride Out the Waiting Period
It will take approximately 7–10 days for your domain to transfer over to DreamHost.
There you have it. These are the things that you should be aware of when transferring your domain to DreamHost. Honestly, though, these tips will help you regardless of which registrar you use. The only section that is truly unique to DreamHost is the "During the Transfer" section since other registrars have their own transfer approval process.