Your DreamHost control panel is looking a little different today. Last year we launched an all new look—a new logo and a redesigned dreamhost.com. We're now ready to reveal the first phase of bringing that look to the control panel. *the crowd cheers wildly*
Looking back through our history books, the last time we made any major design change to our control panel was in 2007. That was the year the original iPhone came out. A lot of things have changed in 8 years. The "mobile web" became a thing. Design has gone from bubbly web 2.0 to skeuomorphic to flat. Pluto isn't a planet anymore. My parents are on Facebook. It's time to change it up a bit.
Change? Gross. Why?
Starting this project, we had a number of goals. The most obvious goal being all that work we did last year on our brand refresh. We want a cohesive brand. You, our beloved customer, should feel like you're at DreamHost no matter where in the system you go. We've refined our look and that needs to happen to the control panel as well.
The second goal is to be responsive. The screens you use to manage your websites are different sizes than ours. Screen sizes aren't just mobile, tablet and desktop either. There are millions of variations between those three as well. We want your experience to be great no matter what size screen you're on.
Another goal is speed. Websites are getting larger and larger, and that's unfortunate. What can we do to make sure you can get to where you need to go without having to wait around?
Lastly, we wanted to set up a good foundation for the iterations we have planned for the future. We wanted to make sure that what we are doing is the least disruptive it can be. No one wants to learn a new interface just because some finicky designer with weird hair got fancy in Photoshop.
Ok. On with it. What's new?
All right, all right. I was just trying to build dramatic tension…
With all that in mind, we set out with Phase One. We took all the surrounding parts of our control panel, the header and navigation, and reworked them. Streamlined them. Simplified them. Really gave them a good talking to.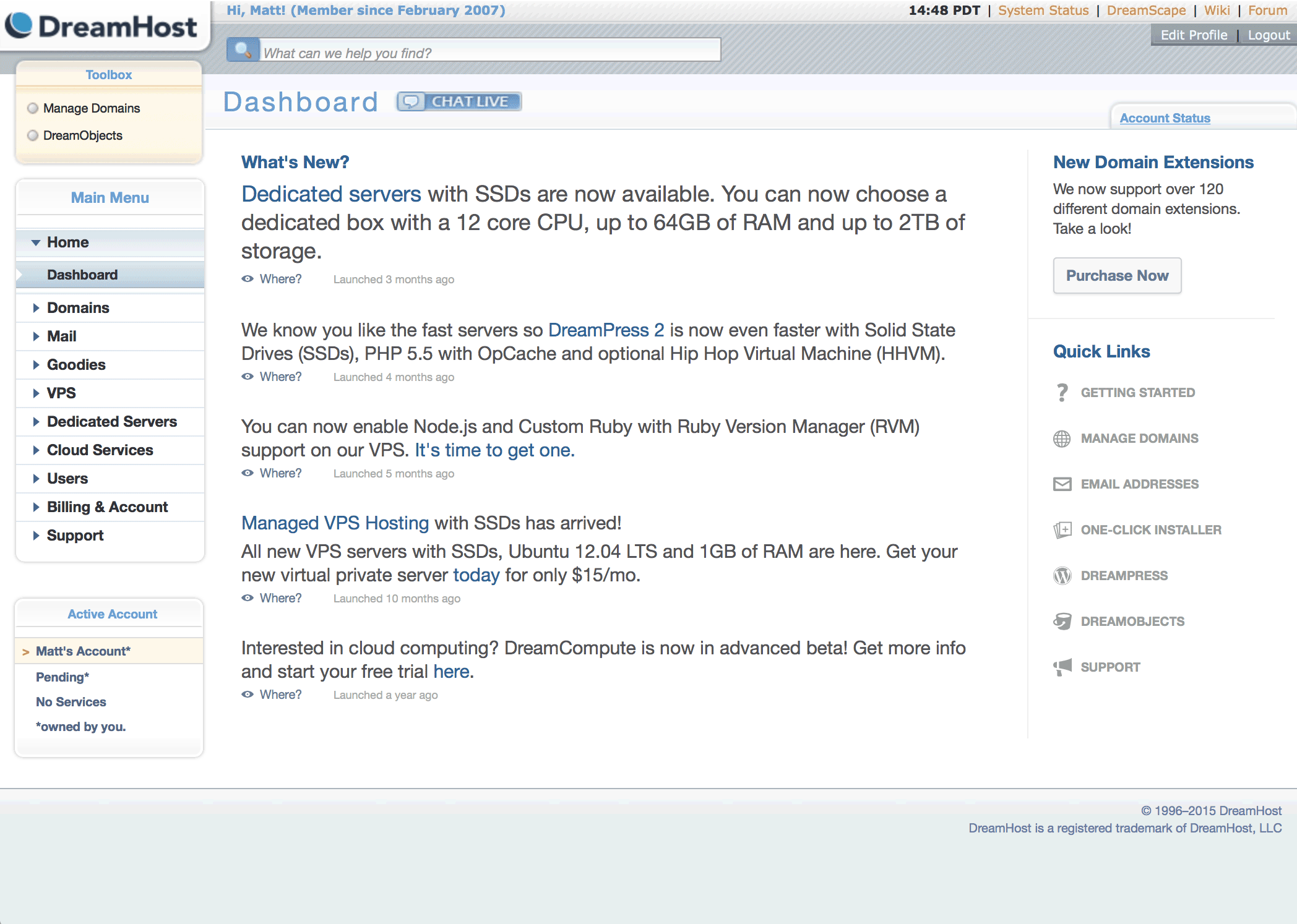 We brought the new DreamHost aesthetic to them, yes. We made it responsive so the control panel will work better on any size device you're using (except watches and weird things like that. Come on.) Load time decreased by about 4% and we have a really great base to work from to continue streamlining your experience.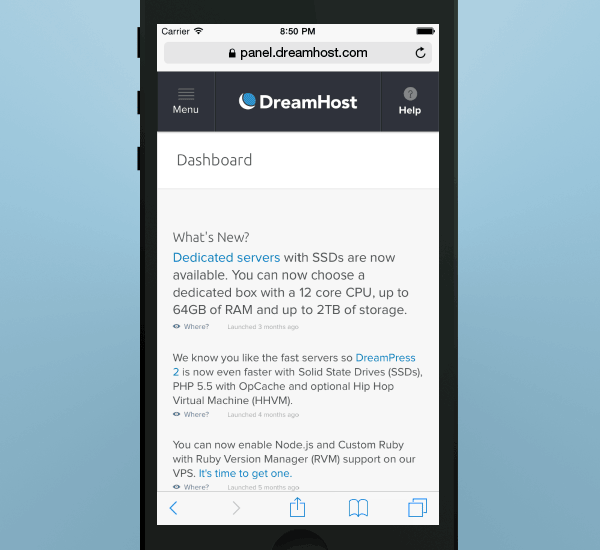 Mission. Accomplished.
Wow. Cool! What's next?
Great question! You thought we'd stop here? We have a lot more work ahead of us. The control panel is huge, like mowing-a-football-field-with-nail-clippers huge. We have a lot of great ideas though. We're looking at usage metrics, user journeys, streamlining, consolidating and reorganizing.
Jump into the control panel and take a look. We think you're going to like it.