I'll never forget the time I forgot to back up my WordPress site.
I was a college undergraduate building a pretend literary journal for English class. I had spent weeks collecting art and poetry submissions from my classmates, and too many late nights modifying an attractive lavender WordPress theme. That's when disaster struck. I was an inexperienced coder, and broke my template so badly I couldn't even access my files. A kindly computer science professor helped me retrace my steps, but those ensuing hours of panic could have all been avoided if I'd only remembered to back up my site.
Today, backing up a WordPress site is so simple, there's no excuse not to do it. There are a lot of options, but I always return to Austin Matzko's free WP-DB-Backup, both for myself and my web design clients. It can be configured to send you a backup of your entire site directly to your email as often as you want, so "I forgot" is a thing of the past.
Here are some step-by-step instructions for exactly how to set up a stress-free site backup routine:
1. Install the WP-DB-Backup plugin
In the Dashboard of your WordPress site, scroll down to the Plugins area and click on it. Then, click the "Add New" button right next to the page title. If you search for "WP-DB-Backup" it will be the first result you see. Click Install, and then click Activate.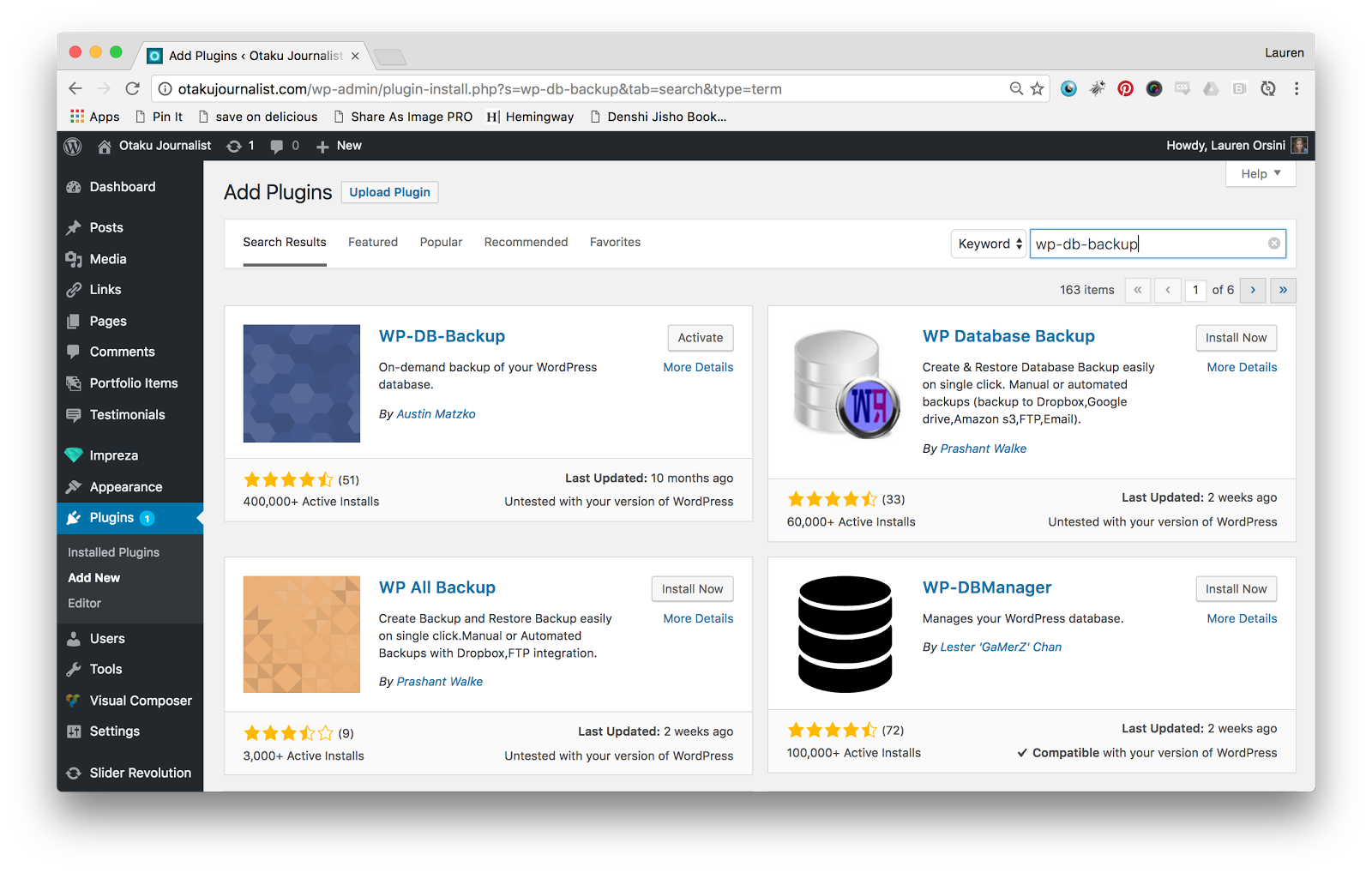 2. Configure the WP-DB-Backup plugin
Now, WP-DB-Backup will show up in your list of installed plugins, and it will be marked as active. It will prompt you to navigate to Dashboard -> Tools -> Backup to get started.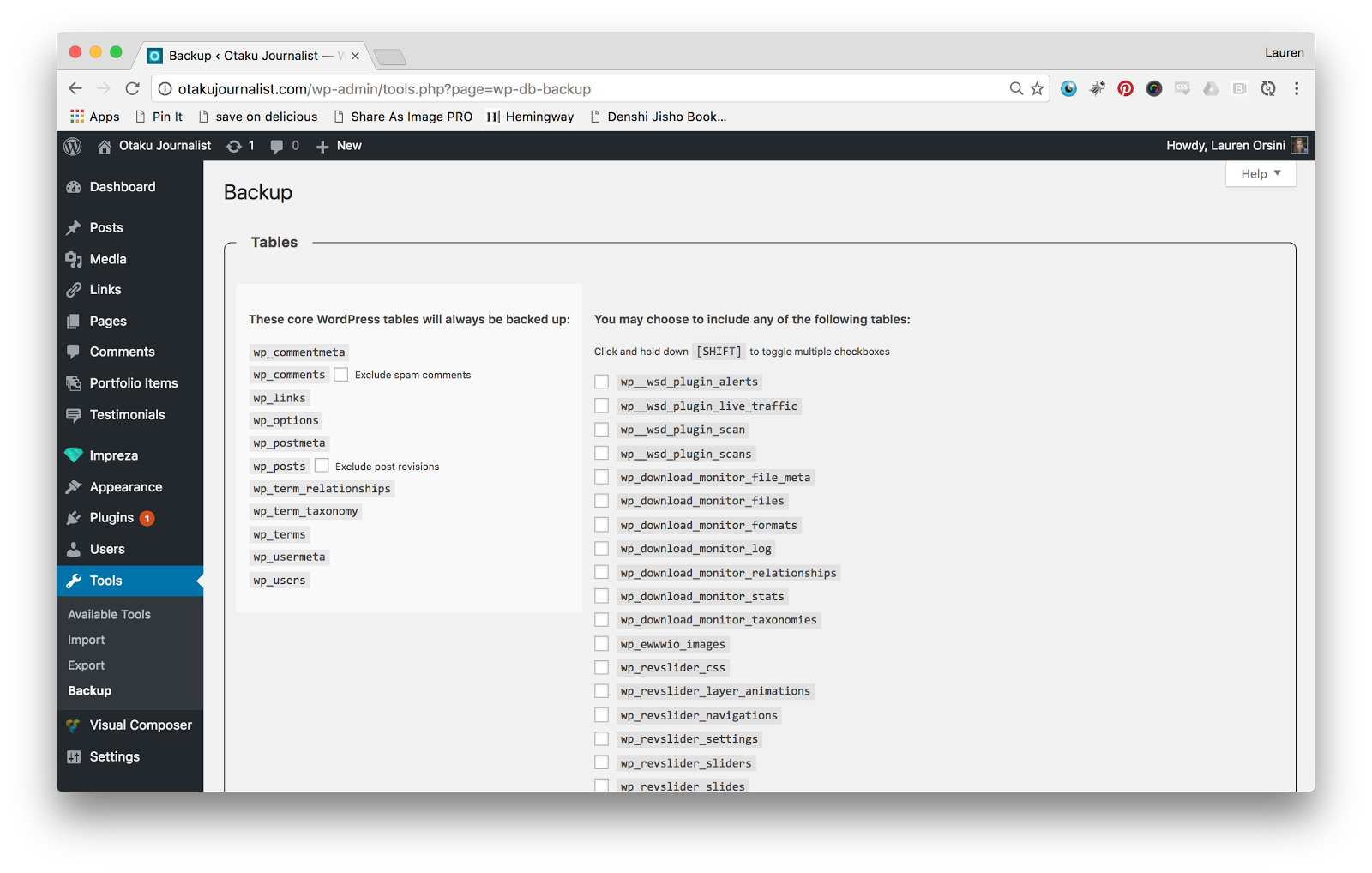 The first thing you will see is a list of tables to be backed up. WordPress blogs are based on a database, and databases consist of tables, so tables are where all of your blog data is stored—from posts, to images, to even the layout and comments. The tables on the left are "Core" WordPress tables, which your site cannot function without, and they will always be backed up. The tables on the right are WordPress plugin tables, and they are optional. I usually do not choose to back up my plugins because I can always just reinstall them later.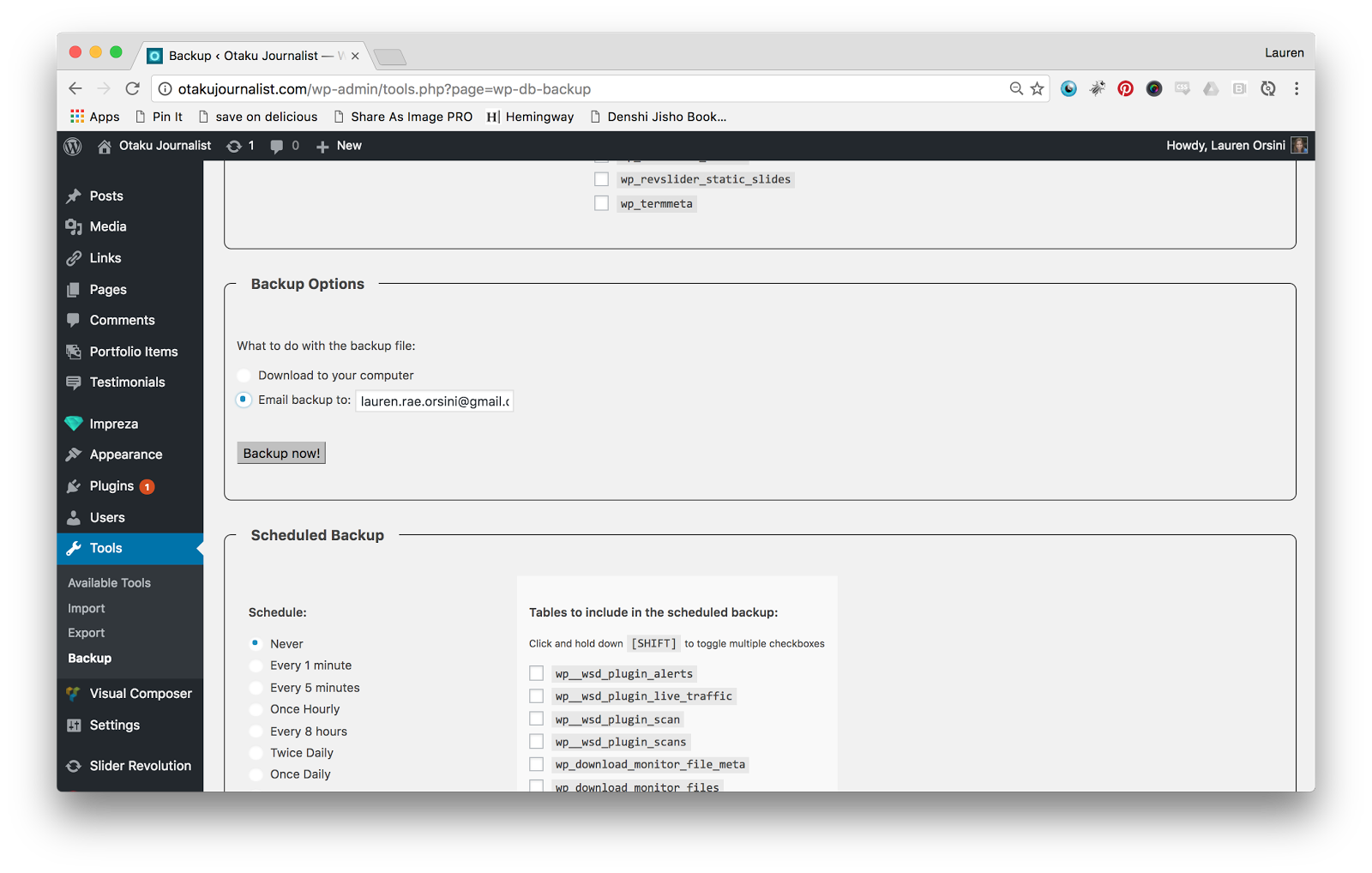 Scroll down a little, and you will see Backup Options. You can choose to download a backup to your computer or your email account to test how the plugin is working ASAP. You do not have to do this step, but I highly recommend you do. I also strongly recommend sending your test backup to your email, so you can make sure it syncs with your account correctly. Click "Back up now" and wait, because if you close the browser or reload the page, your backup will fail. If your site is as old as my seven-year-old blog, this might take up to 10 minutes.
Finally, use "Scheduled Backup" to configure regularly scheduled backups. You can schedule a backup once every minute, but I doubt you'll need that. For most regularly updated blogs, a once-a-week backup should suffice. Select any optional plugin tables you'd like to include with the core tables, and click "Schedule Backup."
3. Use the WP-DB-Backup plugin when necessary
We know that the file sent because we got an email in our inbox that looked something like the one in the screenshot I just posted. But in the case of an emergency, how would we use it?
Open the email and you'll see an attached file that ends with sql.gz. That may be an unfamiliar suffix, but you do not need to even be able to open the file to use it. Right click the file and download it to your computer somewhere you can access it readily.
When disaster strikes, you will be able to recreate your entire site from that one file. If your WordPress site is hosted on DreamHost, you would log in and go to Dashboard -> Goodies -> MySQL Databases -> PHPMyAdmin.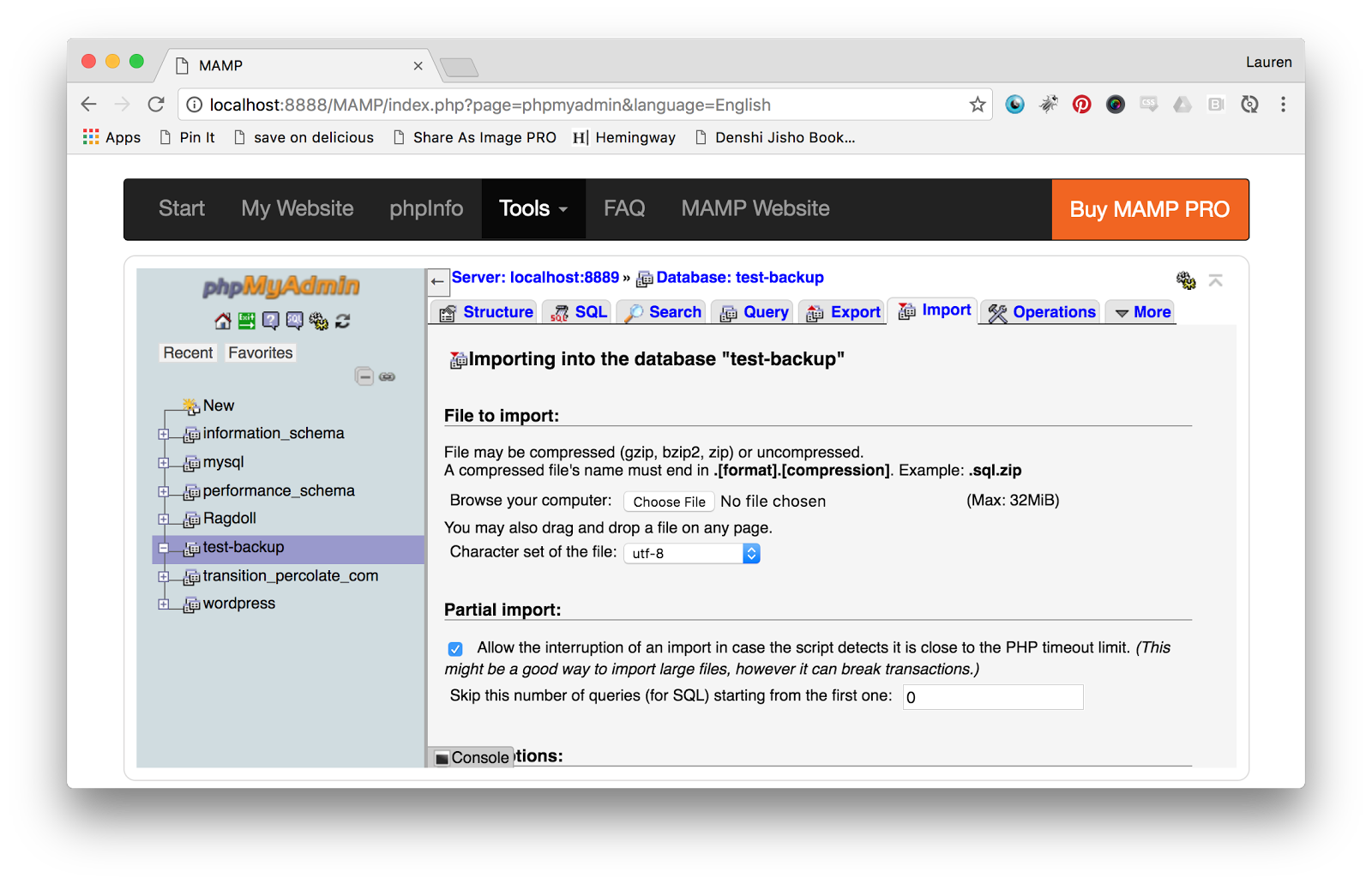 Log in to the specific site's PHPMyAdmin page using the credentials found on the MySQL Databases page. Find the destination table you want to use (here, I've created a new table called "test-backup") and click the Import tab.
PHPMyAdmin will prompt you to select a file. Notice the instructions say the file must end with .[format].[compression]. Fortunately, that's what .sql.gz stands for.
In an emergency, pressing the "Go" button would fully restore your site from the backup to the database you selected, so you can sleep better at night.
One last tip: Did you know you can back up your entire DreamHost account with one click? WP-DB-Backup is great if you have just one or two blogs, but if you have a whole lot of them, you can try this one-click method instead: navigate to Panel -> Billing & Account -> Backup Your Account and press "Back me up!" When it's done, you've got everything all in one file.
Now you definitely have no excuse not to back up your WordPress site. Good luck!