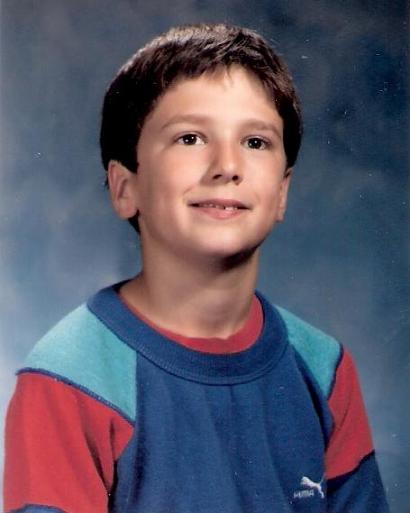 We are!
Well, maybe not ALL fifth graders, but I'm sure at least A fifth grader.
Like, one who skipped first grade or something.
Like me! (I was too tall smart.)
Anyway, DreamHost is TEN YEARS OLD!!!
   Domain Name: DREAMHOST.COM
   Registrar: NEW DREAM NETWORK, LLC
   Whois Server: whois.dreamhost.com
   Referral URL: https://www.dreamhost.com
   Name Server: NS1.DREAMHOST.COM
   Name Server: NS2.DREAMHOST.COM
   Name Server: NS3.DREAMHOST.COM
   Status: ok
   Updated Date: 21-sep-2006
   Creation Date: 23-sep-1997
   Expiration Date: 22-sep-2013

In dog years, that's SEVENTY!
In Internet years, that's ONE THOUSAND!
In waiting-for-tech-support-to-get-back-to-you years, that's INFINITY!
To celebrate, I'm doing this super-long blog post retrospective… and if you read the whole thing, you might feel a little less let down about the announcement I mentioned last post just being a freaking birthday announcement.
Stupid Beginnings: Pre-DreamHost
Man, I was just looking through some old emails from 1997, and one thing I can say is, boy, were we dumb!
It's nice to know some things never change.
Date: Sun, 5 Jan 1997 15:06:32 -0800 (PST)
From: Josh "Evening Optimist" Jones
To: Honchos
Subject: Plan?

Maybe we should piece together a mission statement or guidelines for
business or goals or something. Maybe we should also come up with some
different plans for pricing web hosting. Like some amount for a small
business site (at most 500 hits a day or so) and some amount for a large
site, with a discount if we were the ones who made the site. All should
probably have 20megs of space, with $5 per 10 more or so (I'm of course
wide open to specific price suggestions, these are just round numbers).
Maybe $30 for a small, $45 for a large, plus maybe $5 more per some number
of hits. Also more if they have a domain name. If we made their site
though, how about $15 off the base price?

Anyway, I was thinking we need some reason that people would want
to use us instead of our competitors. Why would they now? We are good at
design and graphics and programming, but honestly there are plenty of
places that are good at that. We have to be something others aren't. Like:
quicker at getting the job done, better sites, cheaper sites, or maybe
even something like better customer service or even more advertising. The
reason I thought that low price would be a good way to go is because we
have an advantage over most other places in that. We aren't actualy
dependent on this (at least not _yet_) whereas others are. I don't think
we have an advantage in speed, especially since we are all full time
students. We are good at design but it's hard to sell people on our sites
being the highest quality I think. I can imagine some people really liking
our work and other people not so much, there is a lot of personal taste
involved. Another thing which I guess is sort of obvious is that it would
be good to get some large sites that we need to change a lot and sort of
constantly maintain and add things to, because we can keep charging for
that. Like when we get a job, we should outline clearly what is included
in the setup, and additional things (like more pictures, etc..) are
clearly going to cost more later. Okay thats it. I would have written this
earlier, but my connection was flakey yesterday.

Josh
But wait, isn't that email dated January 1997?! We didn't register dreamhost.com until September! What oh what were we doing in the meantime?
The thing is, the actual company over here is really called "New Dream Network" .. and the goal was never (and still isn't!) to be a web host. We did some web hosting on the side to try and cover the network we were stealing from a friend, but we generally didn't want it to ever get too big.
Buuuuuut, once we started actually raking in the dough, that mentality changed quick. Let me give you an idea of how much dough there was to be raked back when we decided to get serious and get an actual domain name..
07.29.97 pillar Pillar Communications $20.00
07.31.97 pinzler Andrew Pinzler $48.00
07.31.97 jbark Joseph Bark $46.00
08.06.97 tim Timnet $126.00
08.12.97 threnody Cheryl Dowling $136.00 VOID
08.12.97 jhb5 Vickee Sepich $46.00
Here's an interesting little exchange I found too… the origins of the DreamHost name:
Date: Sat, 20 Sep 1997 14:06:21 -0800 (PST)
From: Dallas Bethune
To: Honchos
Subject: Re: everyhost.com

Hey,

I just discovered that dreamhost.com is not taken!

We could snatch it up! What do you think?

I'm making an ad for hosting right now, BTW…

->Dallas

> > Hey what do you guys think of everyhost.com? We could make it our mission
> > to make having a website with a domain name easy and affordable for
> > everyone from private citizens to small to large businesses. Therefore..
> > everyhost.com (it's not taken). Also Dallas, are front page extensions
> > still installed somewhere? I'm going to take advantage of the beta status
> > of FP98 to download it and see if we can get our server to work with their
> > extensions. It would be good to put at least on our hosting server once we
> > get it.
> >Josh
>
> I'm not that taken by everyhost.com. I don't think I would personally want
> to have my site there. It would be fine if we were trying to focus on
> sites with their own domains, though.
>
> I believe I deleted the FrontPage stuff. We never got it working right,
> and were low on space at some point.
>
> I'd almost rather not have FrontPage going on our servers. It seems kinda
> neat, but I'm still worried about what access to our server that it seems
> to require…
>
> ->Dallas
Ha, EveryHost! Just rolls off the tongue, doesn't it?
I do feel somewhat vindicated that everyhost.com was snatched up less than two years later!
(One thing sort of funny is… we were assuming most people would be getting sub-domains of our main domain. Dallas was saying that he wouldn't want dallas.everyhost.com as much as dallas.dreamhost.com! Of course "It would be fine if we were trying to focus on sites with their own domains, though.")
A Nightmare is Born
Woooooheeee! Thanks the Wayback Machine I've been able to find and recreate the entire history of DreamHost.com and lay it out for you here, complete with what I think are the most interesting points in each design! Unending boredom awaits..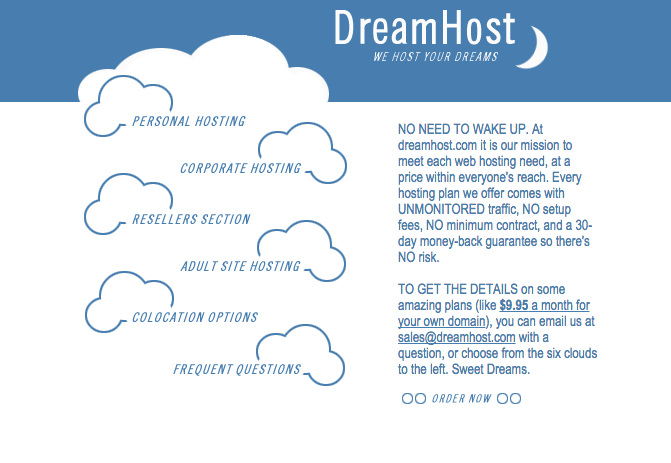 This was our first design!
Designed by Dustin Vannatter, New Dream Member extraordinaire, I'll always hold a special place in my heart for this one!
Back then, we actually had specifically an "adult site hosting" plan.. it was $99.95/month and, like all our plans, included unlimited bandwidth! As unlimited as half a T1 can be! It came with 100MB per 5GB of transfer you used, which was really weird in retrospect.
We also had our Crazy Domain Insane plan for $9.95/month with 20MB of storage, Archive Boy for $17.95/month with 40MB, Code Warrior (we hadn't gotten that Cease and Desist from Metrowerks yet!) for $23.95/month with 50MB and a telnet user and CGI access, and Strictly Business for $44.95/month with 100MB of storage along with 20 email addresses and anonymous FTP!
It turned out, that Adult Site hosting plan with unlimited bandwidth was the only thing that kept us solvent those early months. As soon as we put that "too good to be true" offer up there, we started getting deluged (as in, multiple PER WEEK!) with signups for it! And these were big customers too.. $100/month!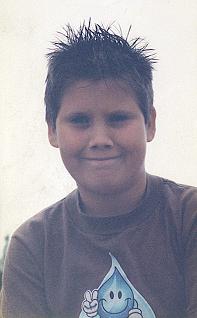 It took about a week before we realized that unlimited bandwidth plus adult content equals not good. Some of these people were using over a GB a day of transfer.. and according to an early email from michael, we needed to be making $200/GB to stay afloat! We immediately had to re-negotiate with some of those early adopters.. one guy began paying $700/month, and others left.
We did learn an important lesson though, and that was that some of those $100/month adult sites used hardly ANY bandwidth at all! And thus, the truth about overselling was realized!
(Ha, if you thought having a dedicated adult hosting plan was crazy, before dreamhost.com launched we had a dedicated warez hosting plan!)
We also had "colocation" options back then:
For $995/month you got 50GB bandwidth, 64MB RAM, a 3GB SCSI drive, on a Pentium 200Mhz!
For $3000/month you got a PII 400Mhz, 256MB RAM, two 9GB SCSIs and 300GB of bandwidth!
The deals would have been a little sweeter if I'd had my way though…
Date: Mon, 29 Sep 1997 11:35:29 -0800 (PST)
From: Dallas Bethune
To: Honchos
Subject: dreamhost.com site

I looked at it…

I'm alarmed by the colocate page.

How do you think we're going to offer

200MHZ Pentium II
64 MB RAM
4.2 GB drive
Full Debian Linux Distribution

Only $300 setup
$300 a month.

At this ridiculously low prices?

We're trying to make money…!

The offer I was talking about would be a 100 MHz Pentium with 16MB Ram and
2 gig drive for $1500 setup and $500/mnth

That price is even low…

Also, I'd rather not give everybody full CGI access that is a client of a
reseller. That would be a good way to open ourselves up for a lot of
attacks from people we don't even really know at all. I think we should
develop a set of cgi scripts that most people would want to cover people's
want or need for CGI without opening the server up. We can't afford to
get new hardware too often…

I also feel especially unsure about granting full CGI to people with warez
pages. They would be the ones most likely to try to cause trouble,
right? (maybe I'm just getting old)

Most people don't need cgi except for little things. If we can provide
those things, we can secure ourselves from big programs that use up the
processor or what not. I'm paranoid.

I think we may have to discuss our prices overall, as well. We are way
lower than a lot of places. This helps us get business, but we may need
to reassess our costs, and our income, and all that.

->Dallas
Yeah, early on you got ONE mailbox, ONE hosted domain, ONE ftp user, and NO cgi access unless you were at least on Code Warrior.. and you liked it! Not to mention domain registrations were $70/year from Network Solutions (and only Network Solutions!)
From the very beginning we had a "reseller program" (you'd get 20% off) and in November 1998 I started the monthly newsletter. Oh yay.
So yep, that was it, one server, four honchos, and $200 in the bank.
Two Years Pass: September 1999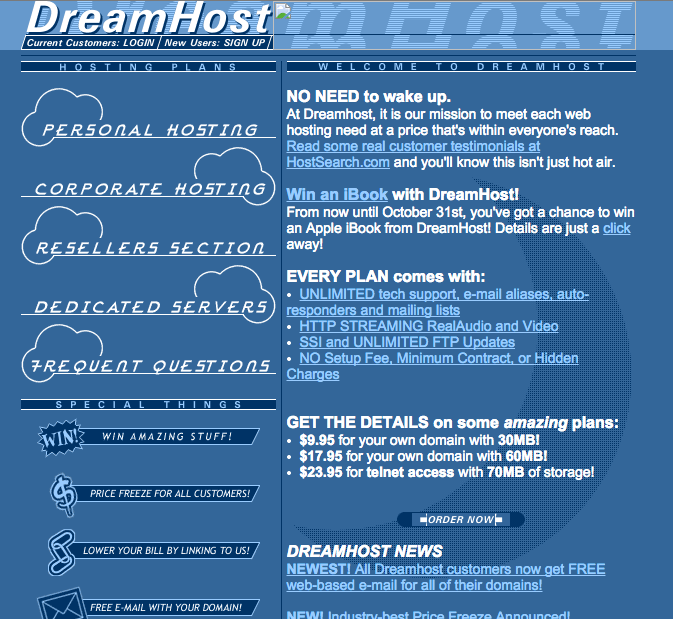 First thing I noticed on this redesign.. our 1-888-261-4484 is nowhere to be found! I must have gotten tired of all those voicemails setting off my pager. Good riddance to phone support! It wouldn't return (in the form of callbacks) for three years.
By our two year birthday, DreamHost has grown from the four honchos to 19 people.. and gone from no profit to profit to no profit again, thanks in large part to Sage's WebRing millions!
We'd dropped the unlimited bandwidth, but added some "extra options" at this point: get an extra ftp username for $5/month, and extra mailbox for $2/month, and extra storage for $5 per 10MB!
We've dropped the adult plan, added a domain parking plan for $30/year .. NOT including registration (but refunded if you upgraded to full hosting!), renamed "colocation" to "dedicated" (after all, we still don't have our very own data center!), started offering squirrel mail webmail, and were giving away a free iBook! This was back when people used to read books!
We later had a lot of other giveaway contests.. DreamCasts, Handspring Visors, Game Boy Advances, and even, on the launch of "DH2", a PS2!
DreamHost 2: September 2000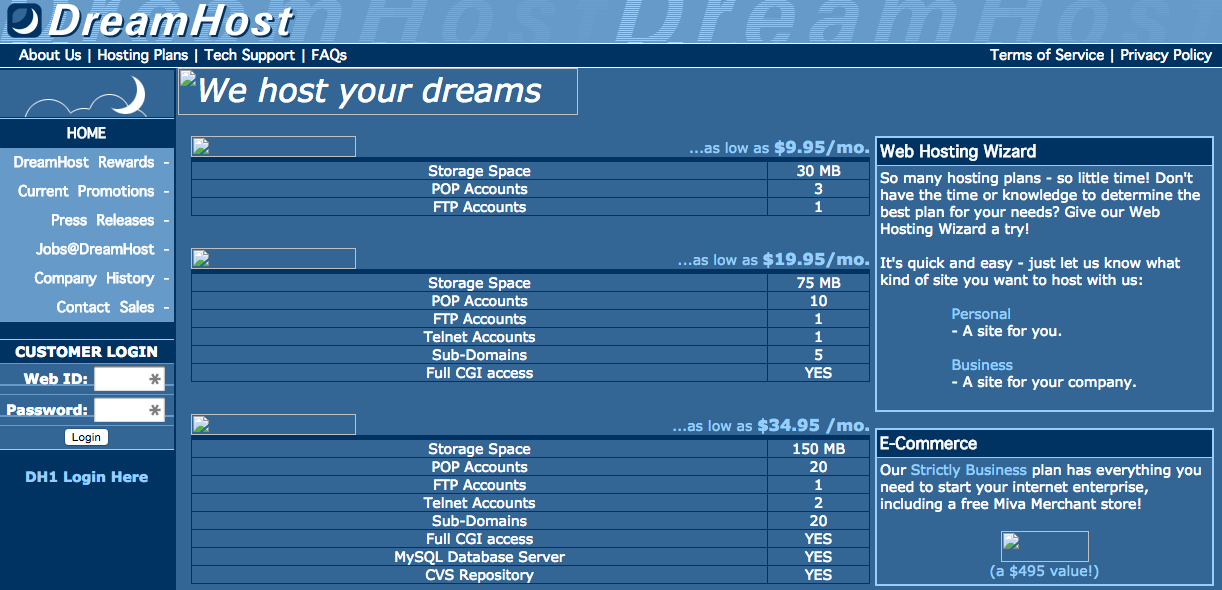 Pretty much since I graduated from college in May of 1998, we'd been working on "the future of webhosting." We were going to call it "DreamHost 2000" in the theme of "Windows 2000", but by the time we actually got it out and done, the year 2000 didn't really seem like the future anymore, so it was just "DreamHost 2.0."
What did DH 2 bring?
Well, mostly the panel as you more-or-less know it today. We also had a system that should have pretty much seamlessly scaled from 3 or 4 servers to 3 or 4 thousand. And I guess it more-or-less did.
We also started doing our "own" domain registrations (through register.com, then joker, then tucows, and finally, many years later, our own ICANN account!) for $30/year.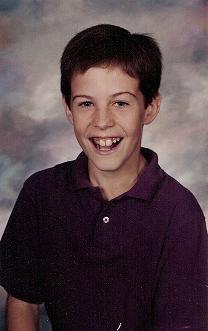 We dropped the "Archive Boy" plan and created "Sweet Dreams" and upped our storage offerings to 30/75/150/250MB, our bandwidth to 2/4/7/12GB a month, and our mailboxes included to 3/10/20/40!
We also raised our prices to $10/$20/$35/$60 per month and added more extras: discussion lists for $10/month each, SSL access (not including a cert) for $20/month, extra MySQL DBs for $7/month each, and extra bandwidth for the rock-bottom-remainder price of $15/GB!
We also didn't include any sub-domains on Crazy Domain Insane back then.. or even CGI access! We did however have an official logo! And 31 employees though.
Promo Codes, DreamServers, and Disaster: September 2001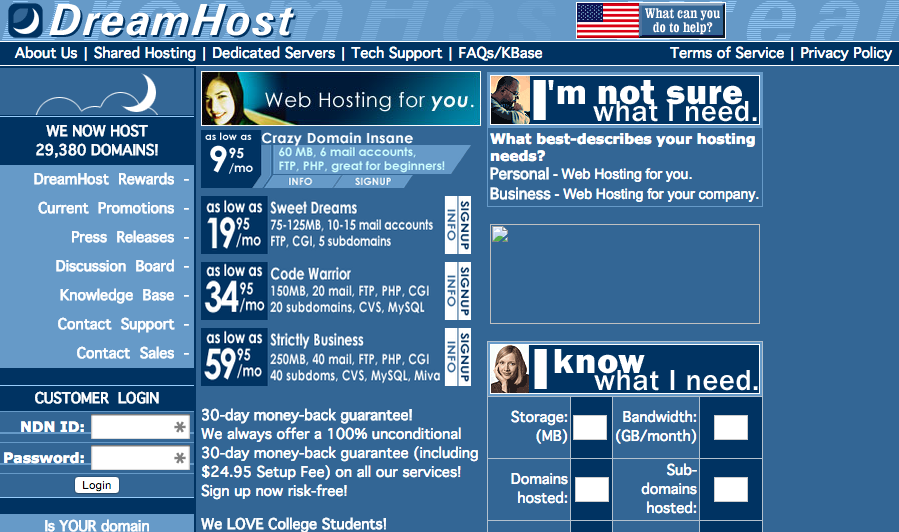 September 2001: did you forget that American flags weren't just in meatspace? We got on the bandwagon ourselves.
Witness, the humble beginning of promo codes… originally a way for us to give college students a discount! We also started giving away a free registration with hosting, and had a domain checker right on the front page. We created the KBase and launched DreamServers; starting at only $395/month now.. for 40GB of bandwidth, a 10GB disk, and a 600Mhz Celeron with 128MB RAM!
We were now hosting 29,380 domains! And.. we went crazy and way upped disk to 60/300/600/1000MB, and bandwidth a smidge to 2/5/10/30GB, and dropped pricing for overage to $15/$10/$10/$5 per GB.
Even crazier… on the front page, a huge form where you could specify how much of each feature you wanted and how much you were willing to pay, and we would "recommend" a plan for you! The actual point of this feature was market research though.. after months of data collection I would go back through and decide how to best update our plans to maximize revenues!
At this point we had gone through our own little mini dot-bomb.. our head count was only 28 since we decided to stop borrowing money from Sage! Fortunately, our stock art head count had tripled in the same period.
Rapid Growth: We Turn Five!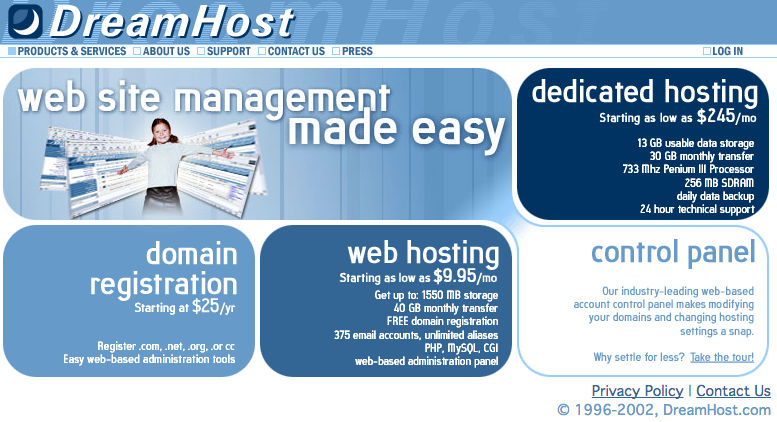 Really, we started growing faster a little bit before this completely sweet redesign. It started when I analyzed all those "recommendation" requests and realized we really should just be giving more away on our cheapest plan. Sure, less people are "up-sold" on our more expensive plans, but really, those people were just going to our competitors.
So, we gave CGI on CDI, upped our disk to 100/400/900/1500MB, our bandwidth to 2/10/20/30GB, our mailboxes to 20/60/140/300, and gave away unlimited MySQL databases on all plans… I believe an industry first? Oh ho ho!
Of course, we did put a limit on the database usage you could have… the short lived "conueries" metric! 25 times your connections plus your queries! And you got 10M "conueries" per month on CDI!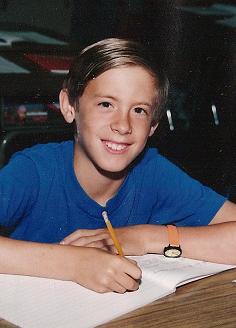 But still, the redesign was nice too.. we did it thanks to the prodding of a PR company we hired for the still-ridiculous price of $10,000 a month. The biggest thing we learned from that was how easy PR is.. in fact, they even told us they couldn't have done our press releases (they made us do) any better.
With the fifth birthday, we renamed Code Warrior to Code Monster, upped disk space another 50MB each (of course, all old customers got it as well!), and jumped bandwidth up to 20/25/30/40GB a month. DreamServers was now just DreamHost Dedicated (too many brands the PR company said!), and for $199/mo you got a 1.6Ghz P4, 256MB of RAM, a 30GB drive, and 75GB of bandwidth!
Another critical thing we started here was the ability to cash out your rewards (10% of all payments for people you referred, plus 5% of people they referred), instead of just applying it towards your hosting bill. That was a pretty big deal for our burgeoning affiliate crowd!
We were down to just 24 employees, and $300,000 in the bank!
The Sale Era: September 2003 and 2004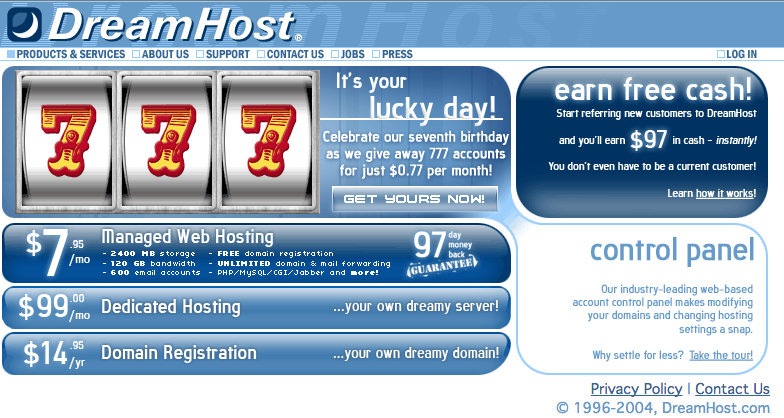 A lot of you reading this probably trace your history with DreamHost back to this period.
Although 777 on our 7th birthday was the culmination, the beginning was actually back on our sixth birthday, in September 2003, while I was actually in Hawaii at a friend's wedding.
We decided to try, as a lark almost, giving our Strictly Business plan (1.6GB of storage and 40GB of bandwidth plus every other feature) for the price of Crazy Domain Insane, forever.
At that time, we were peaking at about 30 new customers a day. I thought, optimistically, the sale would give us a 50% bump.
The day I turned it on (from Hawaii), we got 300 new customers. The next day, 600! The third day, at which point everbody was screaming for me to turn it off, 1200! In a period of 3 days, we'd provisioned as many accounts as we usually got in 3 months.
It was a hectic time, fo' sure. The support team hated it. Fortunately, they're not in charge!
As a result of the incredible demand we witnessed, I was able to convince everybody to allow me to up our offerings a few months later to 500/1000/1600/2300MB of disk and a bit more bandwidth too. We also dropped the price of Code Monster to Sweet Dreams "temporarily."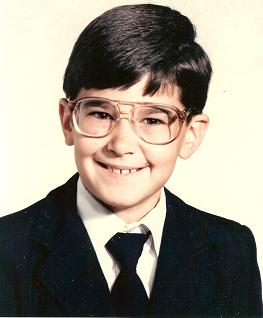 The next year, we did essentially the same thing, except we tried just making our cheapest plan SUPER CHEAP.. the 777 sale allowed you to get a year of CDI for just $9.24! Are we Crazy? Insane? Domain?
At that point we'd also already upped disk to 800/1600/2560/3680MB doubled bandwidth to 40/48/64/88GB (and dropped overage to $4/$3/$2/$1 per GB) as well as tripled the number of included mailboxes. We'd also started giving a 20% discount for pre-paying for two years. Pretty much just so we could say our price was $7.95/month!
We also started offering a 91-day money back guarantee (since 1 and 1 had appeared on the scene offering a 90-day!) and allowed opting for a one-time payment of $65 for referring somebody to DreamHost!
Our dedicated servers had a $99.95/month option with a Pentium 4, 512MB of RAM, a 30GB disk, and 500GB of bandwidth.
We had 23 employees for the entire two year period, had paid Sage off the money we'd borrowed (without much interest, which turned out to still be a pretty good return for 1999-2002), and had a cool mil in the bank!
It Gets a Little Ridiculous: September 2005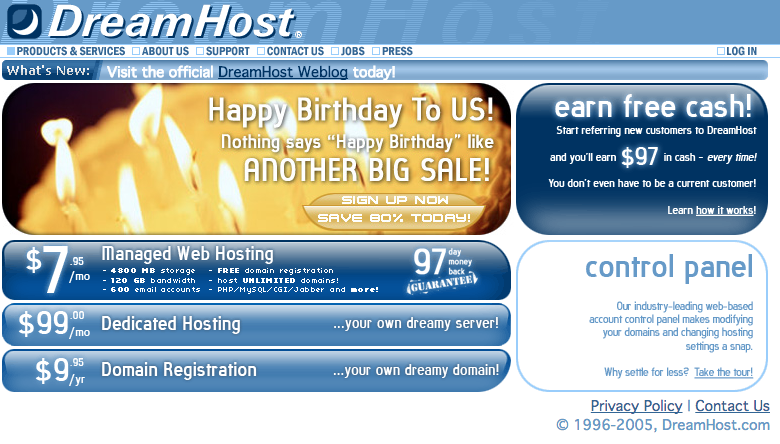 So, in January 2005 we decide to triple disk and bandwidth to 2.4/4.8/7.6/11GB and 120/144/192/264GB! We had to, man! It was like all you had to do was up those numbers and you got more money!
In the "Spirit of '97" (not at all because others were offering more, nope!) we upped our rewards payout from $65 to $97, as well as our money back guarantee from 91 days to 97. In March we hit 100,000 domains!
And that's when our power problems began.
I won't get into it tooooooooooo much right here, but our main data center essentially ran out of power over two years ago and is still out today. We immediately stopped selling any new Dedicated Servers (at that point we were adding about one a day). I wasn't too heart-broken because my first love had always been shared!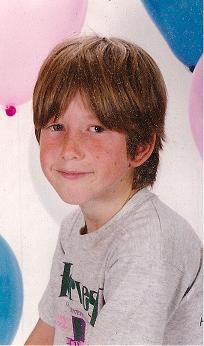 So never mind all that!
We added Ruby on Rails support shortly thereafter, and this blog got started in July with let's save our environment, truly one of this generation's great folk hits.
We double disk again, and added the feature where your bandwidth and disk grows every week you stay a customer with us… we're still the only host who does this that I know of/care about!
Anyway, the 888 promo code only gave you 80% off, and wasn't nearly as big a deal as 777 (which we'd actually secretly still left working for most of the year!), but we did also up all our plans to finally include unlimited domains and sub-domains, something customers had been asking for for years, which gave us a pretty big boost.
Domain registrations also dropped to $9.95/year and extra bandwidth was now $1-$0.50/GB. We had 30 employees now.. an unsettling trend in my book!
I Just Like This Fat Kid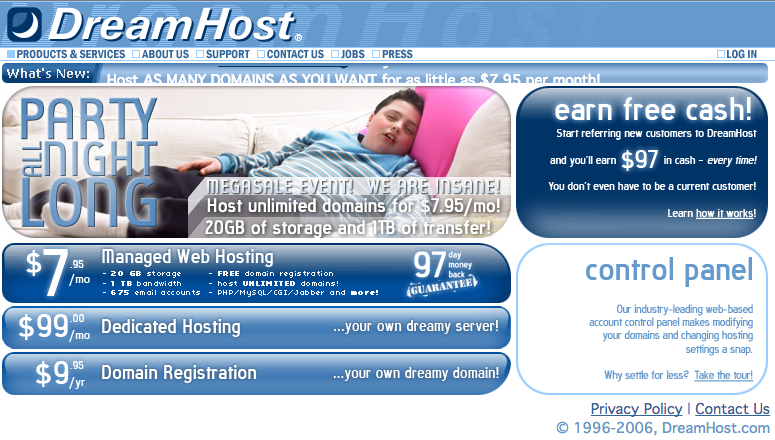 That was our website in January 2006, when we went completely insane and finally upped our disk FORTY TIMES and our bandwidth TEN TIMES to 20/40/60/90GB and 1/1.2/1.6/2.2TB.
Around now was when we got sick of just losing all those potential dedicated server customers (still no power) and decided to just start linking them over to hosting.com for some affiliate sugar.
Fan Gets Hit With It: September 2006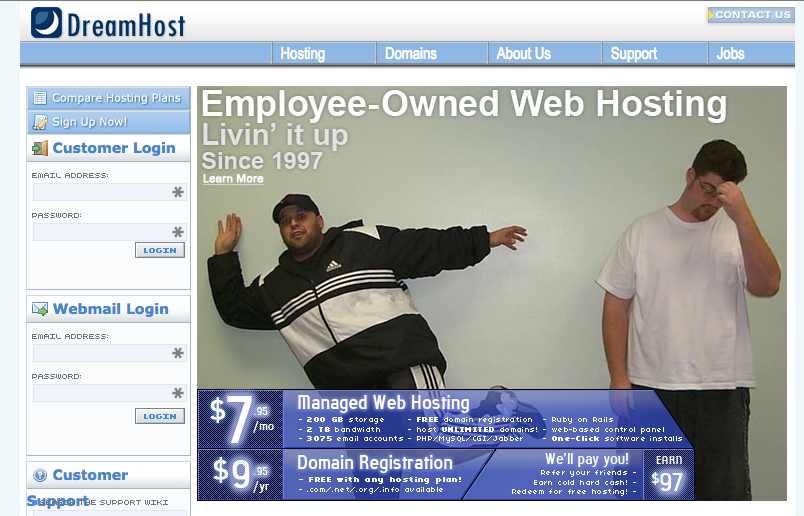 That summer there's more power outages and we have TWO FULL MONTHS of pretty darn bad service. It was pretty sucky all around.
We did about the only thing we could do.. made a new site all based on "community" and doubled bandwidth and 10 timesed disk again!
At this point we're also giving away 3000/6000/12000/24000 mailboxes and 75/175/375/775 shell accounts. We have a 999 promo code which gives $99.99 off (again, it's no 777!) and take it a little easy.
We've got 300,000 domains, 50 employees and a lot of infrastructure stuff to deal with.
Everything Is Wonderful: September 2007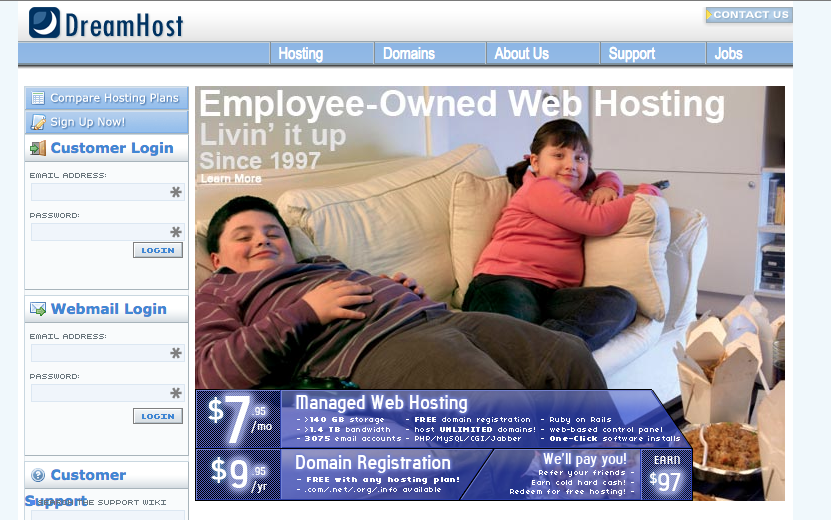 In January of this year, we took a step back. A step away from everything that's made us who we are, our very essense, and we actually started reducing how much disk and bandwidth we included on our plans.
We had (close to) no promo code sales all year, and never upped those quotas a smidge. It's been very very very painful for me.
Well… sweet release is finally here!
The Payoff
If you've read, or at least scrolled, this far… you deserve something!
And here it is.. for the big One – Oh, DreamHost is now offering only one plan! It's called "Happy Hosting" (though it doesn't really need a name when it's the only one) and it comes with 500GB of disk, 5TB of bandwidth per month, and unlimited users and mailboxes, etc, etc, etc…
Current customers immediately get the unlimited users and mailboxes, and their bandwidth doubled. We're also doubling your existing disk space, but it will be rolled out incrementally. If you want to switch to the new plan, you can today from our panel!
It's $10.95/month, but if you prepay for 1 year it's $9.95/month, 2 years it's $8.95/month, 3 years it's $7.95/month, 5 years it's $6.95/month, and 10 years it's $5.95/month! There may be a crazy 777-ish promo code too (for new customers) if you look around.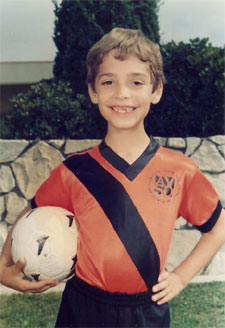 TEN YEARS?
Who would pay for ten years in advance?
I dunno, but at least we've finally shown we can do ten years!
Happy Hosting!
P.S. And, when you renew in 2017 you'll (most definitely) be up to 12.5 PB of storage and bandwidth for $1.95/month!