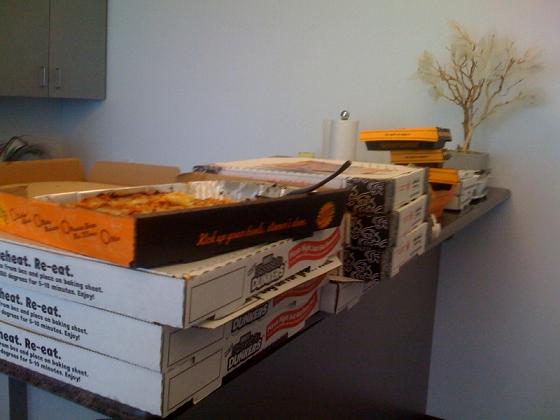 A strange thing happened today.
Shortly after our typical free Fridays lunch was finished, another free Friday lunch appeared… delivered courtesy of Pizza Hut!?
What the?
Well, it turned out, Dan had helped a customer with a .htaccess problem with their site (and it's not even completely working it looks like?) and the Happy DreamHost Customer wrote back:
I hope you guys are hungry!

Tell everybody to expect lunch on me.

Pizza Hut will be delivering a BUNCH of food and drinks in about an
hour.
And he wasn't kidding!
That probably cost at least six months of hosting too.. thanks dude! I'd like to state that this is the kind of behavior we'd like to strongly encourage!
Way better than some of those other customers.
It's just too bad it was on a Friday.