Advantages of Auto-Renewing your Domain Name
So you registered a domain name. Maybe you managed to find an available .com, or jumped onboard with one of the fancy new extensions like .xyz, .store or .cloud. Now that it's registered, you can sit back, relax, and retain that piece of online real estate in perpetuity, right? Well, not so fast. Let's figure out domain renewals.
Renewals?! You've got to be joking! I just registered and we're already talking about renewing the darn thing?
Domain renewals are an often-overlooked part of the registration process, and if these settings aren't squared away ahead of time, it sets the stage for some real headaches down the line—from expiration dates that slip past your calendar, to hucksters peddling fraudulent registration forms. Look at it this way: you've already invested all the time and mental effort into securing your domain name in the first place. Let's keep it going by finishing the job the right way, and help you keep that domain. Here are the advantages of enabling auto-renewal on your domain name.
Peace of Mind
You built your audience, your brand, maybe your entire business on your domain name. Don't let that site suddenly go dark because you snoozed on its renewal date. When your registration expires, any services associated with the domain (your website, email service, and so on) stop working. We do our best to keep customers informed when these critical dates are drawing near, and begin emailing renewal notices weeks in advance of your domain's expiration. But these alerts can easily get overlooked due to aggressive spam filters on your email account, an overflowing inbox, or any of life's other distractions.
Enabling auto-renewal is an easy way to free up your brain for more important tasks than remembering when that next payment is due. We'll continue to keep you in the loop with email notifications on the same schedule, but you can safely ignore these friendly reminders and enjoy the seamless website uptime.
Your Great Idea Starts with a Domain Name
Don't let someone else register your URL. Search DreamHost's 400+ TLDS to find the perfect fit for your website.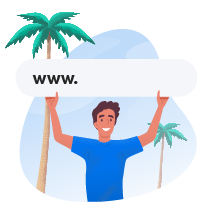 Stop Renewal Scams in Their Tracks
Scammers have started preying upon domain name owners who are busy, not paying attention, or simply worried about keeping their site up and running. These con artists send official-looking notices to your email or direct mail address with fraudulent renewal instructions, often with grossly inflated fees. Some even advertise phony domain transfer services, protection plans, or search engine optimization guarantees.
With domain auto-renewal enabled via your DreamHost account control panel, you won't have to worry about combing through each notice to decode real versus fake offers. Of course, if you ever have a question about the authenticity of a communication from DreamHost, don't hesitate to reach out to our awesome support team, available 24/7 through your control panel.
Here's one real-world example of a fraudulent domain name registration notice:
From: Domain Notice <domains@◾◾◾◾◾.com>
To: PRIVATE REGISTRANT <◾◾◾◾◾@PROXY.DREAMHOST.COM>
Sent: Friday, July 15, 2016 8:35 AM
Subject: Domain Notification for ◾◾◾◾◾.COM : This is your Final Notice of Domain Listing
Attention: Important Notice , DOMAIN SERVICE NOTICE
Domain Name: ◾◾◾◾◾.COM
ATT: PRIVATE REGISTRANTREGISTRANT CONTACT: +1.◾◾◾◾◾
◾◾◾◾◾.COM
Response Requested By
15 – July – 2016PART I: REVIEW NOTICE
Attn: PRIVATE REGISTRANTAs a courtesy to domain name holders, we are sending you this notification for your business Domain name search engine registration. This letter is to inform you that it's time to send in your registration.Failure to complete your Domain name search engine registration by the expiration date may result in cancellation of this offer making it difficult for your customers to locate you on the web.Privatization allows the consumer a choice when registering. Search engine registration includes domain name search engine submission. Do not discard, this notice is not an invoice it is a courtesy reminder to register your domain name search engine listing so your customers can locate you on the web.This Notice for: ◾◾◾◾◾.COM will expire at 11:59PM EST, 15 – July – 2015 Act now!Select Term and Package Here
Payment by Credit/Debit Card
Select the term using the link above by 16 – July – 2015
◾◾◾◾◾.COM—————————————————–The information in this letter contains confidential and/or legally privileged information from the notification processing department of ◾◾◾◾◾, This information is intended only for the use of the individual(s) named above. If you do not wish to receive further updates from ◾◾◾◾◾. Unsubscribe here. If you are not the intended recipient, you are hereby notified that disclosure, copying, distribution or the taking of any action in reliance on the contents for this letter is strictly prohibited.
Stay out of the headlines
You may be surprised how often even high-profile sites neglect to renew their URLs in time, and set themselves up for embarrassing, expensive, or even legal consequences.
In June 2016, TP-Link, a popular manufacturer of networking gear, forgot to renew two domain names used to administer its routers and access the devices' configuration panels. When the domains were released back to the global market, an anonymous registration service snatched up the two high-value targets and named its own price: $2.5 million. Rather than pay the hefty bounty, the company responded by updating their documentation to remove references to those domains. But with the domain names already printed in booklets distributed with their equipment, the company has also needed to reach out to ISPs to redirect traffic and prevent customers from getting hijacked by a site they no longer control.
Make It Happen!
Automatic renewal can be enabled for your domain name at any time, right in your panel at (Panel > 'Domains' > 'Registrations').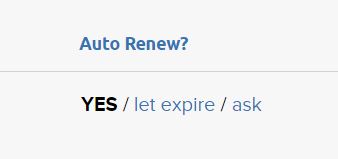 Learn more:
DreamHost Knowledge Base – How do I renew my domain registration?