This is a guest post by Mridu Khullar Relph.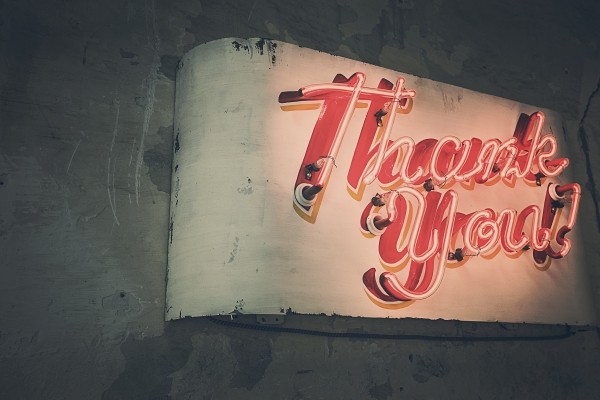 You've created a fantastic free e-book or other gift to give to new subscribers, designed an eye-catching sign-up form, put it up on your page, and gone out and broadcast to the whole world that they must, must, must subscribe to your e-mail list. And they do!
And then? Do you follow all this up with a bland "Thank you for subscribing" message on a page that has nothing but this one sentence?
If so, you're making a big mistake. Not only are you losing out on the opportunity to create a connection with your new subscribers and welcome them into your community, you're possibly also leaving money on the table. Your thank-you page is the perfect place for you to show some personality and build a connection with your reader or buyer.
Here are some good ways to do it:
Ask your subscribers to follow you on social media
Once you've thanked your user for subscribing to your mailing list and let them know that a confirmation email is on its way, introduce them to some other parts of your community that they may be interested in joining, such as a Facebook page or your personal Twitter profile. This is a good place to tell them what to expect when they get there—do you do a lot of live streams on Facebook that they might be interested in, or share relevant industry news on Twitter? You're trying to build a relationship here, so tell them what to expect from it.
Offer a discount on further purchases
If someone has bought a service or a product from you, they're in the perfect position to buy more. Don't fall into the mindset trap of thinking that someone who's spent money once won't spend money again. They will. But you have to ask for the sale.
A thank-you page is the perfect place to offer a discount on some of your other products and services, such as a 50% discount on the second box of healthy snacks, or a 30% discount on an e-course. If discounting isn't something you generally do in your business, consider an upsell instead. If you're selling a coaching program, for instance, you could add on an e-book or a short e-course as an upsell.
Ask them to register for a free webinar or live event
You want your visitors to engage with your company and the content you create—and that content probably goes beyond an email newsletter, right? So the first thing to do, then, is to make users aware of this other content. New email-list subscribers have clearly shown an interest in what you have to say; giving them the opportunity to sign up for more of it is a fantastic way to get them to invest emotionally in your brand. When someone signs up for your email list, for instance, you could also invite them to register for an upcoming webinar. Whether they either attend it live or listen to a replay, your brand recollection will shoot up massively in their mind.
Ask them to share your mailing list or opt-in their friends
It will be easier to get someone to share your page with friends or people they think might be interested in your content if you incentivize it. Again, this can be done either with discounts or with more free content, say, a free report, webinar replay, or some other irresistible offer that they really want to take advantage of. This can, in fact, be a very easy and efficient way of building your list quickly and without much effort. As long as new people are coming into your list and bringing in their friends, you can be assured of consistent list growth. The trick is to make the offer good enough that people, even the ones who're resistant, feel the need to find some friends to refer.
There is no one template of thank-you pages that work and there are several different (and creative) ways in which you can take advantage of one. Just remember, when your reader or customer gets to that thank-you page, you have their full attention. Don't waste it.
Mridu Khullar Relph is a freelance writer, author, and entrepreneur. She writes for national and international news media and runs the website The International Freelancer.