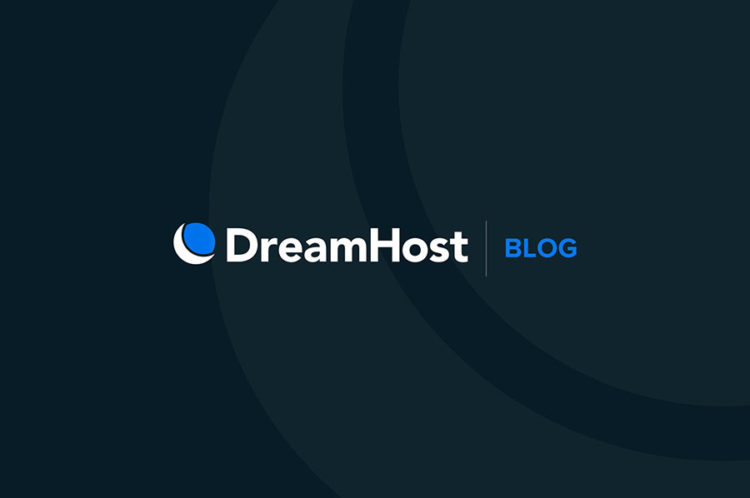 We've moved!
DreamHost's east office recently moved from the lovely Orange County city of Brea, California to…a different part of Brea.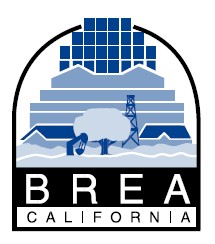 The last time we outgrew office space we wound up leasing additional space on another floor of the building we were in. That meant that our employees were separated by a flight of stairs and/or an elevator…and a lot of us didn't even recognize each other in passing!
It was kind of a weird setup.
When our leases came up for renewal we realized we had grown to a point where we needed to find a larger, contiguous office space that could not only house our fifty-some Orange County employees, but could also contain anyone new that we might hire within the next seven years. While we would have liked to stay at Olen Pointe Brea, they just didn't have a large enough space to contain us.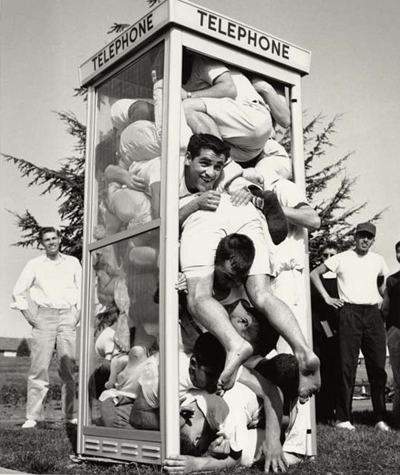 After a few months of searching and some hand-wringing over the "buy or lease" decision, we finally signed a lease with a new building management company on the other side of town.
We had the office space locked down but we needed help with the floor plan. It needed to be fun, it needed to be open, and it needed to look nice. So we began the hunt for a good office designer.

We were impressed by the work of Studio O+a and signed with them pretty quickly. Their portfolio mostly includes small mom-and-pop operations that you've most likely never heard of… Places like Levi Strauss, PayPal, Yelp, and something called "Facebook".
We don't have a receptionist. Or even a reception area. When you open the front door, you are IN the office. And this is what you see: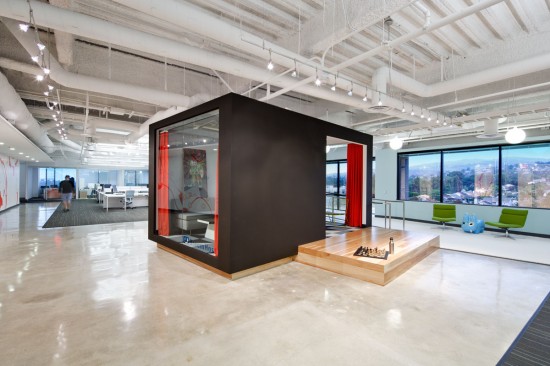 Some offices have break rooms. We have a break CUBE!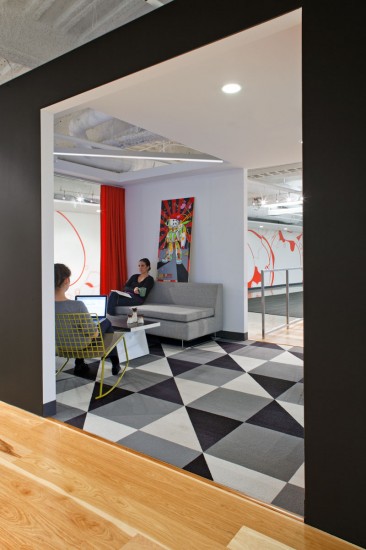 I like to call it The Fishbowl. There's a TV in there too, mounted on the wall opposite the couch.
Big vinyl decals cover the walls, turning what might otherwise have been a plain white surface into something a little more interesting.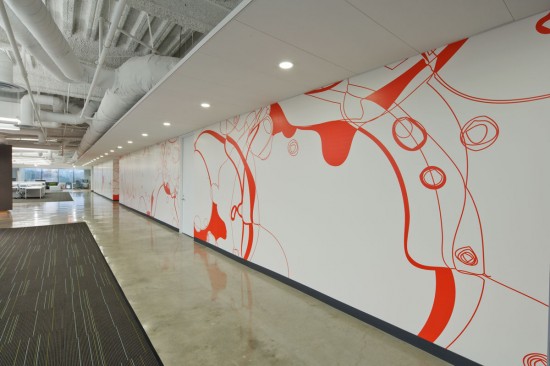 Custom furniture with matching accents appear throughout.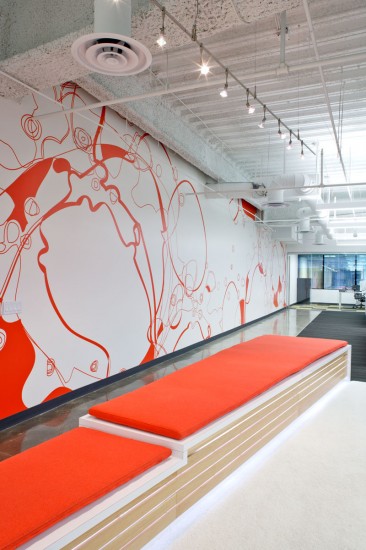 We have a mini-kitchen / coffee bar for one side of the office…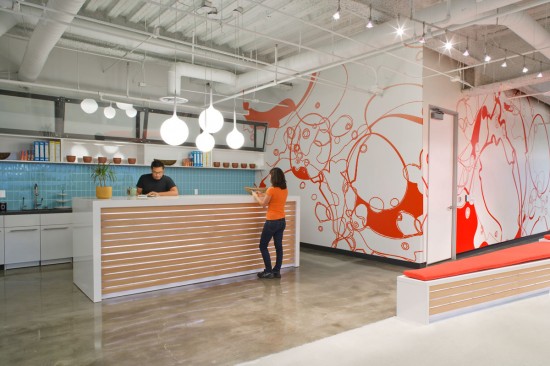 And a full-fledged break room on the other side of the office. With a balcony.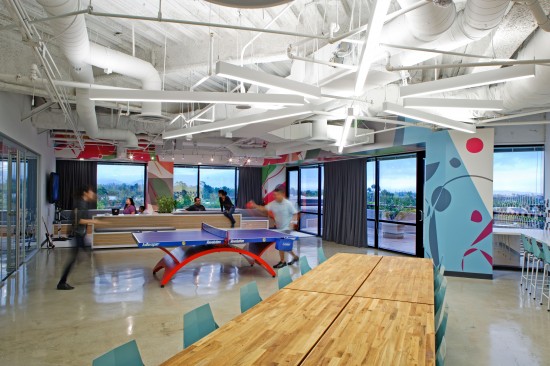 The break room sits next to our conference room.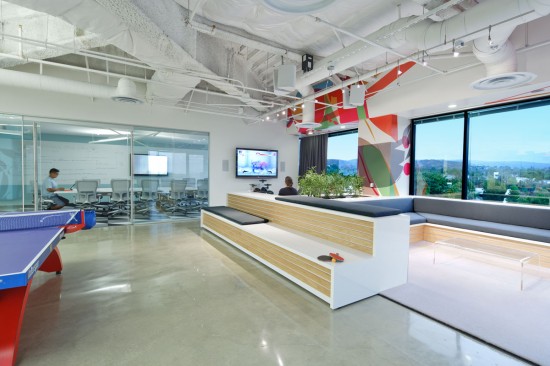 See the white wall behind the TV in the conference room? That's special paint that turns the whole thing into a whiteboard!
All in all, we think it's a great looking space, and we're thrilled with how it turned out.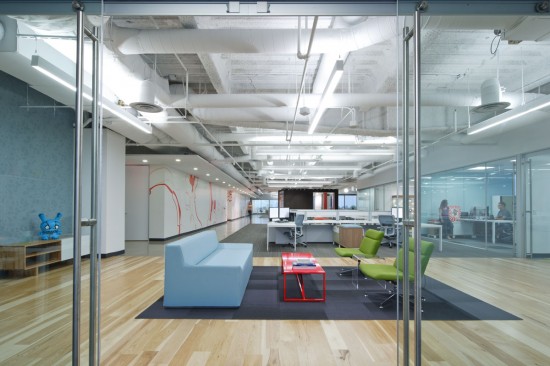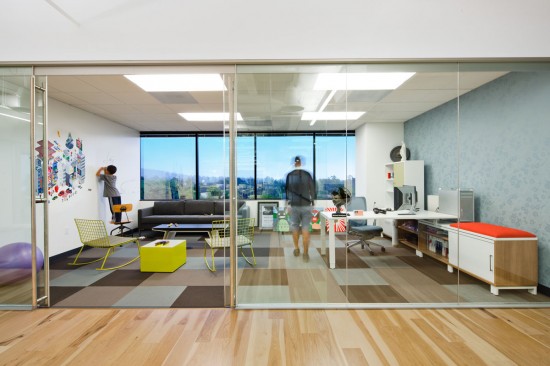 We do have plenty of open desks, though!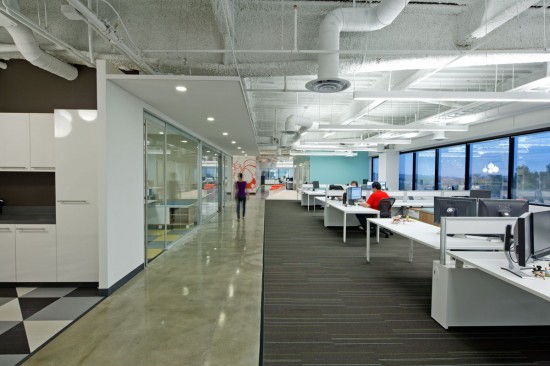 Like I said, we planned for growth in this space. We have a lot of seats and we need more butts. Talk it over with your butt and see how things go. Your butt may say "fsshshshhbbbbuurrrrrruuuup" which is butt for "I would like to sit there".
Luckily we're hiring, so you should apply for a job! And bring your butt with you.
Besides, where else are you going to get paid to take on a ping pong robot?
What about one that gives free back massages and sometimes turns on its creators?
And yes, I know I punch like a girl.
We're hiring like we never have before, so Apply Nowwwwwwwwwwwwwwwwwwwwww!
Thanks to Studio O+a for their hard work in designing the space, and also to Jasper Sanidad for providing us with the most-excellent photographs of the office.