The DreamObjects development team has been busy adding features and improving stability. One of the best new features also happens to be the most requested – CNAME support.
For anyone who's unfamiliar with the term, a CNAME is simply an alias to another domain. Now, instead of ugly bucket_name.objects.dreamhost.com, , you can have pretty_name.mysite.com. Yay! Check out our wiki for even more info.
Another exciting new feature is the ability to upload a file from your browser. Try it out. Just navigate to the DreamObjects section of the Panel. While viewing objects in your bucket, check out the new "Upload Object" button. Click it and drag files into the browser to watch them upload in a snap.
Check out our wiki to learn more about uploading files to DreamObjects from your browser.
You may have also noticed some visual improvements with the updated Usage and Account tabs. They're chock full of info, but now it's even easier to understand. My favorite is the new donut chart for usage.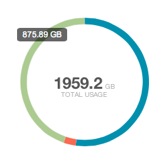 On the more technical side, DreamObjects includes support for more HTTP headers. This includes two of the most requested: Content-Disposition and Cache-Control. The rest of the supported headers are Expires, Content-Encoding, and Content-Language. Now you have even more control of the content you store in DreamObjects.