It's been four weeks since we announced the public beta launch of DreamPress, our premium managed WordPress service. Two things became clear right away: just as excited about it as we are (yay!) don't want to manually migrate your existing DreamHost WordPress sites into DreamPress.
We already had for the migration problem in development weeks ago and now it's ready to go!
Now that here, we're excited to find out what you think. This DreamPress update adds two new features:
 Import of an existing -Click WordPress into an existing DreamPress instance
Upgrade of an existing -Click WordPress into a new DreamPress instance. I'll go into both in detail and explain why there are two options and how to use each of them.

In the screenshot above you can see the new Import button to the right of the existing Domain Settings button. That button appear on every DreamPress instance you have set up. Clicking the button brings up this: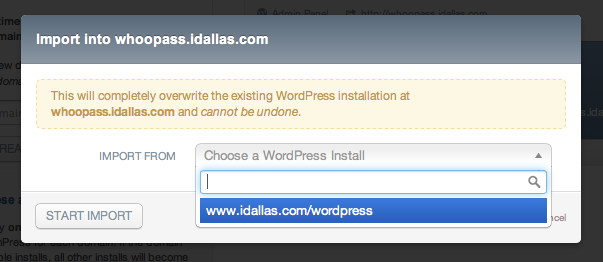 From there you can any already existing WordPress -Click Install or DreamPress to the contents of that WordPress over to DreamPress. Your existing WordPress will not be affected at all so this is a fantastic way to try out your existing site content on DreamPress.
You can also use this to clone an existing DreamPress to try a new theme, plugin set, or code customization without impacting your live site. The host name will be remapped as part of the import process and the new copy of the WordPress will function exactly as you'd expect.
Upgrade to DreamPress
Import is a great way to get the contents of an existing WordPress -Click Install into DreamPress without impacting existing live site what about when you're ready to supercharge live site? That's where Upgrade comes in!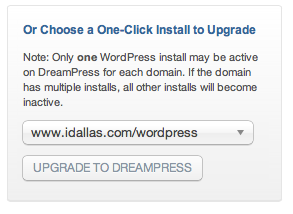 As you can see in screenshot you can choose from any of your existing WordPress -Click Installs to upgrade that install to DreamPress. In single step, a new DreamPress will be created, all of your site content and the database will be moved over, and the DNS will be updated. This is what many of you have been waiting for since we announced DreamPress!
Some notes on how Upgrades work behind the scenes:
Your preexisting WordPress will no longer be visible at the old server but the site content will still be accessible under your previous SFTP or shell user if you need to get to it.
If you have other apps under the domain as well as this WordPress (including other WordPress installs) running this Upgrade will leave them inaccessible from the web aside from the WordPress you chose to upgrade. You to split your existing WordPress out to its own domain before you can use this upgrade tool on it. All of your content  and databases from your other apps will still be accessible through SFTP and shell.
If you have other apps running on the domain you can "split off" the WordPress you want by first creating the new DreamPress instance ("blog.domain.com") and then using the Import feature described above to import just that WordPress -Click, leaving your other apps intact.
Let the Importing and Upgrading Begin!
A bit more detail for nerds like us
Both of these tools leverage wp-cli to do some of the heavy lifting with WordPress. The updates we've done to wp-cli have been pushed back upstream and are available to all WordPress users everywhere. Yay open source! That also means the same functionality is directly from the command-line on all of our servers (including DreamPress). That can be used to migrate WordPress instances from other hosting companies (as if you'd use anybody else!) or if you have migration needs more complex than these tools can accommodate.