These days, everyone has a blog. Whether it's personal, informational or for marketing your business, your blog will benefit from good organization. Good blog organization ensures your readers can find information quickly, and makes it easier for search engines to crawl and deliver your content, which in turn brings you more readers!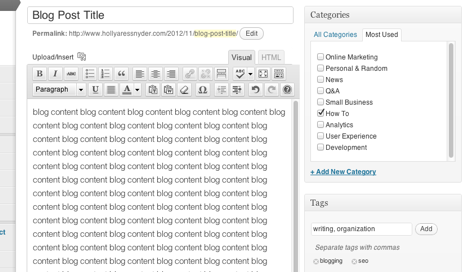 As a website optimization consultant, I help people create great content and make that content work for them. While each blog is unique, this is typically what I recommend for blog organization:
URLs: Select a permalink structure that includes the name of the post, as well as a reference to the date of publication. The words in the URL will help with search engine optimization, and the date gives your readers a simple indication of the age of the post.
Categories and Tags: Categories and tags are two areas that tend to get very messy. Start off right by using these features as they were intended: Categories are for broad topic areas, tags are for refining that topic. In general, a post should be in only one category, and each blog should have as few categories as necessary. Don't start adding tags and categories before you have any content – write a few posts first and then see what groupings suit the type of content you're creating.
Guidelines for Categories & Tags:

Categories: Few per blog, one per post, broad, Initial Capitalization.
Tags: Many per blog, few per post, specific, lowercase and plural.

Make it easy: Now that you have good blog organization structures in place, make them available to your readers by adding a tag cloud, category list, recent posts or comments, or similar modules to the blog's sidebar or other prominent location. These modules make your blog easier to browse and more useful, as well as sticky! Employing these techniques encourages readers to stay on your site.
Ultimately, if you keep it simple and don't get ahead of yourself, good blog organization is basic and beneficial. I often am tasked with organizing a neglected, chaotic blog, or setting up new blogs with good structural organization. It's much easier to organize your blog from the beginning than it is to clean up a mess later!
This is a guest post by Holly Ares Snyder, a website optimization consultant.
She can be found on Facebook, Google+ and LinkedIn.