Hi Eric!  Thank you so much for taking the time to do a customer spotlight interview with us! We have had the great pleasure of doing business with Night Owls and I thought it was the perfect time of year to let everyone know how fantastic you guys are!
Where can we find your website?
The company site can be found at: www.nightowlsprint.com
Tell me a little about Night Owls Print Shop. 
Night Owls Print Shop is a screen printing business started in late 2010. It's owned by myself (Eric) and my wife Val. We have a small crew of 4 dedicated, awesome people that work with us. We also have 2 mini schnauzers (Osker and Oliver) and a newly adopted Boston Terrier (Olivia), who keep our spirits up. We tend to cater to a lot of musicians and entertainers, but are working really hard on opening up who we do business with. We welcome any and all clients! One of our best attributes is how eager we are to make new friends and clients! We print a variety of items: from t-shirts to stickers, buttons to tote bags. We even do cool things like pint glasses and 45/7" adapters! Also, with the help of DreamHost, we've been receiving and fulfilling orders to clients all over the world!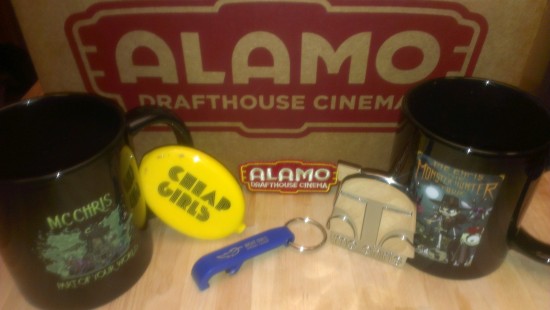 How did you come up with your business name? 
Night Owls is the name of a song by one of our favorite bands called Bridge and Tunnel, out of Brooklyn NY! It seemed like a good fit at the time, as we had an odd schedule and primarily worked at night when we first started. It gets pretty hot during the day here in Houston! But even now, as the company grows, most months you'll find us working some jobs until 10 or 11 at night to make sure our clients get their orders on time!
Oh I love that! How long have you been using DreamHost?
Night Owls has been using DreamHost since we started but we've been using DreamHost since around 2006. So we've been pretty happy for over 6 years now!
What's your favorite DreamHost t-shirt that you have made so far?
I personally really like the original Wordcamp t-shirt we did. I thought the colors blended really well together and looked great on a white tee. I think Val really liked the Openstack shirt as that bar of soap image came out pretty great!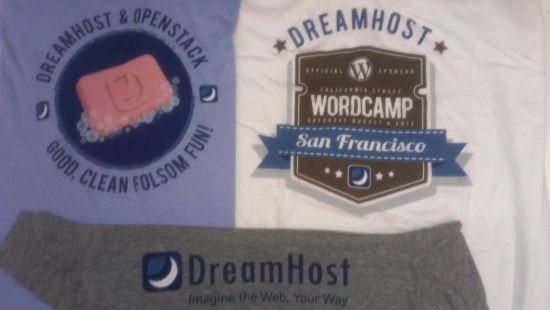 Do you use any tools in the DreamHost Panel? If so, which ones?
We love the entire DreamHost Panel – especially Support and WebFTP. The One-Click Installs are pretty cool too.
Do you have any suggestions for DreamHost? Anything you would like to see, use, or change?
We've always been super happy with DreamHost. Whenever there is an issue, DreamHost has always been prompt with Support so I have no complaints.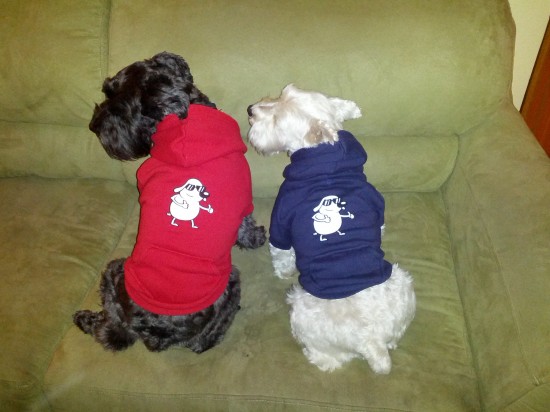 We know first hand that you do apparel printing (thank you!), what other cool printing jobs have you done? 
We are very fortunate to have met some amazing and talented friends though this company. One of our oldest working relationships is with MC Chris, a hip hop artist out of NYC. With him we've printed skateboards, we've made brass key chains, we've even done some full color coffee mugs with him. Plus all the usual things! We've also started working with this amazing movie theatre company called Alamo Draft House. We've done some pint glasses, custom screened boxes and embroidered patches for them! There is always something new and exciting we're trying to make work. Even today we just printed some American Apparel Dog zip-up sweatshirts for one of our best friends. She owns a small pet grooming/walking service here in Houston called Shaggy Chic!
Now to throw you off!…If you could have one superpower, what would it be and why?
Val: Duplicity! So I could get twice as much done!
Eric: Flying. I'm so tired of it taking so long to go places!
Are you on Facebook or Twitter? If so, please provide the links so our readers can find you.
Yes! http://www.twitter.com/NightOwlsPrint and http://www.facebook.com/NightOwlsPrintShop
If any of you out there reading this post need some printing done for the Holidays, DreamHost highly recommends Eric & Val at Night Owls Print Shop!