Perhaps you recall Ceph, the open source file system designed to manage exabytes of data across thousands of servers? No? Allow me to refresh your memory.
There is this thing called Ceph. It's an open source file system designed to manage exabytes of data across thousands of servers. Now do you remember?
A few years ago Ceph was but a glimmer in the eye of DreamHost co-founder Sage Weil, and today it has grown into an enormous open-source project with contributors spanning the globe. Ceph has been integrated into the Linux kernel and even plays nice with OpenStack – the massively scalable open source cloud operating system.
As a software project, Ceph has really grown up in recent months. So much so that this ol' logo…

…wasn't really doin' it for us anymore. So, this week, we changed it.

There's still the hint of a squid there, but I think you'll agree that this is much cleaner!
We didn't just stop there, though. As of this week, ceph.com is all new.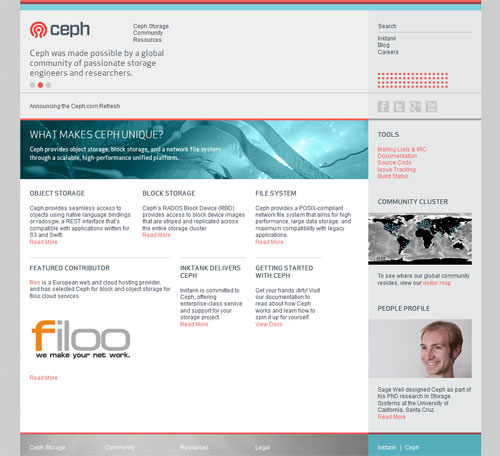 But wait – there's more!
This week DreamHost did something we've never done before.
We launched a spinoff company.
We're calling it Inktank.

Squids have ink! Get it?
As Ceph's technology has matured over the past year or so, the Ceph team has found themselves fielding more and more inquiries from companies and researchers who want to deploy Ceph within their organizations – but either aren't sure where to start or aren't sure how best to use Ceph for their particular applications.
It became clear to our team that Ceph would have its best chance at success if it had some kind of support structure behind it. Ceph is free! It'll always be free. And now it has a clear path for support, powered by many of the same engineers committing changes to its codebase every day.
Inktank is a completely separate company with its own budget and its own org chart. The only things that DreamHost and Inktank employees share are friendship, office space (for now,) and a love of open source software. Also, soap in the bathroom. Maybe some other things.
Inktank.com launched this week, and it more than likely answers most of the questions sitting in your brain right now!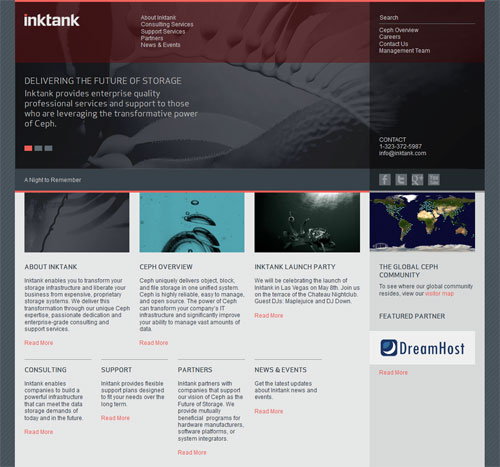 We DreamHosters get on well with the Ceph team. But you don't have to take my word for it…here's a video that shows all of us working together in perfect harmony!
If you've got any questions about this new endeavor of ours, please don't hesitate to post them in the comments! Inktankers are watching and waiting to get you the answers you need.