DreamHost wants nothing more than to reach out and touch you – in six very specific areas.
(With cocktails first, of course – we are not savages.)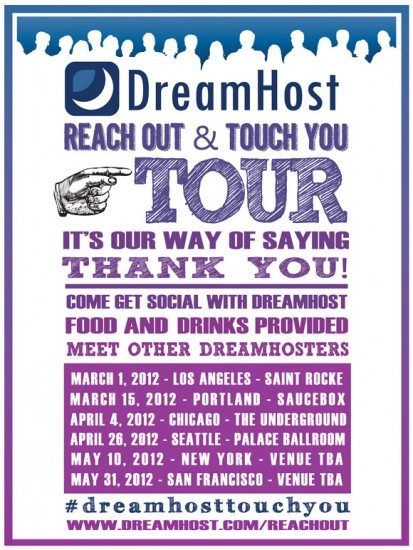 Our Reach Out & Touch You Tour is making its way across the United States stopping in the six cities that, worldwide, contain the most DreamHosters.
You'll have us all to yourself for a few hours – It's like a dream come true!
Granted, it's nerdy dream where you go on a date with your web host, but still…DREAMY!
We can't wait for you to whisper sweet nothings into our ears about what you do (and don't) like about your current DreamHost experience. We'll whisper back answers to any of your questions – we've got no secrets!
Appetizers and drinks will be provided at these 21-and-over events, and a lasting memento of the evening's escapades will be provided to everyone in attendance. Regardless of what you may have heard, the memento will not require a round of antibiotics to fully appreciate.
Our tour kicks off this Thursday in Los Angeles. A few tickets for LA are still available and will be until Wednesday afternoon.
Tickets are also now available for Portland, Chicago, and Seattle!
New York and San Francisco wrap up our tour in May and tickets for those two events should be available soon.
Let's both plan on letting down our defenses for one wild night to let Love in. We want to take a swim in Lake You and can only do that if your heart is open.
We hope you'll come out and let us touch you. We hope that by the end of the night you'll have touched us. We want to break down the barriers that have kept web host and customer so very distant over the years. We're all just people when you get right down to it, and we all yearn for a deep emotional contact that's been lacking in our relationship so far. Let's make things right.
On an unrelated note, please leave all weapons at home.