Registering a domain name in 2011 is an exercise in frustration.
If you've ever tried to register one yourself, you know exactly why that is – all the good stuff has already been taken!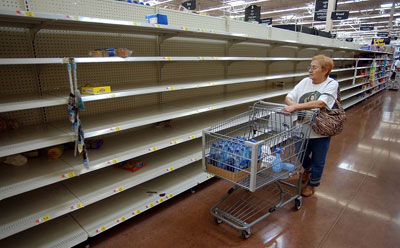 Every one, two, three, or four-letter ".com" that can be registered HAS been registered. You have to get pretty creative at even the five and six-letter domain level, too.

Do you really think that Flickr wanted to be called Flickr? Of course not. Because that is a dumb name that an illiterate gorilla wrote on a piece of paper after absorbing half an episode of Sesame Street. Well, not really. But it makes me happy to think that that's how it all went down.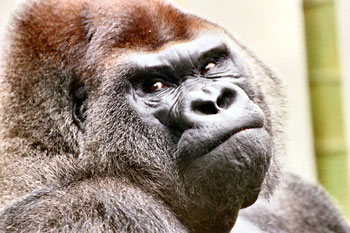 The truth is that the people who started Flickr were smart. They were smart enough to…well…create Flickr. And they were TOO smart to spend thousands of dollars on a domain name to some a-hole living in his parents' basement in Florida.
Flickr is called Flickr because flicker.com was already taken.
People just buy these things up in bulk hoping that – someday – some deep-pocketed idiot will come along and take an interest in at least one of the domains they've got in their "portfolio". And then – overnight – their mortgage disappears, their kids' college is paid for, and a yacht shows up out of nowhere.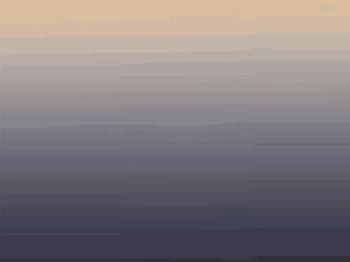 In my day we called these people "domain squatters". Today they call themselves "domainers". Their position on the Internet's social chain is still pretty low though.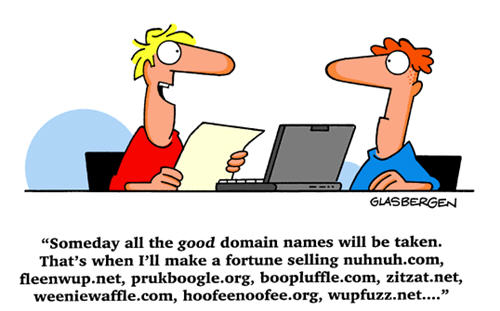 So it's pretty clear now that the .com top-level-domain (TLD) is a junkyard. People have basically made a business out of of buying and selling piles of garbage domain names.
What's the next frontier? Not .com, that's for darn sure.
.net and .org have been the go-to secondary choices for many many years, but none have ever come close to breaking the stranglehold that .com has on the Internet.
We're an ICANN-accredited registrar, and even we don't know what the next big TLD will be. So, effective today, we're now handling registrations for 21 TOTAL TLDs! One of them is bound to topple .com.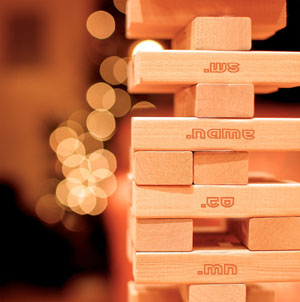 Eventually.
We've even begun to offer NINE ccSLDs (country code second-level domains) like .co.uk and .com.nz!
As a customer you'd think that by moving to a different TLD you'd be able to avoid the extortionate rates charged by .com-loving domain resellers.
And you would be wrong. Resellers have started to slip their greasy tendrils into some other TLDs too.
Overstock.com just paid $350,000 for o.co. I'm not even making that up. That really happened. I would love to shake the hand of the person who green-lit that purchase because whenever crazy people manage to seamlessly integrate themselves into society it's an event to be recognized and celebrated.
So what's new? Here's what we've got:
| | |
| --- | --- |
| Yearly | TLD / ccSLD |
| $9.95 | .com, .de, .eu, .info, .net, .org, .us, .co.uk, .org.uk, .me.uk |
| $12.95 | .biz, .es, .name |
| $14.95 | .asia, .ca, .in, .ws |
| $19.95 | .com.co, .net.co, .nom.co |
| $24.95 | .bz, .cc, .co, .mobi, .org.nz, .net.nz |
| $32.95 | .me, .tv, .co.nz |
| $49.95 | .mn |
If you're a current customer and would like to register one of these new TLDs – or transfer a registration over from another registrar – just visit the Domain Registrations section of your control panel to get started.
If you're not a current customer and would like to sign up, you can make that happen today! Every DreamHost account includes one free .com, .net, .org, or .info domain registration and it stays free for as long as you keep your hosting plan active.
What do you think of this .nu .biz feature? Tell .us all about it and .cc your friends!