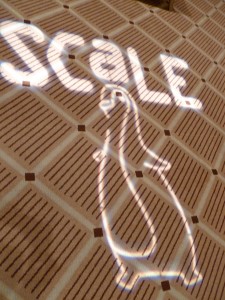 If you weren't at the Southern California Linux Expo (SCALE) this past weekend, you missed a geekfest of epic proportions.  For three days over 1800 attendees crammed into the LAX Hilton Hotel for an avalanche of open-source goodness which included our co-founder, Sage Weil, speaking about the Ceph distributed file-system.  DreamHost's Robert Rowley gave another presentation explaining common web application attacks and defenses. We've included the presentation slides below.
[Slides eaten by a grue]
It's common knowledge that geeks can digest almost anything for sustenance.  Mountain Dew, ice cream bars and an occasional Fedex cardboard box is enough to keep us coding for hours, but we do have our limits.  SCALE has always been known for its "interesting" culinary options … you can pay $27 for penne pasta at the hotel restaurant or take a short stroll to Carl's Jr or Denny's for down-to-earth, artery-clogging grub, but on Friday night we slogged through freezing rain on an epic food journey that resembled the Oregon Trail, rather than Gilligan's Island.  Three geeks, armed with Android phones, GPS maps and online restaurant reviews utterly failed in finding a decent place to eat because of our blind devotion to technology and lack of common sense.
It all started while waiting in line Friday night for the RackSpace party.  The promise of free booze and food filled the Hilton hallways with hundreds of pungent PHP devs, out-of-work Solaris admins and Linux devotees.  Our growling stomachs, combined with the rapidly falling oxygen levels, compelled us to make a run for it.  No, not to the front of the line, but out of the hotel for…Greek food.
Bill Pollock, founder of No Starch Press, had the same idea and joined us.  The nearest Greek restaurant had dozens of five-star online reviews and was a mere 20 minute walk away…not a big deal especially with Google Maps.
"Just follow the blue arrow," we kept repeating to ourselves as we sloshed and splashed through the light, but steady rain.   Like a Harpoon cruise missile, we would knew we would eventually hit our destination – West on Century, North on Airport, East on Arbor Vitae.. our 20 minute journey turned into 25 and then 30 minutes, our directions were precise,  our destination was clear. but the restaurant was precisely and clearly…closed.
In our mad rush to fill our tummies, no one had the common sense to call the restaurant to see if it was open.  Given the circumstances explained in their sign, we'll give them a pass on this one.  In a full downpour, we ran to Burger King (thank you Bill for paying for our meal!) and finally back to the Hilton.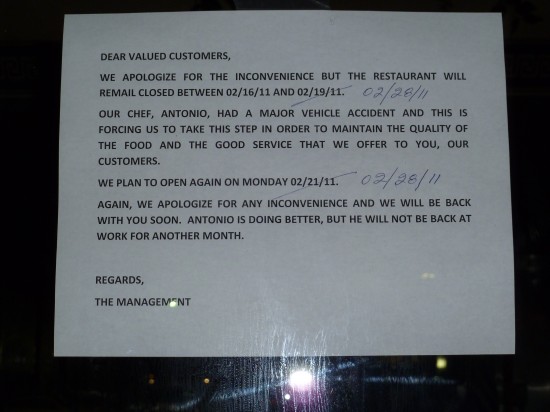 Thankfully SCALE isn't about food failures and our Robert Rowley survived to give his speech about web application attacks and defenses on Saturday.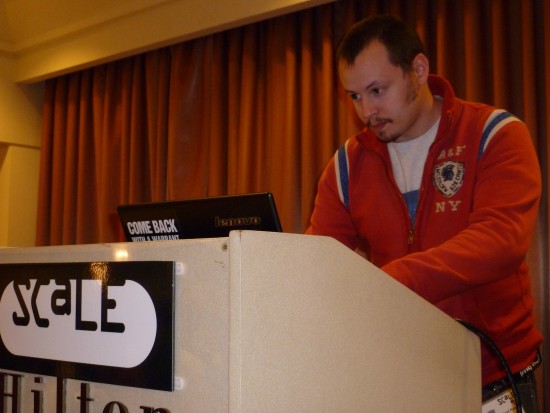 On Sunday, Sage Weil was in an interesting open-source file system panel with representatives for Gluster, ZFS and NetApp.  Sporting a very spiffy suit, the NetApp rep was visibly out of place and was under attack from all sides.  The poor guy.
Sage then closed out SCALE with his CEPH: Petabyte Scale Storage for Large- and Small-scale Deployments talk.  Sage gracefully answered the barrage of questions from the audience during and after his presentation.  For nearly half-an-hour after the talk ended, he continued fielding questions from the crowd.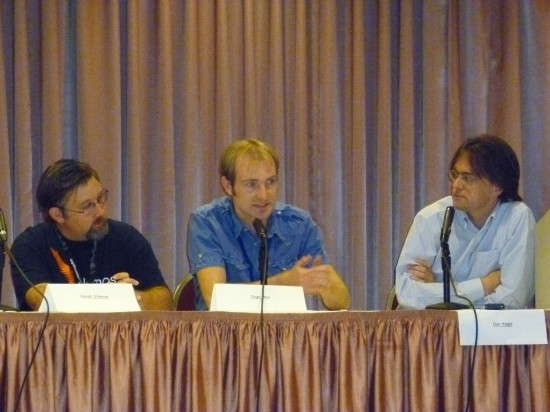 If SCALE is held at the LAX Hilton next year, we vow to eat at Aliki's Greek Tavern.  And we'll remember to call ahead!