It's no secret that all of us at DreamHost are HUGE fans of Linux.  From our desktops to more than 3000 Debian-powered servers, Linux powers our global domination machine.  But while most users are OK with merely using the operating system, we like to give back to the open-source community by donating time, money and occasionally a real-life employee for speaking engagements.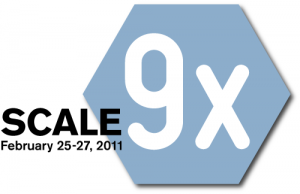 We'll have not one, but two employees speaking at the upcoming Southern California Linux Expo, or SCALE for short.
Want to learn about Ceph, the latest and greatest scalable Linux file system?  Attend DreamHost co-founder Sage Weil's talk titled, "CEPH: Petabyte Scale Storage for Large- and Small-scale Deployments" on Sunday, February 27, 2011.  There you'll get a dose of redundant file system rapture as you learn how to configure your own storage cloud.
If securing web applications is more up your alley, security guru Robert Rowley will be giving his talk, "Securing Web Applications for System Administrators," on Saturday February 26th at 4:30 PM.  There you'll learn the most common attack vectors against web apps and the best defenses – in no time, you'll have your applications locked up tighter than Shawshank… err Alcatraz.
The Southern California Linux Expo will be held at the LAX Hilton from February 25th to February 27th and organizers expect more than 1500 people to attend.  Mingling with thousands of Linux geeks, blowing out your eardrums listening to landing jumbo jets and eating tasty burgers at In-and-Out on Sepulveda Blvd, what more could you really ask for in a weekend?
How much would you expect to pay for an event of such magnitude?  A million Dollars? A star in DreamHost's name?  How about a paltry $70?  Too expensive you say?  For a limited time, we are offering you a super-duper secret, Julian Assange-proof discount code: "DREAM" good for 50% off the registration fee.  Heck at that price, buy two tickets – one for you and one for your imaginary Valentine.