Do you live near Los Angeles and enjoy pooping fire?
You're in luck.
Next week a small contingent of DreamHost employees will be at Orochon Ramen to test your mettle!
Orochon is known for serving up big bowls of ramen that come in seven levels of spicy. In addition to those seven, there are two extreme levels of spiciness – known as Special #1, and Special #2 – the hottest.
You may have even seen the Special #2 featured on Food Network's Man vs. Food.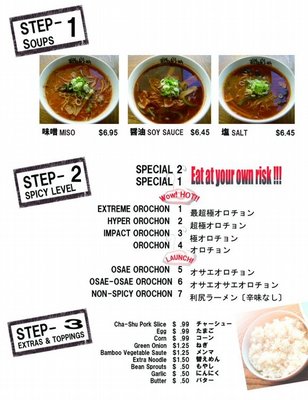 If you can finish a bowl of Special #2 in less than 30 minutes they'll put your picture on the wall.
And we'll give you a year of free hosting!
Orochon Ramen doesn't have a website (Really! In 2010!) but they do have a page on Yelp. Check out the menu and photos of what you're in for.
We'll see you there next Wednesday, June 2nd, at 7PM! If you plan to attend please RSVP on Facebook so that we'll have a general idea of how many people to expect.
If you do manage to complete the challenge just look for anyone wearing a DreamHost shirt and let them know your account information – a year of free hosting will magically appear on your account shortly thereafter.
NOTE: DreamHost is not responsible for exploded organs, anal leakage, excess sweating, dry mouth, constricted airways, homicidal impulses, amnesia, decreased sexual interest, kidney failure, muscle weakness, erectile dysfunction, nerve damage, liver damage, male breast growth, or any other physical harm that may arise from consumption of food or drink during this event. Enter this contest at your own risk.
And please come prepared.