…but not for long!
We're giving them all away to twenty lucky entrants in our Apple-A-Day Twitter contest!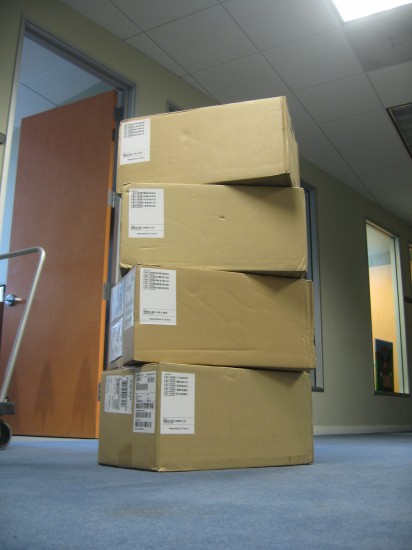 We had hoped to have these in our hands on the 3rd when everybody else did. Unfortunately Apple cancelled our first order, probably as a result of us ordering twenty when the stated limit was TWO. The credit card we originally used had also been cancelled thanks to the recent Monoprice fiasco by the time Apple was ready to charge it, so that probably didn't go over very well either…
The good news is we were able to sneak in another order – and that one went through without a problem – and arrived today!
Bingo!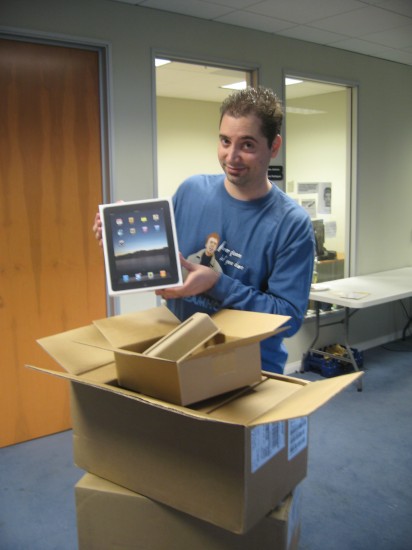 We unpacked 15 iPads, but the fourth box had a note…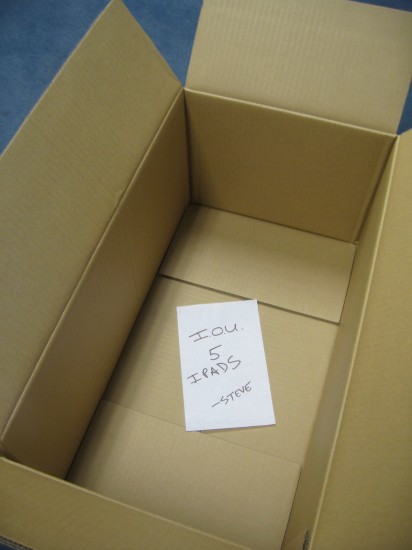 Just kidding. I put that there. But it got your heart rate up a little, right?
So what can you actually do with 20 iPads? Quite a lot, actually!
There's the obligatory doorstop.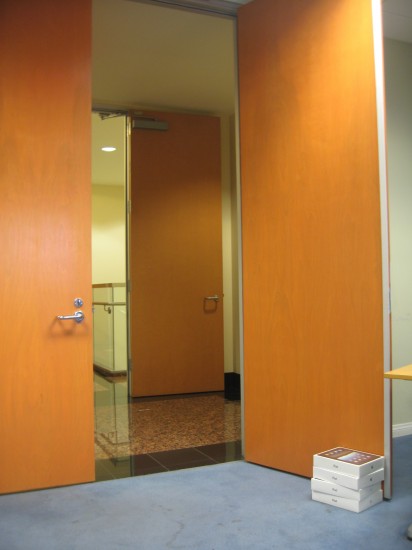 Dominoes came to mind as well…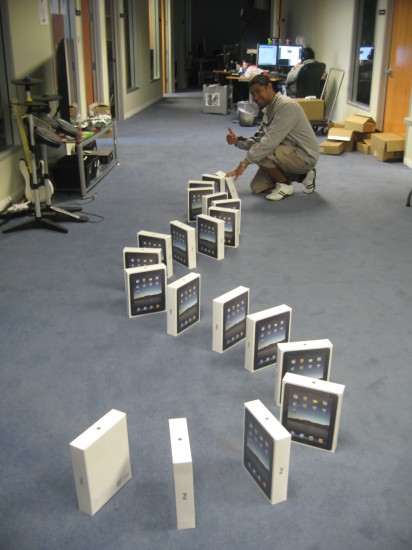 Playing chess on a touchscreen is like nothing you've ever experienced.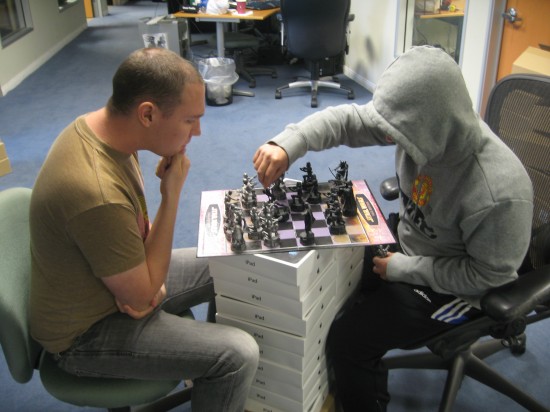 20 iPads have no problem giving someone bad news.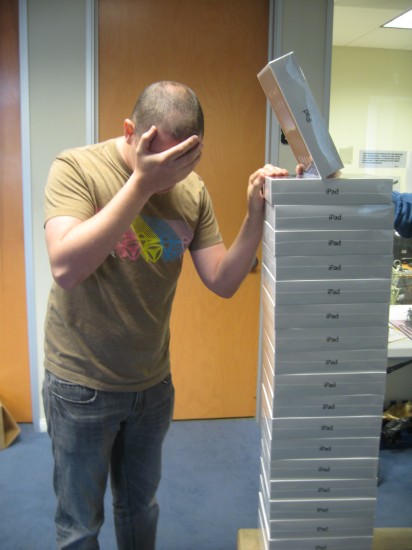 iPad/crowbar batting practice was a hit!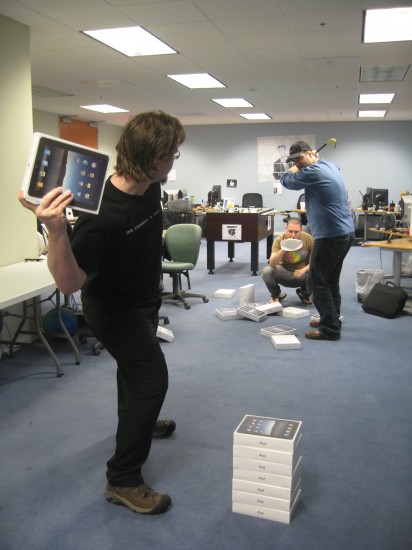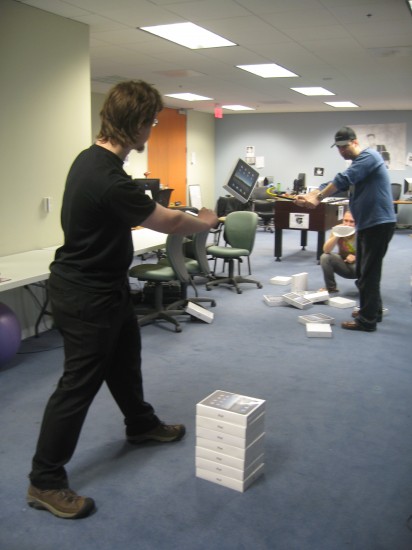 I've played a lot of bowling apps on my iPhone.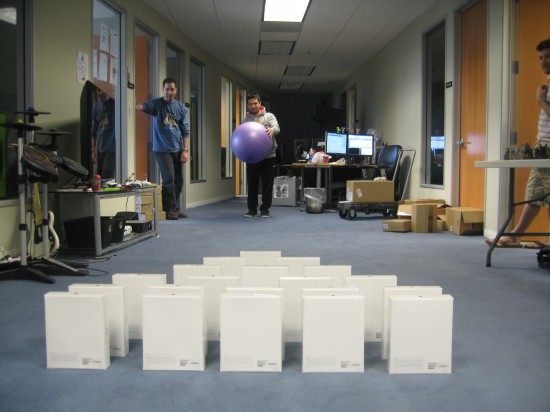 This one makes you feel like you're really there!
The iPad talks a good game, but when it comes time to play a little Call of Duty, he falls flat.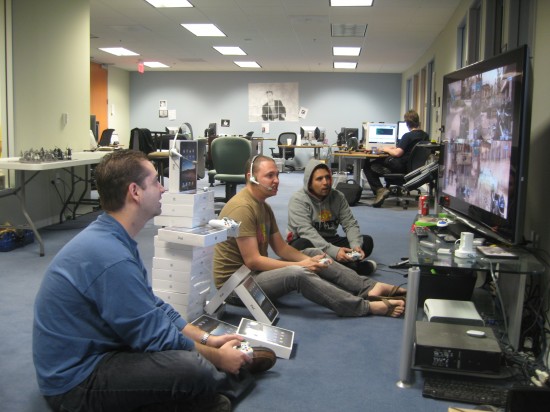 Trash talking only works when you're good at something. PUNK.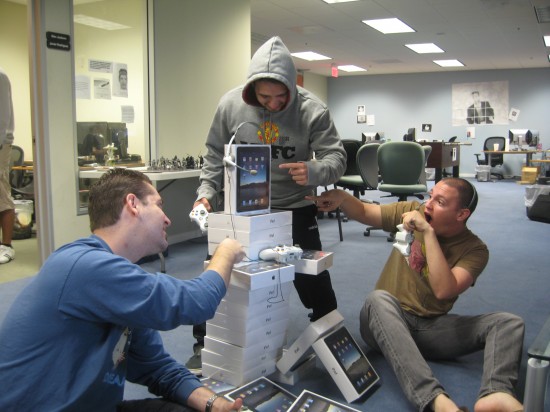 I'll be honest – the iPad was much better at playing drums in Rock Band than I was. Had some problems hitting the pedal though.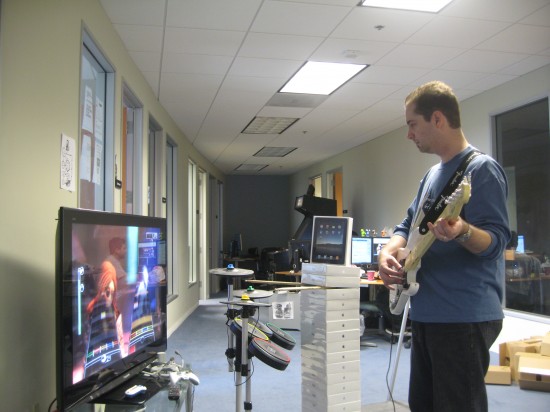 With the day wearing on I decided that maybe nobody would realize if a few iPads went missing. So I thought it might be a good idea to swallow a few and sneak them out that way.
It wasn't easy. And it wasn't successful.
The following Twitter users have won a 16GB Wifi iPad:
mrwickedd
enotsola
rafaldyrda
mike_Henderson
raimon49
feltpad
caoanroad4800
daniloeu
omtc
jbchan
twEapen
Onlera
emberna
mattmaher
MinaNJ
lisadrowe
LauraRogner
pkimbrel
benrwoodard
eminsker
If you're listed above, CONGRATULATIONS! – and be on the lookout for a message from @dreamhost. We're going to need some shipping information from you!
Winners must reply to @dreamhost on Twitter no later than May 14th at 11:59PM, PDT (one month from today) or they will forfeit their prize. At that time we will pick from the other entries received to select alternate winners. We don't want to hold on to these things forever!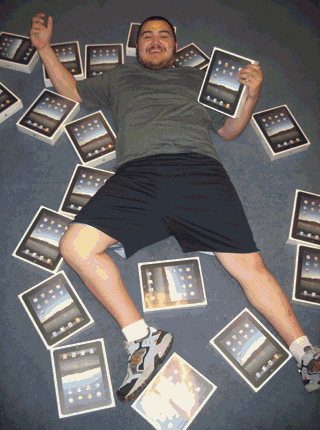 No iPads were harmed or removed from shrink wrap in the making of this blog post.
UPDATE 5/17/2010: We made several attempts to contact all winners and did not receive replies from four of them. The following Twitter users had not claimed their iPads by the deadline and have forfeited their prizes:
raimon49, Onlera, mattmaher, LauraRogner
So we've had to select four alternates. They are:
moonlettuce, JustCallMeJenni, samanatrix, john_blanton
Congratulations! The four alternate winners have until May 31st at 11:59PM, PDT to claim their prizes, after which point we'll select MORE alternates if need be.
UPDATE 5/28/2010: All iPads have now been claimed. Thanks everyone for entering!