Sucks Sites.
I'm sure you've seen them. Wikipedia calls them gripe sites. They're usually set up by disgruntled customers and then typically disappear a few weeks later once the creator has had time to cool down.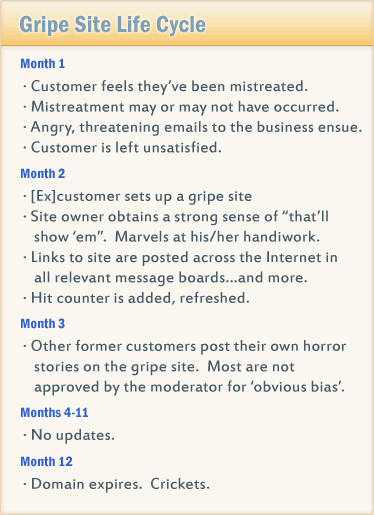 Oh yeah, they're out there. NoDaddy.com, for example…but in their case it turns out they may actually be on to something!
Thanks to some great investigative journalism by Andrew Allemann over at Domain Name Wire, you can now read in great detail the lengths that GoDaddy has gone to to conceal its involvement in its own domain name warehousing operation.
Standard Tactics, LLC: How GoDaddy Profits from Expired Domains
The Go Daddy Group allegedly uses a complicated web of subsidiaries and anonymized whois records to hide its involvement in its domain warehousing/auctioning scheme.
Check it out. It's a great read to get you into the Christmas spirit. If you're the Grinch.
I guess when you've got a $2 million Christmas party to throw and a $3 million Super Bowl commercial to put on, that money's gotta come from somewhere!