I have a couple of talks coming up at events that you might be interested in. The first one is at WorldBlu Live , coming up in New York City next week, Thursday and Friday October 16-17, 2008. In their words: WorldBlu LIVE is the only conference in the world that connects you to directly to the top leaders of organizations on the WorldBlu List of Most Democratic Workplaces™ as well as other thought-leaders and mavericks who will share their unique stories, best practices, and leadership strategies for building a world-class democratic workplace.
I'll be speaking about how democracy is used within DreamHost and how it makes our business stronger. A bit of DreamHost history will be thrown in to provide some basis. I'm looking forward to this conference and I think there will be a lot of really cool talks from really interesting people. Some of the speakers that stood out to me are Tim Westergren, the founder of Pandora, and Philip Rosedale, the CEO of Linden Lab (the Second Life people). Those are two companies doing things on the Internet that will have a long-lasting impact, in one way or another.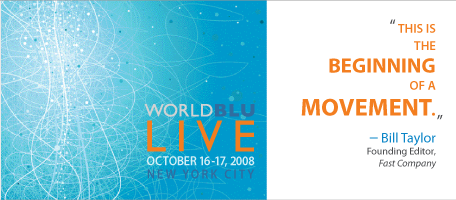 The other talk is in Atlanta on November 12-14, 2008 and is at php|works, a PHP conference with a sister Python conference, PyWorks, running simultaneously. I'll be talking about how to optimize web applications for the users of shared and VPS hosting services like DreamHost. It's an hour long talk so help me out by showing up with LOTS of questions. There's a lot of other good talks too, and I'll be there the whole time.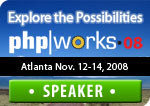 If you're in NYC or Atlanta around those dates come say hi!