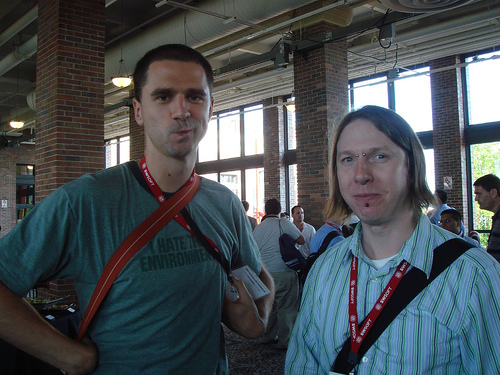 Well, it wasn't a TOTAL con.
At least Dallas and I didn't pay anything to go. He was on a panel about green hosting, and I got free admission by signing myself up as "press". I guess in a way I'm paying now via this feeling of obligation to blog-post about it though.
Anyways, now I finally understand why we say we don't go to hosting conferences.
They're not for us.
Overall, we just got a really "businessy" feel from the whole thing. I mean… we can't be the only host who's just doing this until our band makes it big, right? And man, nobody told me to wear a logo collared short-sleeved shirt; the official uniform of hosting cons.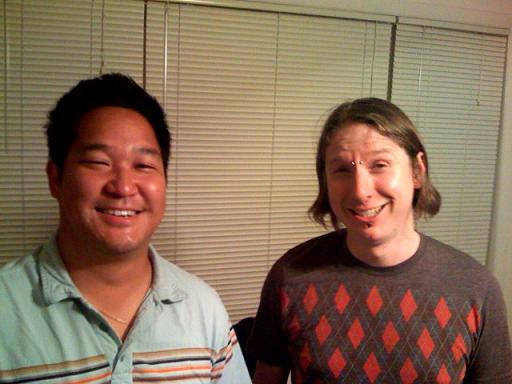 What Happened
Basically, we checked out the display booths (it looks like the new trend is to give away Wiis, iPhones, and Mini Coopers.. sadly, Dallas already has those, and I don't want a Mini Cooper because I hate the environment), had three meetings, went to three talks, the best of which by far was Dallases panel. And that was just because I interrupted a lot.
We also went to the keynote, which was by some myspace founder guy, and probably the second most-famous person at the con showed up, Carson Daly.
(The most famous? Hmmm… well, I don't see you reading the Last Call Blog, do I?)
The booths really didn't do anything for me.. it was almost entirely places offering pre-packaged software (we use only open source or develop our own) and out-sourcing / reselling opportunities (again, we try to be as "vertically integrated" as possible, and don't outsource anything besides our data centers and network connectivity.. plus, any add-on service we do add we develop (and fully control) ourselves).
We were a little shocked to find out that some fairly sizable hosts just use The Planet for their entire infrastructure… they don't own any of their servers!
The talks didn't really do anything for me.. I already knew all the gibberish Dallas was going to say.. so predictable, man!
The next talk, from a Tier1 Research guy, allowed me to self-affirm the seemingly irrational disdain I've always held for market research companies. His talk was entitled "Marketing Web Hosting Services in a Rapidly Transforming Market" and basically his message was "I think everybody should partner with Microsoft and other value-added resellers to make more money by offering more junk to your customers."
Exactly what we don't want to do.
Oh, and he also threw in for good measure "Just offering lots of disk and bandwidth isn't going to get you any more customers." Ah, now that actually sounds like a pretty reasonable assumption, Philbert… if only it weren't 100% exactly WRONG! "Research" is always easier when you just declare your hypothesis correct rather than bothering to actually test it…
(Ouch, my punches are un-pulled!)
(Oh yeah, and despite what I said before, bad stuff DID happen while we were away. A $64,000 rack of NetApp storage got dropped on the loading dock by the delivery guys! The gentle curving of the rack you see above is not to reduce wind resistance.)
The last talk we went to, before we decided we had to stop for fear of death (and not by boredom actually, but by freezing in the lecture halls!) was by founder of Open Hosting, entitled "Virtual Private Server Hosting with Utility Pricing."
I had some high hopes for this talk; at least the guy giving it actually runs a web host! Unfortunately, it turned out to pretty much be a bust. I guess there's just not a lot of insight to be gleaned from a host with 2,000 times fewer customers than you!
Also, it turned out what this guy called "utility pricing" wasn't anything of the sort. It wasn't something cool like Amazon … instead, he had regular old (and not very generous) monthly plans with hefty overage fees for excess CPU and memory.
The whole point of "utility pricing" is if you don't actually USE something, you don't have to PAY for it! Not to still pay $19.95/month minimum no matter what! This guy has taken the worst from both worlds and combined them.. no "overselling" and yet still a high minimum monthly fee! Where's the VALUE?
The Open Hosting guy also claimed that they were the only Linux-Vserver-based host in the U.S. Say whuuuuut?
Who Happened
On the bright side, every person we met was very nice… plus I got to taunt lunarpages, as well as eat lunch with the just-a-little-bit-less-cool-than-us Media Temple entourage. I also got to meet all my secret admirers, and let me tell you, THERE WERE A FEW.
Honestly, I guess if there's any reason for us to ever go back to a hosting convention, apart from avoiding our smelly employees, it'd probably be the chance to try and recruit some decent "human capital". That's what it's known as in the "biz", which is what the biz is known as in the "biz."

Oh, before I forget, there was maybe one more tiny thing that that came out of our three days in sunny Chicago. We got an idea for a brand new feature.. and it's already ready to go!
Perhaps it was the Tier 1 guy yammering on about upselling, or maybe it was the Open Hosting guy's illuminating discussion of Linux-Vserver, but we're not here to play the blame game.
Nonetheless, for some reason, we're now proud to announce our first entirely new product in a lonnnng time: the massively simple, tremendously useful, surprisingly cheap, and enticingly prestigious, currently invite-only DreamHost PS!
(Yep, DreamHost just became one more American host offering Linux-VServer. And Open Hosting just became one American host offering Linux-VServer less special.)