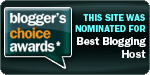 I am so ashamed.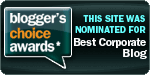 And yet flattered.
I SWEAR I didn't nominate us myself. The blogger's choice awards ain't no digg!
And they ain't no Golden Globes either. These are the top-notch, no-hold-barred, keeps-the-homeless-away, freeekin' OSCARS of the blog award industry, no doubt! Who cares if they're run by blogosphere pariahs pay-per-post: working hard to commercialize what used to be all about the art of what I ate today, man.
And with the type of high-class, bourgeoisie, bathtub-filled-with-perrier web hosting and blog-writing establishment we run here, we wouldn't accept a nomination for anything less.
So please, click both of those beautiful icons above and go through all the registration mambo-jambo (you could use spam.la to fake your email address) to vote for us.
It'd be so great to win because:
My ego is almost as low as my blood sugar after being on South Beach for a week. If we win, I will eat a spaghetti.
If we win, YOU will be the kind of person who signed up with a web host and even read their blog before they were famous and sucky.
Then, in September I really hope somebody nominates us for The Weblog Awards and then in January somebody else nominates us for a Bloggie.
Don't worry, I already submitted us for a BloggY.