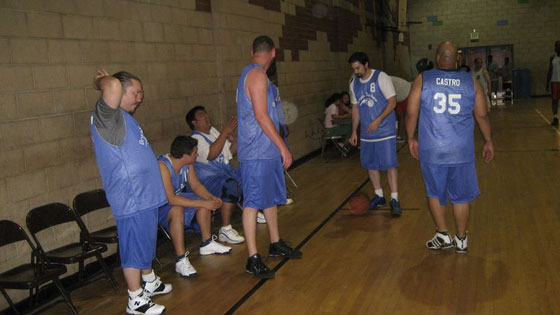 We don't just break servers you know!
Once a week a dozen or so of us take a break from the physically and mentally demanding task of causing the most downtime and nfs slowness possible to cause the most dunktime and nba showness possible…
We joined the LA City Department of Parks and Recreation men's basketball league!
More specifically, we joined the "C League"… defined as:
Recreational: No ex-college or High School Varsity players under the age of 30 years old. Players who love to play, but have limited experience; Limited/no ability to play above the rim; no more than one player with the ability to consistently score more than 20 points per game. Play is sometimes "playground" style and recreational. "Score Out rule in effect (20 points)."
If ever there were a team to fit that description, you're reading the blog about them!
I played in college (Div III, JV!) but I just turned 30 three weeks ago! I have limited/no ability to play above the rim, and I'm the one and only player with the ability to consistently score more than 20 points a game! Me, me, me!
Score Out Rule?
Little did I know that the "C League" does not even allow any one player to score more than 20 points in a game! Once you do, you're out! That rule made me nervous… all the way up until about one minute into the game, when I realized I had nothing to worry about.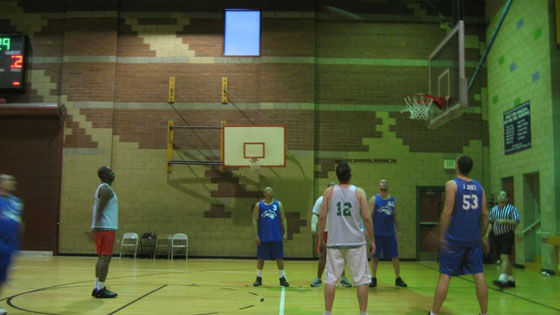 We started the season undefeated!
Of course, then we had our first game last Tuesday.. our perfect win percentage (undef) was at stake!
It was a wild roller-coaster of a game!
We jumped to an early 2-1 lead! Which we held for the first six minutes!
With five minutes left in the first half, we were still crushing our opponents ("Delancy St."), 6-5!
Which is when we really exploded .. ending up leading 20-7 at halftime!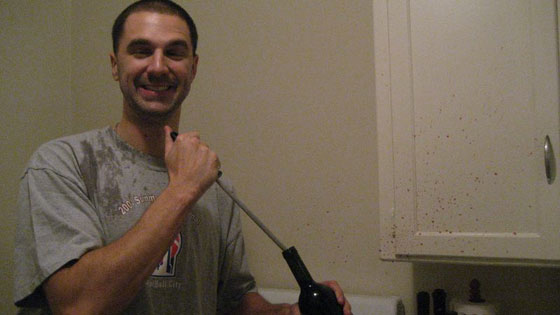 Let the celebrations begin!
As long as we didn't let them score twice as much in the second half as we did in the first, we had the game!
Flash forward.. with only seconds left in the game, we were down 22-20! They had the ball!
Fortunately, just then I intercepted an ill-advised pass and streaked down the court. As I went up I was hit hard…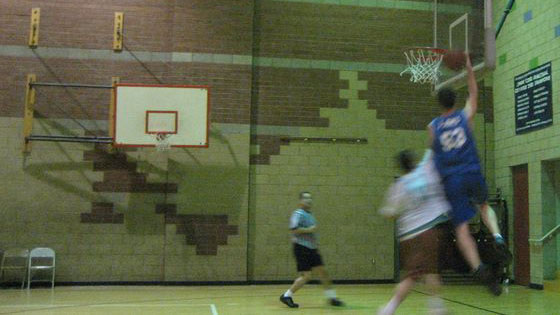 Count the basket!
And the foul!
No time left!
And now, one free throw to win the game! Fortunately.. we caught it on video for you below… please move to the edge of your seat, double click below, and watch…
????????????????????????????!!!!!!!!!!!!!!!!!!!!!!!!!!!!
Epilogue
On our team we consider it a triple-double if you get just *2* in three different stats.
Nobody recorded one this game.
Afterwards, Dallas and I celebrated the upcoming holidays some at Target!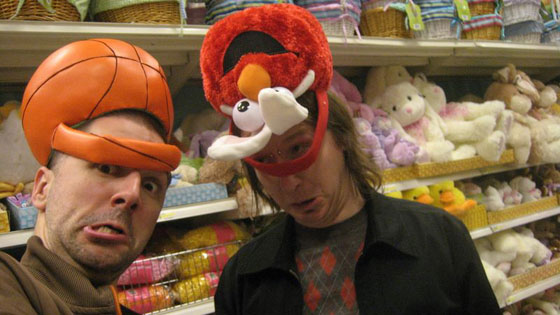 After that, we played "Drink Uno" until 4am. I didn't have a proper wine opener.
Epi-Epilogue
This wasn't exactly how the game went down.. but it's more entertaining this way.