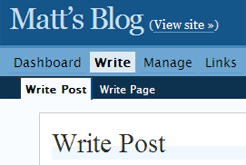 To go with all our big 2-related news, we went ahead and upgraded this blog to the newest version of WordPress… 2.0.
 And it was SO easy. It took like 2.0 minutes, maybe.
¿Why?
Because our Goodies > One-Click Installs area now has one-click upgrades!

And don't worry, we keep a backup copy of your original at whatever.old, it being 

and all..