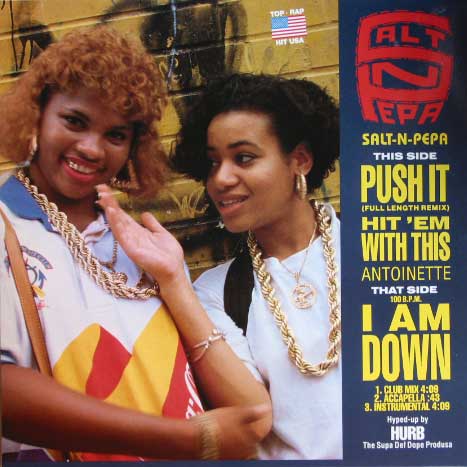 Oooh, baby, baby
Baby, baby
Oooh, baby, baby
Baby, baby

I started a little tradition here a while ago, one I'm pretty proud up.
It has to do with Salt-N-Pepa.
You see, when we're writing code and making changes to our website, we do it in a test environment… because unbelievably, we don't always get everything exactly right the first time. Some might even say we don't get everything right the second or third time, some might say never.
Anyway, once we've got our code the least bit correct, we gently cast it out of our test environment and into the real world. Then, two hundred Happy DreamHost Customers immediately find all kinds of things wrong with it, and proceed to loudly let us know.
We call this process "pushing out" or "doing a push out"… because we have one script we run that takes all our code in CVS and "pushes" it to all the live servers that need it (about 14 at last count!)
Because of the BIG SCARY nature of taking brand-new, lightly-tested code and all of the sudden making it 100% live in front of tens of thousands of customers, we try and make sure everybody at the company knows when a push out is happening. It's a big event.
And we wouldn't want anybody caught unawares.
To do this, the push out script sends (or at least is supposed to send) an email to all when it's finished indicating when the push out was, what files changed, and who pushed it out. Which is ostensibly a pretty good way to notify people.
But *I* felt it WASN'T ENOUGH!
Which is what led me to the idea a few months ago of playing Salt-N-Pepa's song "Push It" on infinite repeat at top volume from my computer speakers the entire duration of the process. That way, anybody in the office, or even walking by in the hallway has is TATTOOED on their BRAIN that:
Ah, push it
Ah, push it

Oooh, baby, baby
Baby, baby
Oooh, baby, baby
Baby, baby

Get up on this!

Ow! Baby!
Salt and Pepa's here!

[Now wait a minute, y'all
This dance ain't for everybody
Only the sexy people
So all you fly mothers, get on out there and dance
Dance, I said!]

Salt and Pepa's here, and we're in effect
Want you to push it, babe
Coolin' by day then at night working up a sweat
C'mon girls, let's go show the guys that we know
How to become number one in a hot party show
Now push it

Ah, push it – push it good
Ah, push it – push it real good
Ah, push it – push it good
Ah, push it – p-push it real good

Hey! Ow!
Push it good!

Oooh, baby, baby
Baby, baby
Oooh, baby, baby
Baby, baby

Yo, yo, yo, yo, baby-pop
Yeah, you come here, gimme a kiss
Better make it fast or else I'm gonna get pissed
Can't you hear the music's pumpin' hard like I wish you would?
Now push it

Push it good
P-push it real good

Ah, push it
Get up on this!

Boy, you really got me going
You got me so I don't know what I'm doing

Ah, push it
(… and that we're doing a push out.)
It's a pretty short song, and pushing out takes about 30-40 minutes these days, so we all get to listen to it a good dozen times!
By now I'd reckon we're the "Push It" experts.
Amazingly, it's worked wonders with our internal corporate communication… which is why I hereby officially recommend that Salt-N-Pepa's "Push It" become the Internationally recognized "song of pushing out" for developers everywhere!
Give it a shot, you won't be disappointed.
(An interesting aside. Sunday morning at 9:15 am I was in my car… and what to my wondering ears should appear on the radio? You guessed it!
I immediately whipped our my EVDO laptop and performed our first ever vehicular push out.)