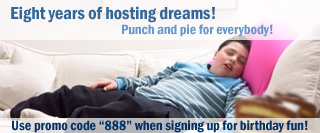 It's our birthday too!
Google turns 7 today, we turn 8!
Too bad we didn't think of making yet another search engine back in 1997. Oh well, we're not complaining toooo loudly.
To celebrate we've made a bunch of changes:
* Unlimited domains and sub-domains on all hosting plans!
* Domain registrations are now $9.95/year (33% off!)
* If you have multiple plans with us the disk/bandwidth is now shared among all domains (no more breaking it down by plan)!
* The panel's been re-organized a fair bit, integrating a lot of disjointed tabs into what we hope is a much easier to use format!
* For the first 888 new signups, you can get 80% off the first year of any 1-2 year plan by using the promo code "888" when signing up!
Back to pin-the-tail-on-the-donkey!